Chahee Lee Stanfield knows that her father became a marathon runner later in life and had a film made about him, but not because she was there to witness his accomplishments.
Stanfield hasn't seen her father and one of her brothers since the end of World War II, when the rest of her family left Manchuria for Korea. Her father and brother stayed in Manchuria to continue their agricultural business with the intentions of eventually joining the rest of the family. The two were able to get to North Korea in 1950 — the year the Korean War broke out.
"I think it's an issue that's universal. Everyone comes from a family somehow, someway."
"During the war, millions of people came to the South, but my father couldn't," Stanfield told NBC News. "During the war, my brother fought for North Korea and one of my other brothers fought for South Korea. My brothers were fighting each other. That was my family's story."
It's been more than six decades since the two Koreas — and numerous families — were divided. Many Koreans and Korean Americans haven't had the opportunity to see family members during that time, Stanfield said.
Although North and South Korea have facilitated reunions — 19 face-to-face reunions and seven video reunions since 1985, according to U.S. Senate documents — over the years, Korean Americans have never received the opportunity to participate. Stanfield, a retired librarian currently living in Indiana, has spearheaded the movement to help reunite Korean Americans with their families in North Korea.
RELATED: 'Accidental Activist' Krys Lee On Writing in Korea and 'How I Became a North Korean'
After immigrating to the United States and attending Indiana University, Stanfield worked as a librarian in Chicago. As the manager of the Albany Park branch, she received a grant and developed an extensive Korean collection, she said, even knocking down a wall and creating a room for those periodicals. Koreans from all over the city and the suburbs came for the materials, she said, and eventually, they shared their stories of their divided families with her. By the mid '90s, Stanfield felt compelled to urge the government to help facilitate reunions on behalf of herself and others in her situation. In 2008, she formally founded the National Coalition on the Divided Families, an organization that aims to help Korean Americans reconnect with their families in North Korea.
"I knew I had to do something for these people, but again, I still had a cultural barrier and language problem. Most of all, a cultural problem," she said. "I didn't know where to start. I didn't know how to process these things."
In 2000, she had met current Illinois Sen. Mark Kirk, who was running for the House at the time. She shared her story and how urgent it was to reunite families before they were too old to travel or passed away. The following year, he introduced the issue in the House and set up a meeting with then Secretary of State Colin Powell and the Korean American Coalition of the Midwest. At that meeting, Stanfield said she officially reported on the issue of divided families. But because the U.S. and North Korea do not maintain diplomatic relations, little progress has been made.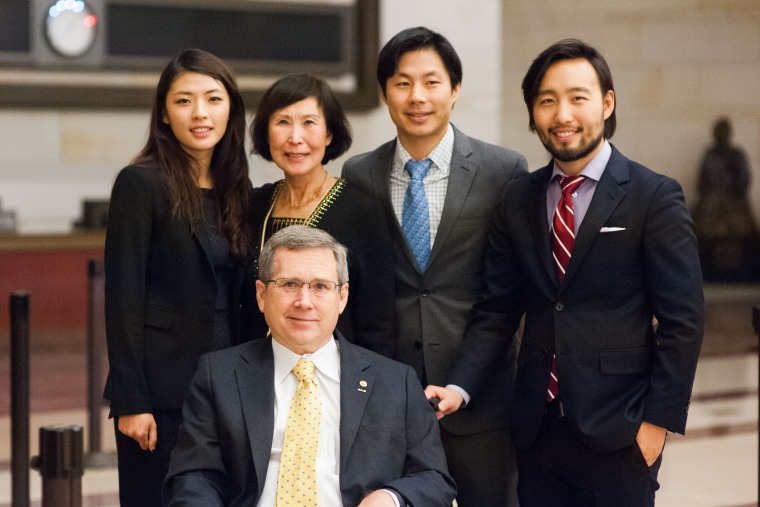 Most recently, Kirk and Sen. Mark Warner (D-VA) introduced the Divided Families Reunification Act, S. 2657 in March. That legislation "directs the State Department to prioritize discussions with members of the Korean-American community who still remain separated from their families in North Korea," according to Kirk's office. The bill proposes that the State Department speak with South Korean counterparts about possibly integrating Korean Americans in the reunions when they happen again. The last reunion between families in the North and South took place last October. The bill also calls for the State Department to communicate with Korean-American leaders twice a year to give updates.
RELATED: Adoptees' Search for Self Leads to Love, Marriage, and a Family Reunion
"Recently we have seen the reunification of South Koreans with their North Korean brothers and sisters. Korean Americans should have that same opportunity. That is why I have been working since my time as a Congressman to ensure that this issue is at the top of the agenda of the United States government," Sen. Kirk told NBC news. "Human rights and the importance of family are core values that lie at the heart of this issue and I will continue to fight to reunite these divided Korean families."
While she was lobbying on behalf of Korean Americans who did not know what happened to their families, Stanfield learned more about her father and brother through her nephew, who traveled to Pyongyang with a group of ministers. Stanfield said he mentioned her father's name to a guide, and the next day, her brother and his son were waiting to meet her nephew. That's how Stanfield learned about the marathons and the film, she said.
Stanfield has now passed on the torch to a younger leadership, hoping they can revive the issue and bring the urgent attention she feels it needs. Jason Ahn is the current chairman of DFUSA. An emergency room doctor, Ahn first became interested in this issue when he found out more about his own family history. Years after his grandmother passed away, Ahn's mother told him that his grandmother passed away without realizing her last wish — to see her sister who was still in North Korea.
Ahn received a Fulbright Fellowship to go to Korea and there he met filmmakers and artists. That's when he got the idea of making a documentary about Korean-American divided family members.
"I learned it was a very common story about Korean Americans even though it was not thought of often or talked about often," Ahn told NBC News. "I just wanted to document the history, to raise awareness and to advocate for the dying generation before it was too late."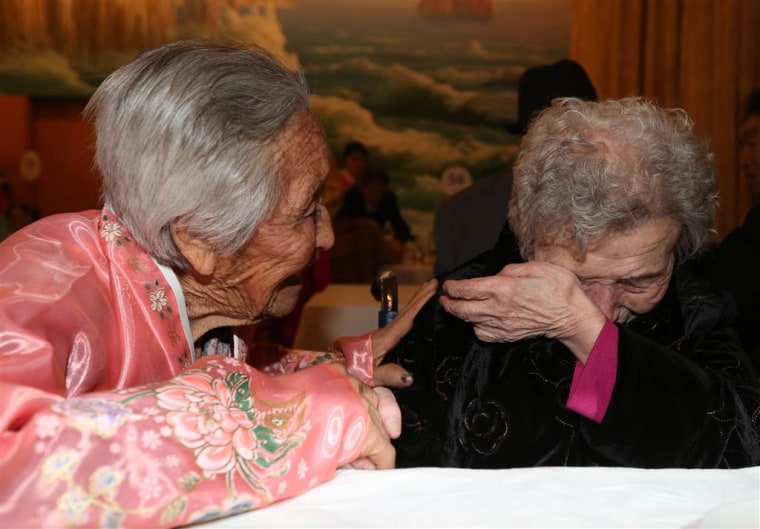 He interviewed a few divided family members for the documentary, including Stanfield. He worked on the film while attending medical school and his residency and released it in 2014, he said.
Now, Ahn and his team have taken a grassroots approach to this advocacy campaign, reaching out to college campuses and different Korean-American groups.
"I think it's an issue that's universal. Everyone comes from a family somehow, someway," he said. "I think if one stops to think about it, they could perhaps empathize with folks who have been separated from their family members against their will without having any way to find them."
RELATED: Sister, Sister: A Family Reunion 40 Years in the Making
Council of Korean Americans Executive Director Sam Yoon also believes this is an issue that everyone, no matter their ethnic background, can relate to. Yoon says that this issue could be a way to bring more awareness to the average American about the political situation in the peninsula.
"I think we have a responsibility to desensitize mainstream Americans to the fact that it may seem kind of strange and laughable and also mysterious or funny to a lot of Americans, but it's also something that we need to take seriously," he said. "[The divided families issue is] a really good issue in that anybody should be able to imagine what it would be like if you were separated from your close family members at a young age and never had a chance to see them again. Or how meaningful it would be to see and to reunite family members you've lost contact with for decades. That's so basic and human, that maybe that's a good entry point for mainstream Americans to learn about the cost and the pain of division."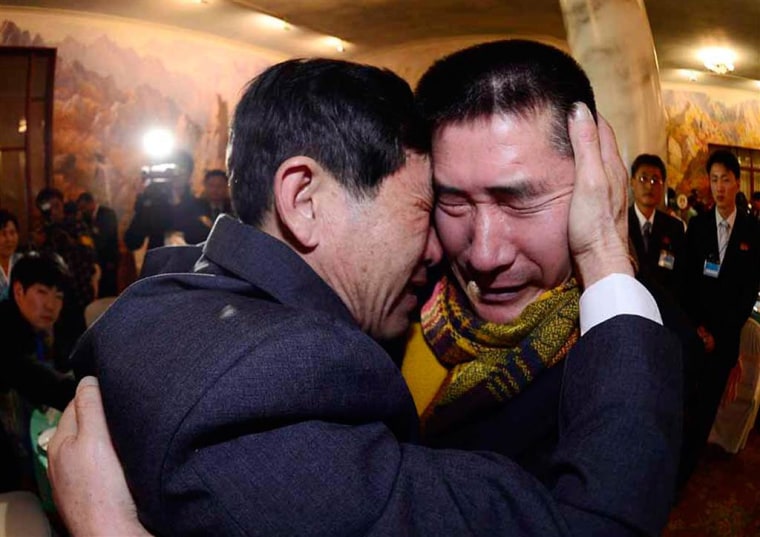 While the political front has not developed much, the individuals affected directly by the issue have rapidly aged, entering their 70s, 80s, and 90s
"Within a few years, we've got to close this chapter," Stanfield said. "I have been wanting this all along. Time is running out; time is running out; it has almost run out. Most of them are at the very end of their lives. I'm really young for a divided family member because we divided right after World War II, I was very young at that time….Right now I'm 75 years old going on 100."
Follow NBC Asian America on Facebook, Twitter, Instagram, and Tumblr.