Veterans' advocates are raising funds to cover the cost for replicas of a Congressional Gold Medal that is expected to be presented to Filipino and Filipino-American World War II veterans later this year.
Former President Barack Obama signed the Filipino Veterans of World War II Congressional Gold Medal Act into law in December 2016, honoring the more than 260,000 recognized Filipino veterans who served the United States in World War II.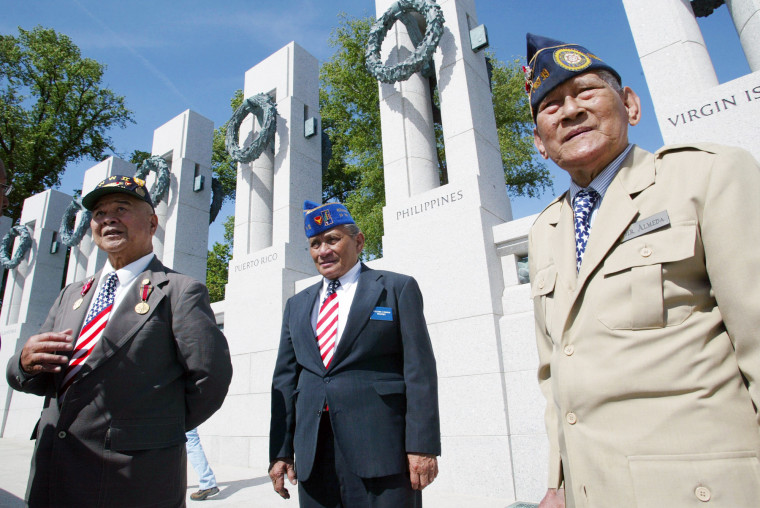 The legislation culminated a decades-long fight by advocates for the veterans, who were stripped of benefits promised to them for their military service after the Rescission Act of 1946.
"Literally, [these veterans] have been waging an additional battle after World War II for over 70 years for the simple dignity of recognition," Ben de Guzman, program manager of the Filipino Veterans Recognition and Education Project (FilVetREP), told NBC News. "Now that this Congressional Gold Medal legislation has afforded them some degree of recognition, we think that the least we can do as a grateful community is to make sure that they don't have to pay the additional $52 to get their replica of that medal."
A presentation of the medal has been scheduled for Oct. 25, according to the office of Rep. Tulsi Gabbard (D-HI), who with Sen. Mazie Hirono (D-Hi), sponsored the legislation in Congress.
"The United States is indebted to the service, bravery, and perseverance of Filipino veterans of World War II," Gabbard said in a statement. "I am proud that we can correct the record today, and finally honor the service and sacrifice of these heroes and their families, and ensure they are never forgotten."
"These veterans and their families overcame many challenges in their fight for compensation, family reunification, and verification of wartime service," Hirono said. "I look forward to participating in the ceremony to provide this long overdue recognition next month."
RELATED: Forgotten: The Battle Thousands of WWII Veterans Are Still Fighting
The mint has designated FilVetREP, which works to increase awareness about the service of Filipino and Filipino-American World War II veterans, the official liaison to work with the agency to design the medal. In the meantime, FilVetREP is looking to raise $150,000 over the next few months to cover the cost of the presentation. It has made an initial order of 1,000 replicas, and is aiming to eventually raise enough money for 20,000, de Guzman said, bringing the amount needed for the medals to approximately $1 million.
An estimated 18,000 veterans and their surviving next of kin will be eligible to receive replicas, Luisa Antonio, executive director of the Veterans Equity Center (VEC), which is working with FilVetREP, told NBC News. Veterans will need to meet certain requirements and register with FilVetREP to be eligible to receive a replica.
The organization has launched an online fundraiser to pay for the medals. It has also asked supporters organized into 12 regions in the U.S. and overseas to raise $100,000 per region for the cost of the medals and other programming and events. De Guzman said that dozens of local organizations are also hosting fundraising activities.
Vivian Luna, a member of a FilVetREP region encompassing Alaska, Idaho, Oregon, and Washington, told NBC News that members organized a fundraising dinner in May that brought in $37,000. She said her region has contributed at least $43,000 so far.
Christy Poisot, president of the Houston chapter of the Filipino American National Historical Society (FANHS), told NBC News that the organization hosted a balut eating challenge to raise money. She estimated that FANHS Houston has raised close to $10,000 for FilVetREP's educational projects.
RELATED: Filipino Veterans Seek Formal Recognition for WWII Roles
Some individuals have also taken initiative to raise their own funds. Genevieve Jopanda, a long-time advocate in the San Francisco Bay Area, used her 40th birthday as an opportunity. She told NBC News that she collected a total of $7,500 in donations and hopes to raise that number up to $10,000.
"I just felt like money should not be a barrier to them receiving the honor that they deserve because of what they sacrificed for us and for the generations to come," Jopanda said.
The official amount of funds FilVetREP has on hand has yet to be determined, given that money is still funneling in, de Guzman said, but he estimates that the organization has received more than $50,000 from the various efforts.
Over the next two to three years, FilVetREP is also hoping to raise a total of $2 million to further cover educational projects, including an online curriculum in collaboration with the Smithsonian that will tell the stories of Filipino veterans.
Antonio, the executive director of VEC, said it is crucial that the community works together to ensure it secures the resources necessary to provide the replicas.
"The United States as a country has waited too long to recognize the veterans. This is probably the last effort or gesture of recognition [veterans] may get, simply because a lot of them are in their 90s already. As a community, this is our last opportunity to come together in support of our Filipino World War II veterans," she said.
Follow NBC Asian America on Facebook, Twitter, Instagram and Tumblr.
This story has been updated.