Politicians and community leaders on Wednesday called for an independent investigation into the dismissal of a Chinese-American scientist working for the federal government, with some alleging that the termination was linked to the scientist's race.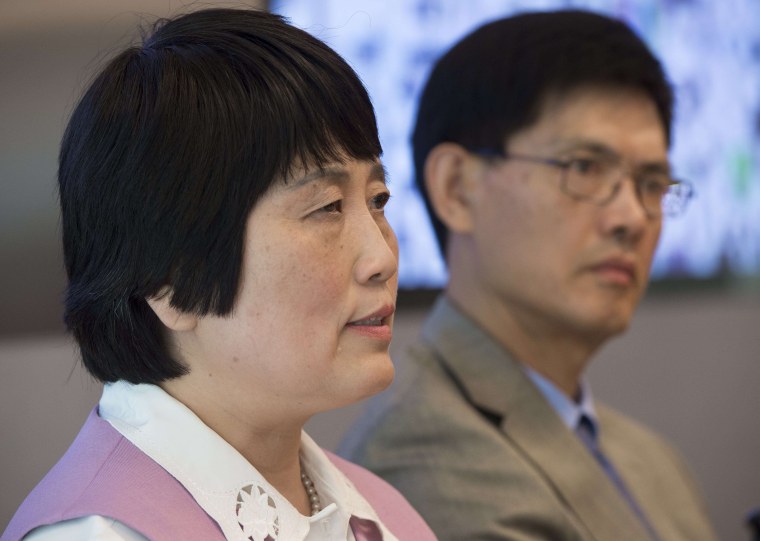 In a letter to Department of Commerce Inspector General Peggy Gustafson, members of the Congressional Asian Pacific American Caucus (CAPAC) requested the investigation into the 2016 dismissal of Xiafen "Sherry" Chen, a hydrologist for the National Ocean Atmospheric Administration, who was arrested for alleged espionage in 2014.
The federal charges against her were dropped in 2015, but Chen was terminated from her job the following year.
"We are doing this because we will not tolerate Chinese Americans or Asian Americans being treated as second-class citizens. No American should have to live in fear that their entire lives may be turned upside down due to wrongful accusations and unwarranted racial profiling," said CAPAC chair Rep. Judy Chu, D-Calif., at a news conference Wednesday in Washington, D.C.
In April 2018, an administrative judge of the U.S. Merit Systems Protection Board ordered the Department of Commerce to reinstate Chen, saying that she was a "victim of a gross injustice," though, the judge wrote, the injustice was not caused by "discrimination or retaliation, but by the agency's mishandling of the situation."
"I'm horrified by the outrageous misconduct of multiple DOC officials," Chen said at Wednesday's conference. "No one in the management who handled my case stood up ... or even questioned the scandalous activities during the entire process."
A Commerce spokesperson said by email that the department is appealing the decision, but did not address a possible internal investigation or allegations that Chen's race played a part in her dismissal.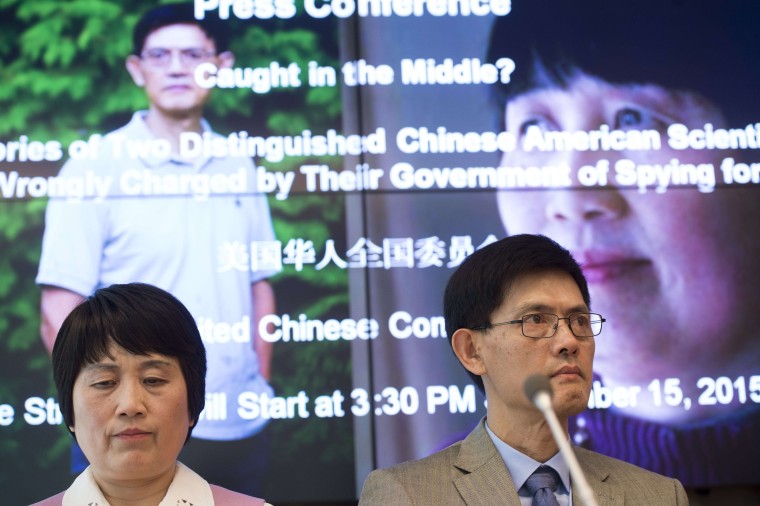 Community advocates have connected Chen's case with that of Xiaoxing Xi, a Temple University physics professor who was indicted on wire fraud in 2015 for allegedly sharing information with China about a pocket heater used in superconductor research. The government dropped its case in September 2015 after Xi and his lawyer gave a presentation to investigators, his lawyer has said.
Xi, who was in attendance at Wednesday's conference, said he was "outraged" at Chen's treatment by the federal government.
"I know a little bit about what a nightmare it was for Sherry. I too was taken away from my home in handcuffs by armed FBI agents," Xi said. "False prosecutions ruins people's lives."
The cases have continued to galvanize some in the Asian-American community to act. In 2015, members of CAPAC met with then-Attorney General Loretta Lynch to discuss both Chen's and Xi's cases. In March 2016, the Department of Justice issued a rule change giving more experienced prosecutors oversight over national security cases, though it did not tie those changes to Chen and Xi.
In 2017, Xi sued the FBI with the help of the American Civil Liberties Union. That case remains pending.
"Twenty-five years ago, this wouldn't have happened," Frank Wu, executive director of the Committee of 100, a Chinese-American leadership group, said of the community response. "During World War II, when Japanese Americans were interned, imprisoned ... this wouldn't have happened, but today is our moment."
"This case, these cases together, will be remembered as when we stood up, spoke out," he added. "And people will have to listen."
Follow NBC Asian America on Facebook, Twitter, Instagram and Tumblr.