In the first month of fiscal year 2018, which began in October, fewer than 1,250 refugees entered the United States, according to data from the Department of State. If that rate continues, only 15,000 refugees would arrive for the fiscal year, a nonprofit aiding refugees warns, far lower than the administration's admissions level of 45,000 set six months ago.
In fiscal year 2017, 53,716 refugees were admitted to the U.S. In fiscal year 2016, 84,994 were admitted.
"This is a massive decrease from the numbers we have seen over the past two years," said Jennifer Sime, senior vice president of U.S. programs at the International Rescue Committee.
"This is a really sad situation because it would be the only time the U.S. has resettled so few, not even after 9/11 were there so few refugees coming into the country," she added.
Sime said she hopes the pace of arrivals will pick up and the administration will do more, adding that some of those waiting for admission have conditions or are unaccompanied minors and are advanced in the vetting process.
"But to be perfectly frank, that's not the way it's looking right now," she said. "I think it's a very dire situation, and these people are stuck in refugee camps and in difficult situations."
In a news release, the organization said the administration has a made a host of policy and operational changes over the last month that amount to "a slow smothering of the refugee admissions program."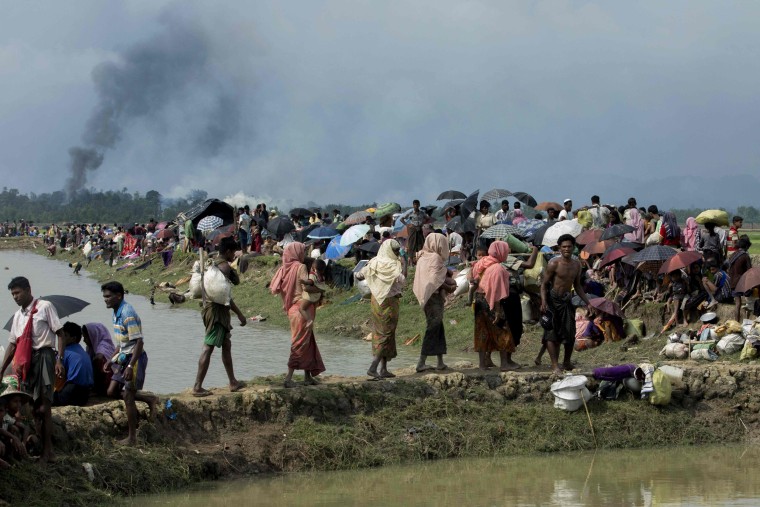 The biggest change, Sime said, was a 120-day ban on most refugees, which ended on Oct. 24. After the ban, Trump put stricter screening in place for those seeking entry. Under the new measure, the U.S. will now consider biographic data from refugees as well as their social media presence.
What is sad, Sime added, is that the U.S. seems to have abdicated its leadership in resettlement. "People looked up to the settlement program here as a model, and that's obviously no longer the case," she said.
"Even if the government regains any willingness to support this program, it would still take time to ramp it up to an average of 70,000 or 75,000, which has been the average for the past 10 years or so," she said.
A State Department official said refugee admissions rarely happen at a steady pace and in many years start out slow and increase.
"As we were only able to admit those refugees with a credible claim to a bona fide relationship to a person or entity in the United States during the 120-day pause that ended on October 24, it would be premature to assess FY 2018's pace at this point," the official said in an email.
In the first month of fiscal year 2017, 9,945 refugees were admitted to the U.S., according to State Department data. In the first month of 2016, 5,348 were admitted.
The International Rescue Committee, meanwhile, is focusing on advocacy and outreach so people understand how dire the situation is.
"They set the cap at 45,000," she said. "We can live with that. It's not great – It's actually pretty bad, but what we need to do now that the number has been set is make sure every single one of those 45,000 people are able to come into the country. But at the rate we're going, that's definitely not likely to happen."
Follow NBC Asian America on Facebook, Twitter, Instagram and Tumblr.