For 24 years of his life, Han Tak Lee had nothing to read in Korean. English-language books were his only option in the libraries of the Pennsylvania prisons where the 81-year-old was serving a life sentence for the 1989 arson and death of his daughter.
Since a federal judge overturned his conviction in August 2014 — a conviction based on since-discredited fire science — Lee has been busy acquiring books to fill the nooks, tables, and shelves of his first-floor studio in Queens, New York, which his sister secured for him after his release. Lee delights in discussing the titles of his mostly Korean-language collection, springing up from his chair and climbing onto his bed to reach for one called, "I Want to Enjoy My Life Until The Day I Die."
"It's a good book," Lee said, laughing.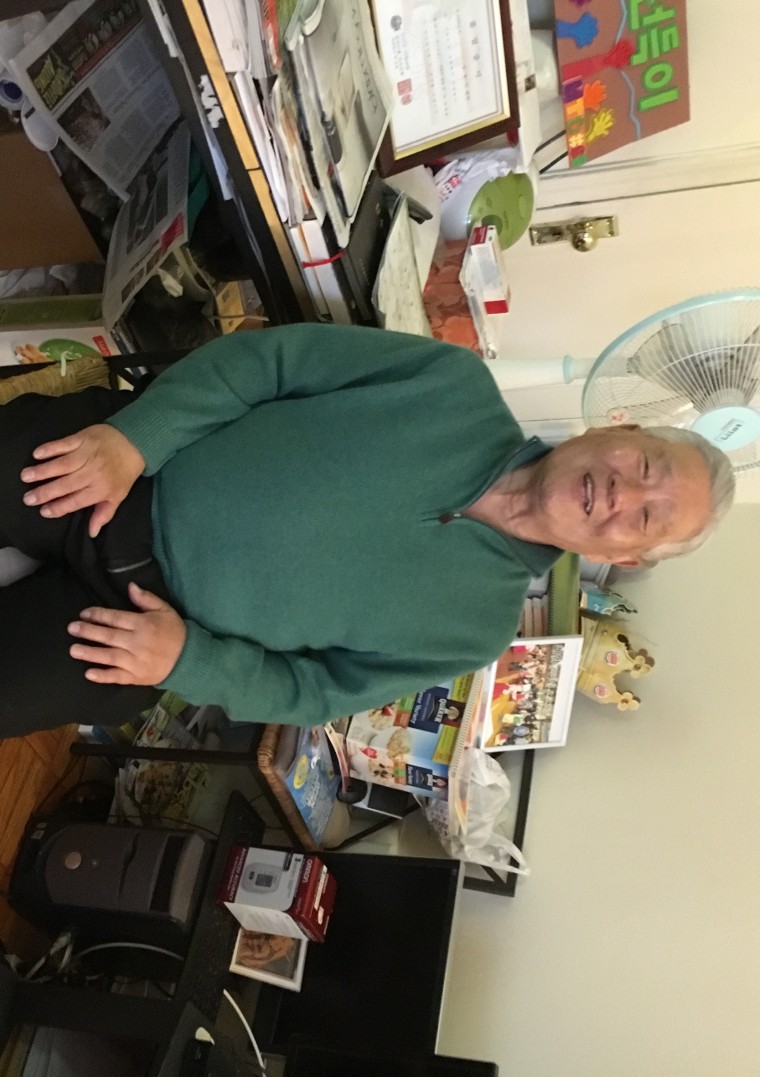 But recently, things were looking grim for Lee, who faced losing a home only twice the size of his former jail cell and for which he pays $1,000 a month in rent. Funds from a Korean-American support group that raised money to pay Lee's rent and expenses were almost exhausted, and his monthly supplemental security income checks of $468 were not enough, he said.
But now Lee will be able to stay put after the New York City Human Resources Administration agreed to provide vouchers to cover his rent, New York state Assemblyman Ron Kim, whom Lee reached out to in January for help, told NBC News.
"There's a sense of urgency because of his age," Kim said. "And we just want to make sure we achieve some sense of justice for him."
"Anything I do, [there is] a greater desire."
In a recent interview with NBC News, Lee spoke openly about his 20-year-old daughter Ji Yun Lee, her talent as an aspiring young artist, and her debilitating mental illness that brought father and daughter to the Pocono, Pennsylvania, retreat where she died in a blaze. Speaking through an interpreter, Lee largely relied on Korean, mixed with short sentences in English, to discuss his life after exoneration. He pointed proudly to an arts-and-crafts project in his apartment that he created with a church group, and he searched doggedly through a pile of papers for evidence of a banner he said he made for a local Lunar New Year parade this year, which read in Korean, "I was unfairly imprisoned because I am Asian-American."
Lee, who maintains his innocence, remains bitter about many things — about the pastor who recommended bringing Ji Yun to the Poconos, about his ex-wife who divorced him eight years into his prison term, about the racial discrimination he said he encountered while locked away for a quarter century. But he also relishes the freedom and the "fresh air" he now enjoys in his sunset years, going out for walks in his Korean-American neighborhood, attending church services regularly, even traveling into Manhattan to shop for a new computer.
"Anything I do, [there is] a greater desire," Lee said.
RELATED: Jailed but Innocent: Record Number of People Exonerated in 2015
Born in Seoul, South Korea, Lee, a naturalized citizen, came to the United States in 1978, working a number of odd jobs before opening a clothing store near Madison Square Garden, he said. The Lees settled in a three-story house in Elmhurst, Queens, a neighborhood with a large Asian population, and Ji Yun studied art at the Pratt Institute in Brooklyn. Throughout her life, Ji Yun suffered from mental illness, which caused her to behave erratically and violently, according to court documents provided by Lee's appeals attorney, Peter Goldberger.
On July 28, 1989, New York City police officers on patrol came across Lee picking up items his daughter had thrown into the street from their house, court documents said. It was 4:20 a.m., and the officers who stopped to investigate heard Ji Yun arguing with family members who wanted her to take her medication. The officers concluded that Ji Yun's family were "all trying to help this child," according to court documents.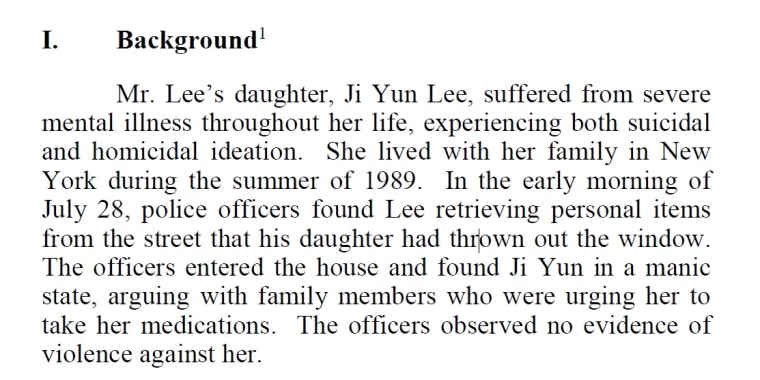 Later that day, at the suggestion of their pastor, Lee and Ji Yun traveled to Camp Hebron, a retreat in Monroe County, Pennsylvania, court documents said. The hope, Lee explained, was that her mental illness might be cured through religion. But Ji Yun became agitated while on the trip and, at one point, had to be physically restrained, court documents said.
That night, Lee said he fell asleep early in one cabin room while his daughter stayed up in another, writing in her journal with the light on. The next thing Lee remembers is waking up from a choking smoke, he said.
Lee ran out, then went back inside several times to look for his daughter while also collecting personal belongings, according to Lee and court documents. He called out Ji Yun's name, he said, but there was no answer. Unable to find her, Lee assumed his daughter had left before him, Lee said.
When emergency responders arrived on July 29, 1989 at around 3 a.m., the cabin was fully engulfed in flames, thwarting firefighters from entering to conduct a search, court documents said. It was only after the blaze was extinguished that Ji Yun's body, incinerated beyond recognition, was discovered curled up, according to court documents.
Suspicion quickly fell on Lee after "the initial police officer on the scene was struck by Lee's impassive demeanor, which he construed as an air of nonchalance," court documents said. Lee, who stood outside the cabin with their belongings, said during his interview with NBC News that he was in a state of shock.
Lee was arrested and in 1990 was convicted by a jury on charges of arson and murder. He was sentenced to life in prison. The crux of the case rested on scientific theories about arson that, at the time, were accepted but later proven untrue.

This evidence, they said, demonstrated that the fire was intentionally set using accelerants. Prosecutors buttressed this claim with a chromatography analysis of Lee's clothing and a burned jug in the cabin that "were chemically the same and were consistent with a mixture of gasoline, kerosene, Coleman fuel and fuel oils," according to court papers.
Lee's defense attorney at the trial, who is now deceased, did not challenge the fire science evidence presented and argued instead that Ji Yun had set the blaze, according to a December 2015 article in the ABA Journal.
After years of appeals, U.S. Magistrate Judge Martin C. Carlson for the Middle District of Pennsylvania held a hearing in 2014 to recommend if Lee's conviction should be thrown out. In his report and recommendation, later adopted by a district judge, Carlson said the case against Lee "rested on thin reeds at trial," writing that Lee's nonchalance after the fire may have reflected Korean cultural conventions in the face of tragedy, and that the fire science "once regarded as truth is myth, and what was once accepted as science is superstition." He also found that a hydrocarbon test conducted in 2014 disproved the prosecution's claim that an identical chemical substance was found on Lee's clothing and in the fire debris.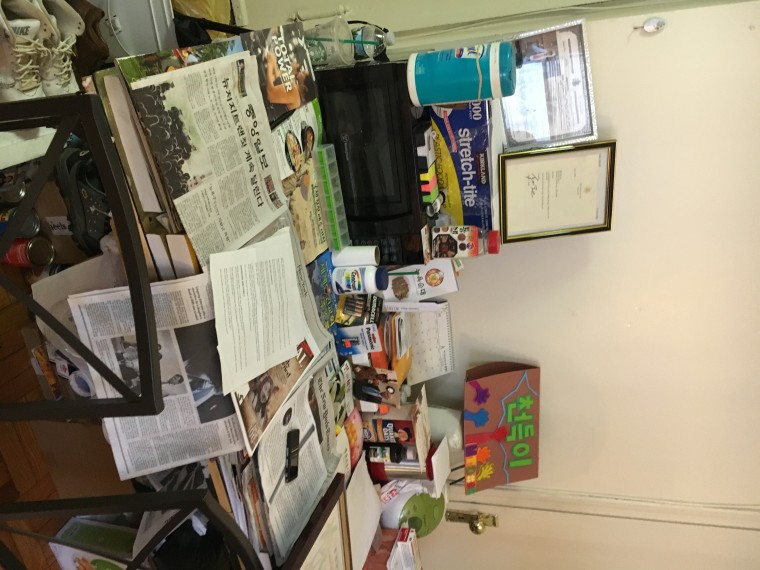 Lee gained his freedom on August 22, 2014. That day, he and his supporters stopped at a restaurant off the New Jersey Turnpike to partake in a feast of tofu. Lee said it is tradition in Korea for prisoners to eat the soft bean-curd when they are released, symbolizing their desire never to return.
Although the Monroe County District Attorney's Office appealed Lee's release, the 3rd U.S. Circuit Court of Appeals upheld the decision in August. Three months later, District Attorney David Christine told the Associated Press he would not retry the case or appeal to the U.S. Supreme Court, saying there was little likelihood of success. The 120-day period to retry Lee expired in December.
These days, Lee tries to remain positive about his new life. He does that by surrounding himself in his studio with items that keep him hopeful — a Korean-language bible left open on a table of books, Korean-language calendars with biblical verses tacked on the walls, a framed thank-you letter sent by President George W. Bush in 2008 for a birthday card Lee mailed to him from prison.
His bed, covered with a rumpled ochre-colored comforter, rests next to a window that looks out at the elevated tracks of the Long Island Rail Road. He has a television a friend lent him, which he uses to watch Korean-language programming and Joel Osteen, the famous televangelist. His sister comes in from Long Island twice a month to help tidy up the apartment, he said.
"He said, 'Please save my life,' and that was the moment I convinced myself that this man was innocent."
Lee prefers to talk about his life now, showing off a framed photo he took with a performer at a Korean cultural event, or a small red satchel given to him by a Korean international student who read about his plight and donated food and clothes. But he doesn't shy away from discussing the past and his time in jail, recalling how he felt discriminated against by a prison pastor whose services he attended or how he was sexually harassed by other inmates. He credits his mental discipline and his focus for helping him survive behind bars.
Pennsylvania doesn't provide compensation for people wrongly convicted of a crime, but Kim, the Queens assemblyman, said they are looking into whether Lee can sue in federal court because his civil rights were violated.
Chris Chang, spokesman for the National Committee to Free Han Tak Lee, told NBC News they had raised close to $95,000 for Lee, with most of the money coming from Lee's former church. But those funds, which have payed for Lee's rent and provided him with $700 in monthly expenses, have nearly been depleted.
Chang said he got involved with the committee five years ago after discussing Lee's conviction on a radio talk show he hosted. But before he committed himself, he wanted to meet Lee and look him in the eye, Chang said. Kyung Tak Sohn, who was the committee president and who attended the same high school as Lee in South Korea, traveled together to the prison where Lee was incarcerated, Chang said.
"He said, 'Please save my life,' and that was the moment I convinced myself that this man was innocent," Chang said.
Lee, who Chang said has a "kind of awkward" relationship with his ex-wife and other daughter, said he has "peace of mind" and is "happy" that he can remain in his apartment. Every day, though, he still struggles to bridge the disconnect between his old and new lives, he said. Much has changed during the 24 years he spent in jail, and sometimes he feels disappointed that he can't keep up.
But he said he's trying.
"Desire, great desire," Lee said in English, smiling.
Follow NBC Asian America on Facebook, Twitter, Instagram, and Tumblr.