This spring, Hiroshima spent a week playing their own brand of jazz, rhythm and blues, and pop music at Honolulu's newest music club, Blue Note Hawaii in Waikiki. Ever since the band was founded more than 40 years ago, its unique sound created by blending Western and Japanese instruments continues to resonate with audiences.
"The music is very engaging. The crowds just loved them. It was a very successful run," Blue Note Hawaii general manager Marco Olivari, told NBC News.
It's been a long journey for the LA-based group.
"I think that we open the door to perception. I like to think that in our best moments, that's what we're able to do."
The band's leader, Dan Kuramoto, was born and raised in East LA. After graduating from California State University, Long Beach with a fine arts degree, he became the first chairman of its Asian-American studies program in the late 60s, he said. But he soon discovered a passion for music while performing at community events and collaborating with June Kuramoto, a koto player he met at a community picnic.
"She was already a brilliant classical kotoist," Dan Kuramoto told NBC News. "Back then, I had this kind of art school psychedelic jazz-rock band."
June Kuramoto was born in Japan, but grew up in LA. Soon after they met, the pair married and founded Hiroshima together with other musicians in the early 70s. While, they divorced in 1984, they remain friends and bandmates.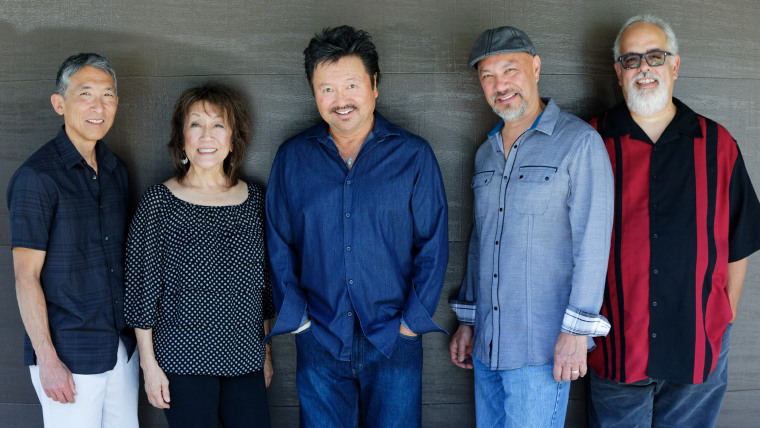 "At that time, Earth Wind and Fire had kind of evolved with an entirely new concept with jazz and R&B, and Carlos Santana had created a voice for Latinos. And we thought, man, it would be really cool if Asians had something, anything to be represented in music," Dan Kuramoto, now in his 70s, said.
"We started out as an Asian Pacific American garage band," he continued. "And oddly the Asian-American community started to kind of dig us. We were the only band that wasn't playing Top 40 music."
RELATED: Musician Grace Kelly Is 'Making a New Path' on Late Night Television
The band took its name from the Japanese city of Hiroshima, which sustained a nuclear blast during World War II. "Since we were born after all that, it's our legacy to come up from the ashes," Kuramoto said.
They released their debut self-titled album in 1979. When they landed their first record deal at Arista Records, Kuramoto remembers people at the record company were "betting amongst themselves that we wouldn't sell any records because their point was Asian Pacific people, don't really dance or sing. And Asian Americans don't listen to music."
But Larkin Arnold, who was the vice president at Arista at the time, thought otherwise, according to Kuramoto.
"Larkin believed that American music was completely diverse, so he signed us to the label," Kuramoto said. "And in the first three months we sold over a hundred thousand units. And so he won a lot of bets and it launched our career, because he was willing to take a chance. A Black man believing in Asian Pacifics."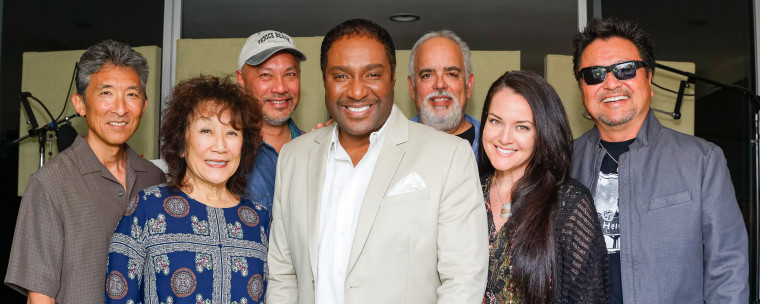 "We were one of the first Asian-American groups to get airplay, on mainstream jazz, R&B, and Quiet Storm radio," Kuramoto continued. "We did get some pop radio spins."
"We also got great support from the African American community because they understood our search for our own identity," June Kuramoto, now in her 60s, added. "They could totally relate to that."
Dan Kuramoto said he'll never forget the magic of interacting with audience members at Howard University, a historically Black university in Washington, D.C., during their first East Coast tour in the early 80s. "[Some audience members said], 'We had never seen Asians in person before. We never really realized that you love and hurt and feel just the same way as we do,'" Kuramoto said. "And when June played a koto solo she got a two-minute standing ovation."
RELATED: Jazz Icon Jimmy Borges Inspired Others, Brought Hawaii to the World
Despite being the underdog, a song called "Winds of Change" from Hiroshima's second album was nominated for a Grammy for best R&B instrumental performance in 1981, Kuramoto said.
In 1985, the band's album "Another Place" became its first certified gold record. The group's next album "Go" became its second gold record. And in 2010, Hiroshima's "Legacy" CD received a Grammy nomination for best pop instrumental album. It features many of their early hits, including "One Wish," which has also become one of the band's most popular music videos.
Over the years, Hiroshima has sold nearly four million records worldwide, according to Dan Kuramoto.
Along the way, the group has also worked with some major jazz artists. One of their career highlights was performing as the opening act for Miles Davis during his 1990 tour.
June Kuramoto remembers some of the challenges and stereotypes they faced during those early days: One time producers asked them to perform in stereotypical straw hats — which they refused.
"We had to kind of fight for our creative freedom," she said. "They didn't know how to market us. Our music is different. Our color is different. We were sort of rock, pop, jazz… 'Where do we put these guys?'"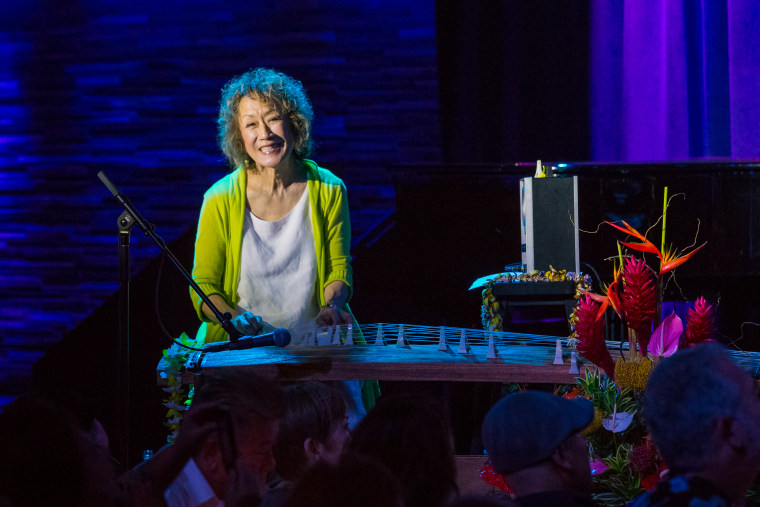 Hiroshima's connection with the Asian-American community and their roots has inspired much of their music. Dan and June co-wrote the tune "Manzanar," as a tribute to their family members who were among the 110,000 Japanese Americans sent to prison in American concentration camps, while some of their relatives fought and died serving in the U.S. Army during World War II. (Dan's family was incarcerated in Manzanar in California. June's aunts were incarcerated in Amache in Colorado).
These days, Hiroshima is a five-piece band that includes some of the group's original members: Dan Kuramoto, on sax, flute, shakuhachi and keyboards; June Kuramoto on the koto; and Danny Yamamoto on drums, percussion, and taiko. Dean Cortez plays bass and Kimo Cornwell plays piano and keyboards.
Cornwell, now in his 60s, was born in Honolulu. After moving to L.A. in the early 80s, he played with Cheryl Lynn, Ronnie Laws, Al Jarreau, Frankie Beverly and Maze, and Hiroshima, before becoming a principal member of the band in 1990.
RELATED: How Tabla Teacher Arshad Syed Went from Playing Drums to Recording with the Grateful Dead
"It's not like a typical kind of smooth jazz band… It's a world band because of the diversity of the players and the diversity in the music," Cornwell told NBC News.
"What makes this band unique I think is where it's coming from," he continued. "It's coming from the 70s, when the band was first born, the Vietnam War had ended, and segregation was ending through the 60s. Social awareness. A lot of the music we create tries to reflect some of that and also bring some peace and goodwill and happiness and humanity to the audience out there that we love and that supports us."
"We try to spread the love and diversity of America and of being who you are, standing up for your principles and beliefs," he said.
At Blue Note Hawaii, the audience cheered as Hiroshima performed tunes from its latest CD called "Songs With Words." The live studio recording features their hits, including"Roomful of Mirrors" and "Thousand Cranes." It's also the band's first all vocals album with two guest singers, Terry Steele and Yvette Nii.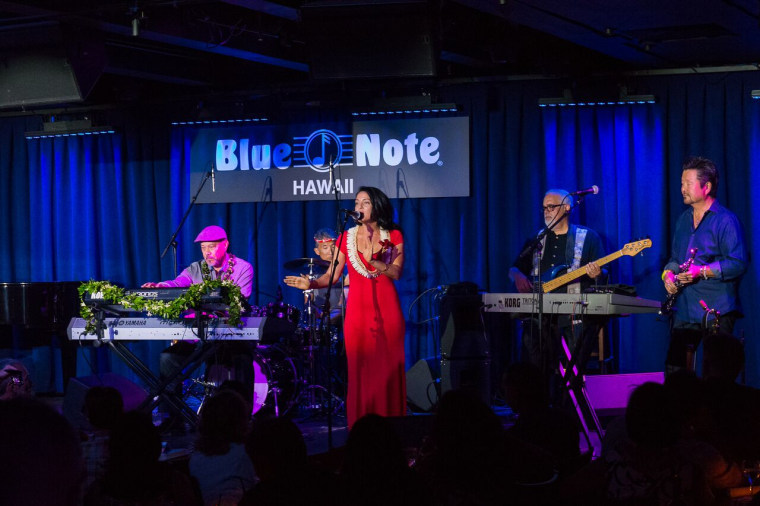 When asked how he hopes Hiroshima might make difference, Dan Kuramoto paused for a moment, then said, "I think that we open the door to perception. I like to think that in our best moments, that's what we're able to do."
He added, "We're talking about bringing people together through our culture. And that's a journey that you're lucky that you get to hop on for a minute. Throughout our career we have had so many messages from people about the healing that our music has meant for their lives. And it doesn't get much better than that."
Follow NBC Asian America on Facebook, Twitter, Instagram, and Tumblr.