It's been a good start to the year for Alex and Maia Shibutani.
The siblings have stood on the podium together every year that they've competed at the U.S. Figure Skating Championships. After 12 years of skating together and competing in multiple national and world events, the ice dance duo stood on Saturday as gold medalists for the first time, winning their first U.S. championship.
Their free skate performance to Coldplay's "Fix You" helped catapult the siblings to first place, past defending champions Madison Chock and Evan Bates.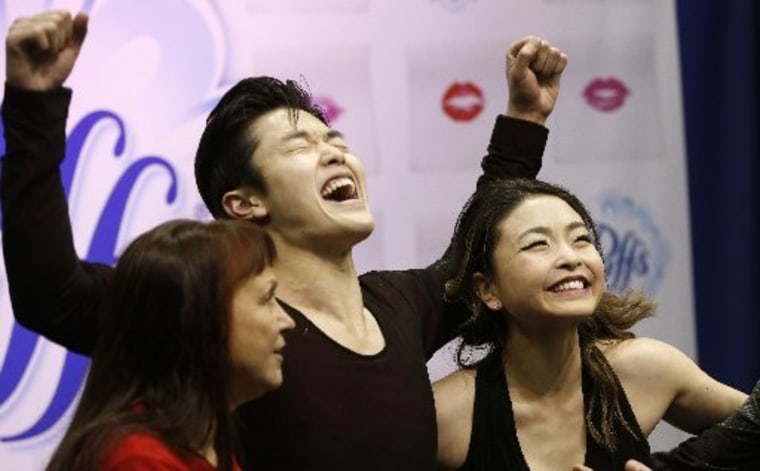 But there won't be time for resting on laurels for the Shibutanis, who are known as the "Shib Sibs" by skating fans. Saturday's National Championships marked a halfway point for the 2015-2016 season. In February, the Shibutanis will compete at the Four Continents Championships in Taipei, and then in March at the World Championships in Boston.
"Obviously being national champions is the culmination of a lot of work," Alex Shibutani, 24, told NBC News, "but there's a lot ahead of us on our schedule. So as much as we want to enjoy the moment, we're really looking forward to continuing with that momentum forward."
Maia Shibutani, 21, told NBC News, "While we're so excited, mostly we're incredibly inspired. We're really looking forward to a strong second half of our season. This is a good start."
An Eye Toward 2018
"With our eyes kind of turned toward 2018 in South Korea, we're hoping we can carve out some history for ourselves."
The Shibutani siblings were introduced to figure skating through birthday parties and basic group classes when they were growing up on the East Coast — Maia was four, Alex was seven.
"I just fell in love with it right away," Maia said. She immediately started taking private lessons, but was alone on the rink. "Alex took a little longer in his involvement with skating."
"I eventually got bored just hanging out at the rink," Alex added. "I decided to try it because Maia was having such a good time, and I was just literally on the floor looking for loose change so I could play arcade games."
They started skating together a few years later. "It was a really natural fit. We've always had a great relationship," Maia says.
The young team stood out, not only for their evident talent on the ice, but because brother-sister teams are uncommon in ice dancing, which is a discipline of figure skating that brings elements of ballroom dance to the ice.
"For us, there weren't too many brother-sister teams we could look up to, in addition to there not being a lot of people that look like us who were doing ice dancing," Alex said.
"There have always been strong roots in Asia for singles skating, so what we're trying to do is get something started for ice dance," Maia said.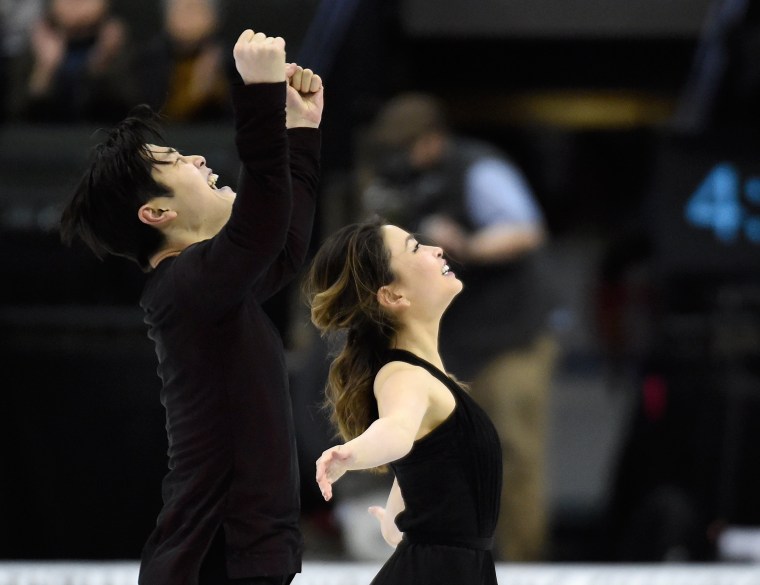 Though ice dancing has traditionally been overshadowed in the U.S. headlines by the flashier singles and pairs figure skating events, the sport has steadily gained attention over the last few years as American ice dancers began to medal at international events while their singles counterparts failed to do so.
"A lot of work has been done by ice dance teams that have preceded us, teams that we've looked up to," said Alex of ice dancing's popularity. "Right now we're sort of in a renaissance period where there's been a lot of success, notably started off by Tanith Belbin and Ben Agosto winning [Olympic] silver in 2006 and Meryl [Davis] and Charlie [White] winning Olympic silver in 2010 and then gold at Sochi in 2014."
The Shibutanis, who made their Olympics debut in 2014 at Sochi, say they hope to continue this trend. "With our eyes kind of turned toward 2018 in South Korea, we're hoping we can carve out some history for ourselves," Alex said. "That's a lot of time between now and then. It doesn't feel like a lot of time, but we're excited to push ourselves."
Beyond the Rink
Beyond their dominating presence on the rink, the Shibutanis have also gained popularity through their social media networks, demonstrating their media savvy with strong followings across all platforms: they maintain active accounts on Instagram, Twitter, Snapchat, and YouTube, where they upload self-produced videos on their "ShibSibs" channel.
"We love to perform, and that's a huge part of what figure skating is."
"One of the things that we're hoping to do, even going back to when we [first] started our YouTube channel, was trying to connect the athletes better to fans and prospective fans," Alex said. "There are a lot of very positive and noteworthy personalities and role models in the sport. For people who are interested, the YouTube channel was a way for us to connect and inspire in our way, in our generation's way, for coming skaters and athletes."
While the siblings do share a glimpse into their lives through their YouTube channel, the ShibSibs videos aren't limited to vlogs. The siblings also create sketches and skits that they share with their more than 19,000 subscribers, and often feature other stars in the figure skating world.
The videos serve multiple purposes for Alex and Maia. "Whether it's coming up with a program or sharing our experiences [online], just being able to tell stories is something we're both really interested in," Maia said.
"I think beyond continuing to grow the sport, Maia and I — we're entertainers," Alex added. "We love to perform, and that's a huge part of what figure skating is."