An Alameda County, California, supervisor will call for the head of a San Francisco Bay Area mental health organization to resign if he does not respond by Thursday to a letter she sent asking for a face-to-face meeting to discuss allegations of financial mismanagement.
Supervisor Wilma Chan made the recommendation following a Monday morning health meeting, attended by 120 people and which she chaired, to address an audit critical of Asian Community Mental Health Services (ACMHS), Chan's legislative aide, Mary June Flores, told NBC News.
RELATED: California Mental Health Care Staff Ask for Help to Save Their Organization
The audit, undertaken by the Alameda County Health Care Services Agency, raises a number of red flags about the 41-year-old organization's accounting policies and procedures, its operating deficit, and its lack of a long-term financial plan, among other concerns. ACMHS serves between 3,000 and 5,000 Asian Americans and Pacific Islanders annually in Alameda County.
In the letter to Executive Director Philip Patrick Sun, which Flores said she would hand deliver to ACMHS Monday afternoon, Chan called the audit's findings "worrisome."
"Frankly, we have grave concerns about the continued viability of ACMHS," Chan wrote.

Some 80 people spoke at Monday's meeting, Flores said, including community members, staff workers, clinicians, licensed social workers, and psychiatrists.
"They mentioned that if there are no big structural changes that occur, they will consider quitting from ACMHS," said Flores, referring to the psychiatrists. "This is a really big issue, because if we don't have the doctors there, it endangers a lot of services that could be provided."
None of ACMHS's board members attended Monday's meeting, though they were invited last week, Flores said.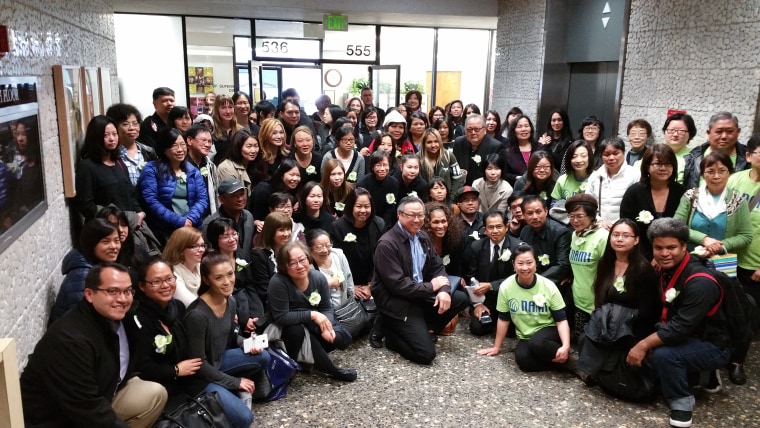 On Thursday, ACMHS fired four of its managers a day before the audit was to be made public, according to one of the managers. Three had spoken at a January board of supervisors meeting, expressing concerns about how Sun was managing the organization. A fourth, who could not attend, had a staff member deliver her remarks.
A change.org petition, started on Jan. 21, accuses Sun of creating a hostile work environment, leading to high staff turnover, and of being absent from the office while traveling on agency funds. Sun has been executive director since early 2013.
Neither Sun nor Luana Shiba-Harris, chairwoman of the ACMHS board of directors, returned requests for comment. ACMHS did tell NBC News in an email Saturday that "a detailed review of the referenced audit found no serious issues and a complete response was sent to officials at Alameda County Behavioral Health Care Services and to Alameda County Supervisors."

While the board of supervisors does not have the power to impose staffing changes at ACMHS, the organization's contract is funded mostly by federal and state grants, 75 percent of which flows through the county, according to the April 15 audit. In 2015, ACMHS received $6.3 million in grants and contracts, down from $7.7 million in 2011, the report said.
"They mentioned that if there are no big structural changes that occur, they will consider quitting from ACMHS. This is a really big issue, because if we don't have the doctors there, it endangers a lot of services that could be provided."
Last week, the Alameda County Health Care Services Agency placed ACMHS on probation for six months, warning the organization that it could lose its current contract and jeopardize future ones if it doesn't correct problems raised in the audit. The county's contract with ACMHS for this fiscal year expires on June 30.
The 15-page compliance review, ordered after the January board of supervisors meeting, detailed findings critical of ACMHS and made recommendations in 11 areas. Among those, the review identified problems with the organization's accounting department, including bank reconciliations not being made since August, the annual budget not being prepared consistently and accurately, and ACMHS not billing the county since February for expenses in December.
The audit attributed this to the department's new and less experienced employees. It recommends that ACMHS hire a director of finance, a position eliminated in November, and that it reconcile and analyze its liability accounts right away, even if that means employing a temporary accountant.
The review also noted that ACMHS had operating deficits for three of the last five fiscal years. The organization went from a surplus of $115,000 between 2010 and 2011 to an operating deficit of $160,000 for the 2014-2015 period, the audit found. For the first half of this fiscal year alone, that deficit more than doubled, the report said.
Sun, according to the audit, said he believed the deficits derived from inadequate reimbursement rates and the organization's inability to "capture all potential billing hours per the county contract." To that end, the report recommends a study to see if the organization's accounting and billing practices need improvement or if the county's reimbursement rates are inadequate.

The audit also noted that over the last four years, ACMHS had higher than average staff turnover. In 2012, 29 percent of the organization's employees left; in 2013, 16 percent; in 2014, 12 percent; and in 2015, 24 percent. The average nonprofit turnover from 2012 to 2014 through the country was 17 percent, according to the report.
The report further found that while the organization's manual on accounting and financial policies and procedures covers topics like employee expense reimbursement and payroll, it does not address others like budgeting, grants, long-term financial planning, and risk management and internal control. ACMHS should write procedures for missing topics and conduct personnel training, the report said.
The audit suggests that the ACMHS board of directors address a running dispute between Sun and program managers, who, according to the document, declined to attend meetings with him. It said the board should "either resolve the conflict or replace the person(s) that is/are unwilling or unable to perform their assigned tasks."
One of the four managers fired on Thursday, Pysay Phinith, told NBC News that she and seven others were in fact willing to meet with Sun, but had asked to do so in groups, rather than individually.
In a Jan. 12 email sent to Sun, provided to NBC News, the managers wrote that "we believe this to be a necessary course of action due to your history of unprofessional, inappropriate and bullying behavior." According to Phinith, Sun rejected the request.
Phinith said she believes their firings were retaliatory.
"I am shocked, but more importantly I am more concerned about my staff and about the services and the impact to the community," said Phinith, who had been with ACMHS for seven years.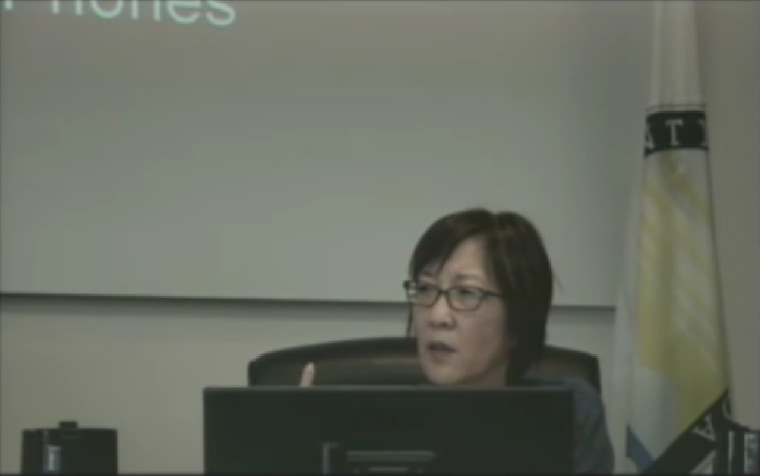 Some ACMHS staff have also expressed anger over Sun's reimbursements for travel to Canada, Africa, and China. Sun is a licensed architect, and the annual conferences he attended were hosted by UIA-PHG, an international union of architects that holds public health seminars with the World Health Organization and the International Hospital Federation, according to the audit.
But the money used to pay for Sun's conferences, architectural licenses, and trade association dues came from ACMHS funding and were not charged to the county grant, the audit found. Sun's employment contract states that ACMHS will pay for "expenses related to maintaining his skills, licenses, and attending conferences" that "support his ability to perform his functions as executive director," according to the audit.
Sun's trips to Canada, Germany, and China between 2013 and 2015 together cost $8,101, while reimbursement for his licenses and association dues totaled $3,320 between January 2015 and January 2016, according to the review.
"I am shocked, but more importantly I am more concerned about my staff and about the services and the impact to the community."
In response to the audit, the Alameda County Health Care Services Agency ordered ACMHS to hire a finance director, file a financial flexibility plan, and submit and take action on a proposal to resolve the conflict between managers and Sun. ACMHS has until May 20 to June 3 to satisfy these requirements. If it fails to meet the deadlines, ACMHS faces losing its current county contract and any future ones, the letter said.
Meanwhile, Flores said Chan plans to pen a second letter calling for Sun's resignation should he not respond by Thursday to the one she sent requesting the face-to-face meeting. Chan is also considering adding this to the agenda of the regular full board of supervisors meeting in several weeks, Flores said.
"At the end of the day, while she is going to ask for his resignation, there's not much teeth to it because technically the board of supervisors have no legal authority over hiring and firing of an executive director," Flores said. "That would be the board of directors' purview."
Follow NBC Asian America on Facebook, Twitter, Instagram, and Tumblr.