After 84-year-old Young Ok Yi lost her husband, Yong Il, to cancer in June 2013, she added her name to the rental agreement he had signed 35 years earlier when they moved into their three-bedroom home in Queens, New York.
Living in a rent-regulated apartment, the Yis paid $425.33 a month, a rate that was frozen because her husband had received rental assistance as a senior citizen since 1994. Yi assumed her rent would remain the same — until it nearly tripled to $1,269.08 last March.
"I was so shocked and scared," Yi told NBC News through a Korean interpreter.

What Yi didn't know was that beginning in May 2014, the New York City Department of Finance had enacted a rule requiring that a spouse or disabled adult apply to take over Senior Citizen Rent Increase Exemption (SCRIE) or Disability Rent Increase Exemption (DRIE) benefits within 60 days of the household head's death or face a rent increase.
No notice of the rule, except for a downloadable PDF document where it was mentioned, was given to households receiving SCRIE or DRIE benefits, according to a lawsuit filed on behalf of 10 plaintiffs last year in U.S. District Court Southern District of New York.
"The widows that had come to us — they're limited English proficient, they're low-income, they're elderly. It's the trifecta of being vulnerable in our city."
But in a settlement reached earlier this month, the city Department of Finance has agreed to reinstate the previously frozen rent rates of the plaintiffs, three of whom have died, or recalculate them if applicable. In all, the plaintiffs were awarded $130,000 for damages and legal fees, and the department ended the 60-day deadline.
The rule, according to the agreement, has since been amended to give six months to apply for a takeover or 90 days after receiving notice — whichever comes later. And the Finance Department has promised to send out information about benefits takeovers in seven languages.
"We're very happy about the results," Grace Shim, executive director of the MinKwon Center for Community Action, which represented Yi and another plaintiff, told NBC News. "We think this is a huge win. We're excited obviously for the named plaintiffs in the lawsuit, but really because it has such far-reaching effects and will benefit everyone who receives SCRIE and DRIE."
For Yi, putting her name on the lease was all she thought she needed to do after her husband, a former real-estate broker, had died. The lease with his SCRIE benefits was in effect from March 1, 2013 to Feb. 28, 2015, so Yi assumed she could wait until last Feb. 2 to apply for the takeover, she said. When the income of households receiving SCRIE or DRIE benefits permanently decreases by more than 20 percent, the law allows a recalculation of those benefits, which could lower the frozen rent, according to the lawsuit.
RELATED: Home Away From Home: A Desi Senior Center in Queens
Eight days after applying for a takeover, Yi's application was denied because she had filed it more than 60 days after her husband's death. After appealing and losing, Yi, whose monthly income is $1,032, submitted a new SCRIE benefit application that was approved last March 4, court papers said.
But her recalculated rent was $237 higher than her monthly income, the lawsuit said. Fearing she would be evicted if she didn't pay in full, Yi, a former clothing factory worker, borrowed money from her friends to make up the difference, she said. She also went to the MinKwon Center in Flushing, near where she lives, to try to get answers.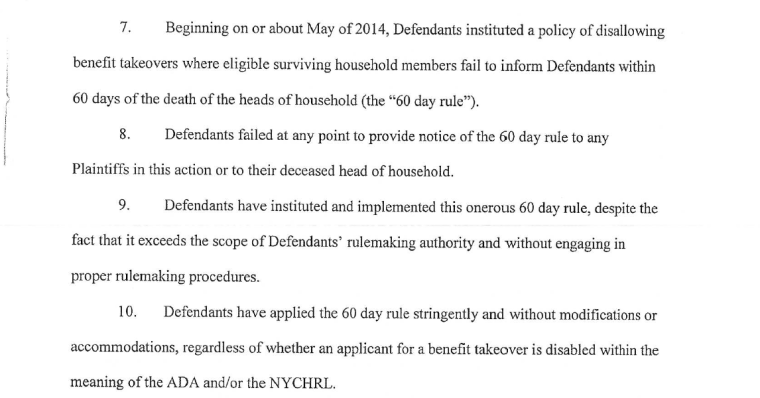 Like Yi, other residents had also started showing up last Spring with similar issues, Shim said. "They were all recently widowed, and they were getting eviction notices or arrears notices saying they hadn't been paying their rent, even though they had," she said.
Public Advocate Letitia James, the city's ombudsperson, also received 44 complaints about the application and renewal process for SCRIE and DRIE since taking office in January 2014, according to the lawsuit. The following year, MinKwon Center and James in her official role as public advocate sued the city with the help of Legal Services NYC, which helps low-income New Yorkers.
"The widows that had come to us — they're limited English proficient, they're low-income, they're elderly," Shim said. "It's the trifecta of being vulnerable in our city."
RELATED: 'They Are Not in Their Last Years Alone': Korean Elders Find Solace Away From Home
As a result of the retroactive settlement, Yi will receive $5,000, and her monthly rent will be $307.57 until her building's management company credits all of what she overpaid, according Jennifer Lee, a MinKwon Center Columbia legal fellow. One immediate challenge, though, is trying to keep Yi's total assets under $2,000, which Lee told NBC News is necessary if she is to continue qualifying for supplemental security income.
"I was so shocked and scared."
Spending some of the settlement money on a plane ticket to travel back to South Korea might help. Afraid of losing her benefits, Yi, who has two brothers in South Korea, said she hasn't been back home since coming to the United States in the late 1970s.
"They always tell me to go, but I can't," Yi said, adding that she talks on the phone with her brothers almost every day. But now, she said, she is reconsidering.
These days, Yi spends much of her time with her two cats and enjoys watching Korean dramas and some American television, including the weather report. She said she also misses her husband, who used to help other Korean Americans in Queens with housing issues.
"I am really grateful for the fact that the government is listening to me," Yi said, adding that she plans to vote to express her gratitude.
Follow NBC Asian America on Facebook, Twitter, Instagram, and Tumblr.