The first time Jin Ha saw his Korean heritage onstage was a year ago when he sat in the audience of Julia Cho's "Aubergine" — a play about a Korean-American son tending to his terminally ill father — in New York City.
"I hadn't seen that much Korean spoken onstage in my life," Ha recalled. "It wasn't until I saw it that I realized, 'Oh my god. I've never seen this before.' ... That is simultaneously moving, and at the same time, so devastating."
"White people don't need to think about that because they're not challenged with trying to expand their humanity onto somebody else's body and voice and face. For me, that's what's driven me to act."
That experience is the reason the actor has conflicted feelings with calling himself a trailblazer.
But Ha — who currently stars in the Broadway revival of David Henry Hwang's "M. Butterfly," which opened Oct. 26 — understands the importance of his role as the first Asian-American face some audience members may see onstage.
"What anchored me back into my work and made me trust that, 'There is purpose to this' is representation," Ha said. "It's for that one Asian-American child or adult in the audience who is watching the show that I'm in that might gain some sense of self-assurance, that might gain some sense of identity, like 'Oh, that's me.'"
Born in Seoul, South Korea, Ha spent most of his childhood traveling. At 3, his family moved to Hong Kong, where he learned English watching '90s sitcoms and cartoons. That was also when he realized the dearth of Asian representation in American entertainment.
"If I had a time machine, I would go back and talk to my younger self and try to explain that, 'Look, you're seeing a lot of white bodies and faces on these screens. That doesn't mean that you don't deserve to be seen," he said.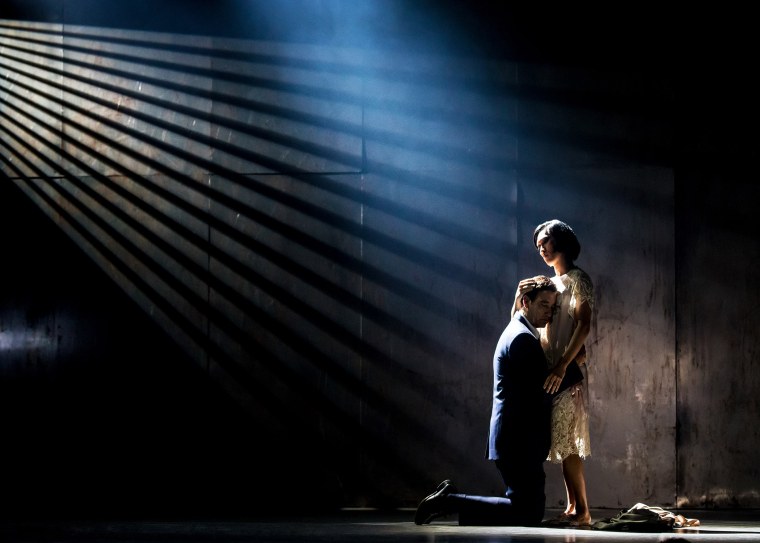 At 8, Ha moved to the U.S. His family settled in a small town in Connecticut, where his classmates were "primarily white upper-middle-class students" — a social group Ha, the son of Korean immigrant restaurant owners, was not a part of, he said.
Desperate to fit in, Ha stocked his wardrobe with clothes he said he "couldn't afford," ran for student body president, and played football and baseball. But, no matter his efforts, Ha couldn't shake off the feelings of being "othered."
In his preteens, Ha moved to New Jersey where he got his first taste of acting in a middle-school production of "Phantom of the Soap Opera," a parody of "The Phantom of the Opera." He played the Phantom.
"I remember it being a lot of fun and I really enjoyed it." Ha said. "But being very type A and wanting to have financial security, in my life and in my career, most of my time after that first performance was, 'What else can I do?'"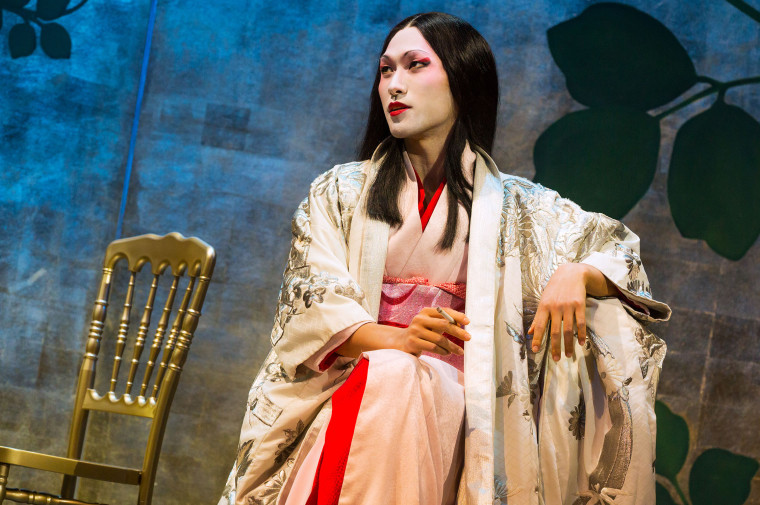 While Ha spent the rest of his teenage years doing a capella and one-off musicals, it took years before he admitted his passion for performing. When it came time for college, he majored in East Asian language and culture at Columbia University with the intention of pursuing finance.
Unhappy with where his future was headed, Ha took a gap year to teach kindergarten in Korea. One day, after noticing her son applying to internships with banks and hedge funds, Ha's mother asked him about his future over breakfast.
"She said, 'I support you in this endeavor and this path you're going down. But are you really interested in finance? It seemed to have come out of nowhere,'" Ha said. " My answer was, 'No. I'm not really interested in finance. I just want security. I want stability.' And she was like, 'Great. Don't do that then. Because you'll be miserable.'"
Ha went on to pursue an MFA in acting at New York University, before landing his first-ever acting job in the ensemble of Shakespeare in the Park's 2016 performance of "Troilus and Cressida." Shortly after, Ha found his big break as an understudy for Aaron Burr and King George III, among other characters, in Chicago's production of "Hamilton: An American Musical."
Ha touts the play, which casts minority actors as the Founding Fathers, for its stride in race-conscious casting, but he doesn't see it as a be-all-end-all for diversity, noting that the majority of roles are written for white actors.
RELATED: Asian Americans in Theater Speak Out with #MyYellowFaceStory
According to a 2016 report from the Asian American Performers Action Coalition, 9 percent of Broadway and nonprofit theater performers in New York's 2014 to 2015 season were Asian American and 30 percent minority, whereas 70 percent were white. The report noted that one show — "The King and I," which is now no longer on Broadway — was responsible for more than half of the roles for Asian-American actors.
"The fact that 'Hamilton' had a modus operandi of having conscious color-casting, of being intentional with casting people of color, that that existed when I graduated was just luck," Ha said. "However, some dissonance will say, 'Well, look at all this now. It's a great time to be an actor of color.' No. It's really not."
During his run on "Hamilton," Ha was approached to audition for Broadway's revival of "M. Butterfly," a Tony-winning play about a French diplomat who falls in love with a man masquerading as a female Chinese opera singer. Hesitant to break his "Hamilton" contract, Ha initially turned the audition down.
But after finding out that the production was pushed back and cleared his contract, Ha sent in an audition tape on a whim.
A month and a half later, Ha was cast opposite Oscar-nominated actor, Clive Owen, as Chinese opera singer Song Liling — the same role that actor B.D. Wong won a Tony for in 1988.
To prepare for "M. Butterfly," Ha connected with Wong on Instagram before meeting for lunch in New York City, where Wong passed down one key piece of advice to playing Song.
"We talked about a lot of things, but something that stuck with me was, 'Trust the text. Trust the work. Trust the character,'" Ha said.
"It wasn't until I saw it that I realized, 'Oh my god. I've never seen this before.' ... That is simultaneously moving, and at the same time, so devastating."
And though Ha believes in his ability to play a gender non-conforming character, he acknowledges his limitations as a straight, cisgender actor. While he remained tight-lipped on how the revival will adapt the original "M. Butterfly," Ha suggested that one of the reimaginings will concern gender, and he hopes that his performance can help advance discussion around the subject.
"It's important for me to understand as a cisgender heterosexual man what it means to be in this role," Ha said. "I don't share some of that experience. I can't pretend that I do. That would be disrespectful."
It's this same level of open-mindedness that Ha hopes translates to the entertainment industry, where he said minorities often need to empathize with white characters — a phenomenon he hopes to change.
"That's white privilege in itself," Ha said. "White people don't need to think about that because they're not challenged with trying to expand their humanity onto somebody else's body and voice and face. For me, that's what's driven me to act."
Follow NBC Asian America on Facebook, Twitter, Instagram and Tumblr.