If you've ever cracked open a fortune cookie, there's a good chance you might have encountered the wit of 68-year-old Donald Lau.
Having written thousands of fortunes, Lau sometimes reshapes familiar adages. ("You are what you eat, but you don't look Chinese — come more often.") He might also allude to politics. ("Don't run for president; you're not a good liar.")
Not all of Lau's messages make it through the vetting process and into the fortune cookie database at Wonton Food Inc., where he also serves as vice president and chief financial officer. But for those that do, Lau has but one simple wish: that customers read them and smile.
"I just want to make them feel better," Lau told NBC News.
After embracing that mission for more than three decades, Lau is busy training a new scribe to take over crafting the next generation of fortune cookie sayings.
That responsibility will fall on the shoulders of 43-year-old James Wong. His dad was an industrial engineer for Wonton Food Inc., founded by Wong's uncle in 1973 as a small noodle shop in Manhattan's Chinatown.
"This sort of just fell into my lap, mainly because I grew up in the fortune cookie business," Wong, an assistant vice president, told NBC News.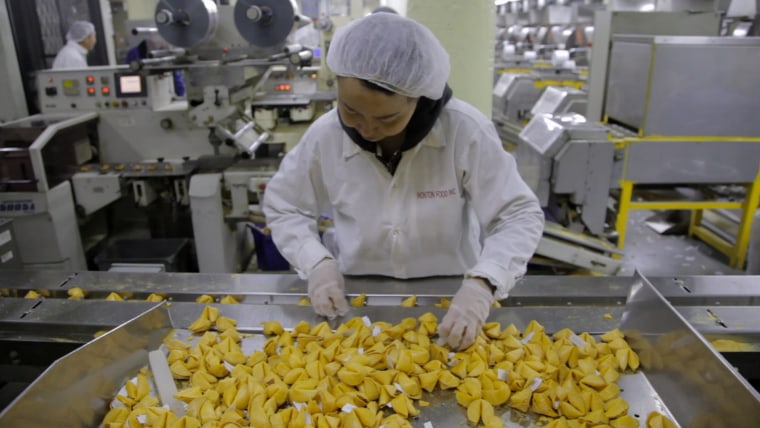 While fortune cookies have typically been associated with Chinese food in America, their history is somewhat ambiguous. According to the Smithsonian, both Chinese and Japanese immigrants in the United States have claimed rights to the cookie.
The debate even wound up in a courtroom in 1983, when a judge declined to decide which nationality the cookie belonged to, the organization reported. (He did rule that the modern-day version was invented before World War I in San Francisco, according to Smithsonian.)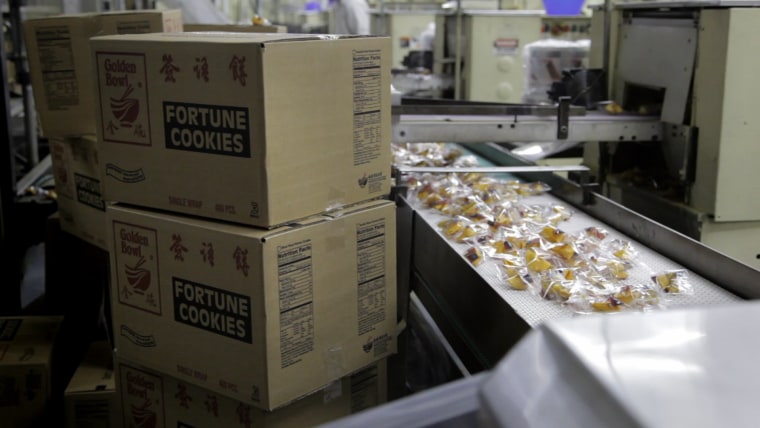 RELATED: New York City Exhibits Explore Chinese-American Experience, Culture Through Food
As a kid, Wong didn't know much about fortune cookies. To him, they were an American invention served in Chinese restaurants, he said.
"A fortune cookie was basically a toy that we had fun with, throwing it at each other," said Wong, recalling his time around the factory as a seven year old.
"I think the first fortunes I wrote were pretty similar to the database, that you will meet a stranger, and things like that. I guess they sound more like horoscopes than fortunes."
It wasn't until Wong was in his early 20s, he said, that he developed a better understanding of the family business, which produces five million cookies daily between two facilities. Now, Wong is honing his practice writing fortunes under the guidance of Lau, who is nearly a quarter-century his senior.
Like Wong, Lau also fell into the role of fortune writer, he said. A former banker, Lau began working for Wonton Food Inc. in the 1980s, when the company had bought the oldest and largest manufacturer of fortune cookies on the East Coast, he said.
Among all the employees, Lau's English was the best, he said. So Lau became the one tasked with freshening up the company's collection of fortunes, which at the time totalled a few hundred, he said.
"I think the first fortunes I wrote were pretty similar to the database, that you will meet a stranger, and things like that," Lau said. "I guess they sound more like horoscopes than fortunes."
But Lau later experimented with his writing, using his dry sense of humor as the foundation of his 120-character pronouncements.
His creative process is straightforward, his inspiration stemming from the news he reads or from family or personal experiences. Often quiet throughout the day, Lau is known for suddenly emerging from his office and blurting out a saying or two, trying his ideas out on colleagues, Wong said.
"Sometimes I get a frown, and other times I get a couple of thumbs up," Lau said.
These days, Lau's writing has slowed down considerably, he said. In the past, he used to write a few fortunes a day. Now, it's more like a few a month, Lau said.
And then there's writer's block. "I get that more and more these days," he said.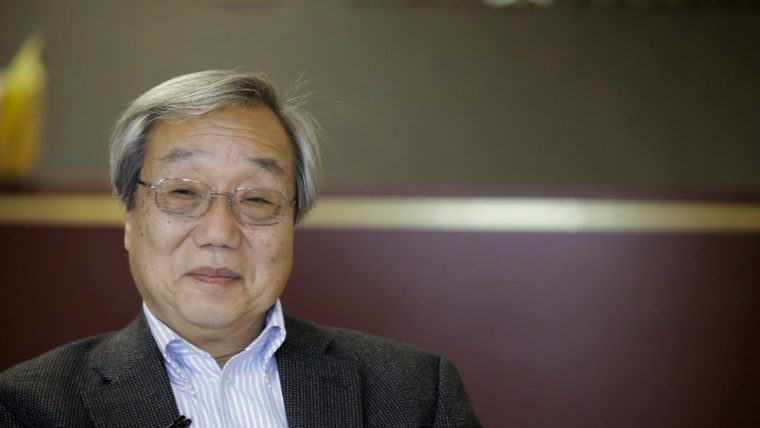 Lau isn't retiring, though, adding he plans to spend more time traveling. He'll also serve as Wong's editor, as he eases into writing new fortunes for a database that already has thousands.
Wong, who's already penned some of his own fortunes, said he's gratified knowing others out there are also reading his messages.
"And I'm hoping that it's not just for the lucky numbers," he added. "I'm hoping that it's for the sayings themselves."
Follow NBC Asian America on Facebook, Twitter, Instagram, and Tumblr.