HONOLULU — Hawaiian Airlines executives had a dilemma: Their planes were burning more fuel than projected on their regular 2,600-mile route between Honolulu and American Samoa.
Various factors for increased fuel use, like winds, were ruled out. So the carrier asked passengers on the twice weekly flights if they wouldn't mind being weighed before boarding.
The results of Hawaiian Airlines' six-month voluntary survey found that on average the passengers and their carry-on bags were 30 pounds heavier than anticipated, and it's prompted a new policy: Passengers are no longer allowed to pre-select their own seats on flights between Hawaii and the U.S. territory.
Instead, they are assigned seats when they check in for their flights at the Honolulu and Pago Pago airports to ensure that weight is evenly distributed around the jets' cabins.
But the new policy has prompted complaints to federal transportation officials and claims that people from American Samoa are being targeted because of their weight.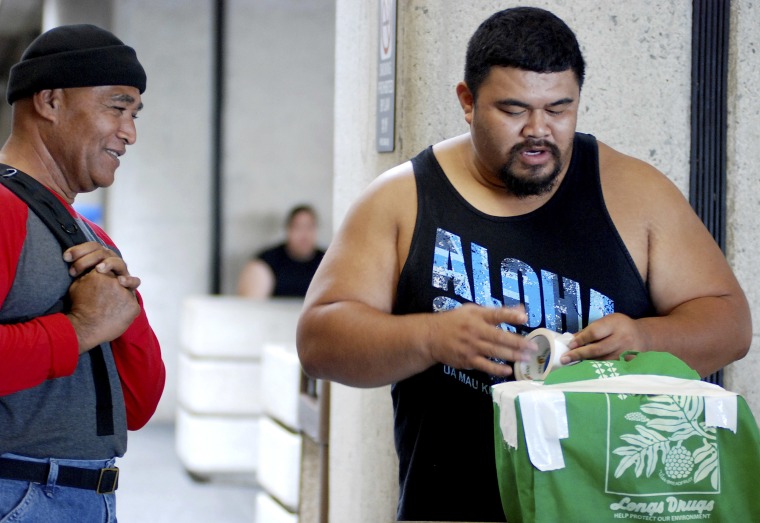 "What they're saying is Samoans are obese," said Atimua Migi, who was seeing off his father, Mua Migi, at Honolulu International Airport Monday for the nearly six-hour flight to Pago Pago, American Samoa's territorial capital.
"That's an entirely incorrect assumption," responded Jon Snook, Hawaiian's chief operating officer.
Snook said he was surprised to see headlines worldwide about the issue, and said many media reports were inaccurate in saying that the airline was assigning seats based on passenger weight.
The row design of the Boeing 767 jets used for the flight has two seats on each side of the plane, three seats in the middle and two aisles.
Using the results of the survey, airline officials found that if adults all sat in one row of the plane, the combined weight of those passengers might exceed load limitations in crash-landing situations, Snook said.
Officials are now trying to keep one seat per row open, or at least fill those seats with children who weigh less than adults.
San Francisco-based travel industry analyst Henry Harteveldt said the move by Hawaiian Airlines was unusual, saying he had "never heard of any other U.S. airline doing this on any other route that it operates."
But Snook said other carriers have and that the Federal Aviation Administration establishes average weights of passengers with their carry-on luggage for carriers. The airline in an online Q&A about the seating policy said "airlines may choose to conduct their own survey in markets in which they believe weights differ materially from FAA averages."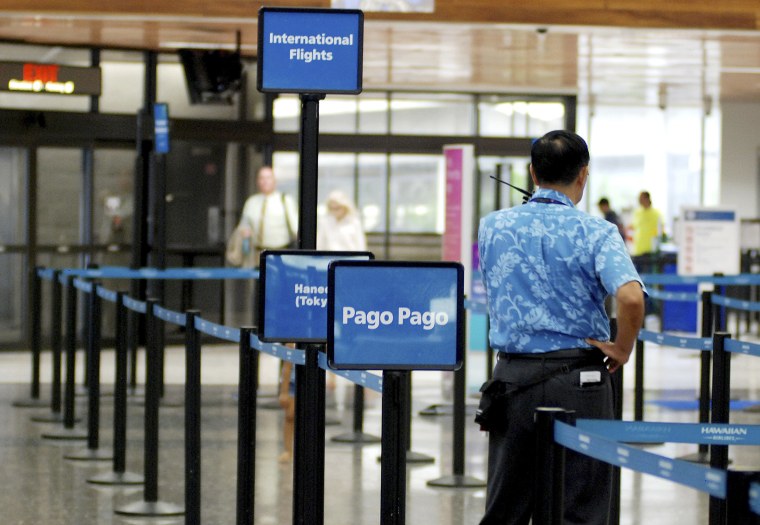 The airline chose to manage distribution of passengers instead of limiting how many seats could be sold, which would have driven up ticket prices, Snook added.
Daniel King, who filed one of six complaints sent to the U.S. Transportation Department between Sept. 29 and Oct. 10, called the new policy discriminatory because it only applies to the Pago Pago flight.
Most passengers on the flights "are of Samoan descent, which also begs the question of discrimination," said King, an American Samoa businessman.
But the department decided that "Hawaiian Airlines' policy of not offering pre-assigned seats on certain flights is not on its face discriminatory," Transportation Department spokeswoman Caitlin Harvey in an email.
"What they're doing is logistically the most sensible thing under unique circumstances," said Gary Leff, who writes the viewfromthewing.com travel blog.
Snook said Hawaiian has conducted similar weight studies for its Asian markets, where the average weight calculated ended up being lower than previously projected, and no policy change was enacted as a result.
No complaints were lodged during the Honolulu-Pago Pago weight survey, which ended in August, said Hawaiian Airlines spokesman Alex Da Silva.
Other passengers on Monday's flight had not heard about the new policy or were not bothered by it.
"I'm cool with it, I don't mind," said Jake Brown, headed to American Samoa for the first time, after receiving a seat assignment in the back of the plane, his preference.
Follow NBC Asian America on Facebook, Twitter, Instagram, and Tumblr.