Natalie Ringsmuth, her husband, and her children were in the car driving home from her 12-year-old son's birthday party Saturday when they approached the Crossroads Center shopping mall in St. Cloud, Minnesota, around 8:30 p.m.
"There was more police presence than I've ever seen in my life," Ringsmuth told NBC News. "And my children immediately were nervous."
After checking social media, Ringsmuth said she soon learned what had happened — 10 people had been injured in the mall by a man who allegedly stabbed them and reportedly made references to Allah. She said she also learned in a text from her a friend whose husband works for the St. Cloud Police Department that the suspect was Somali.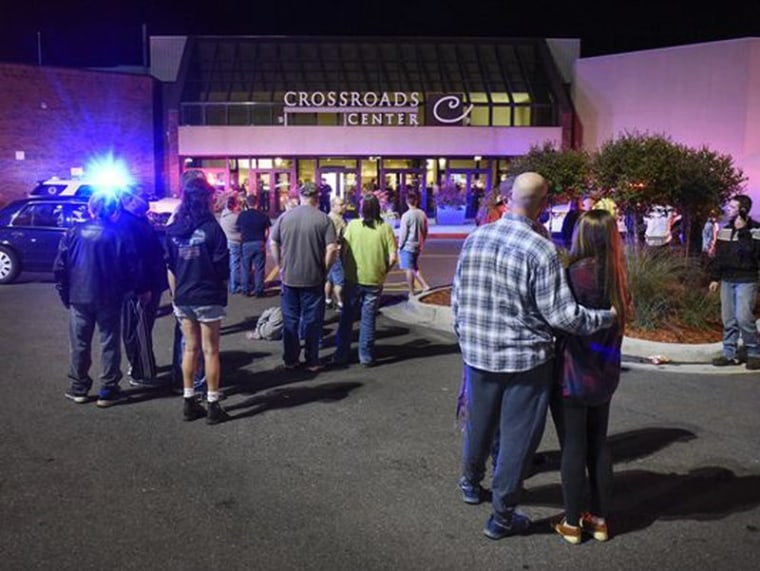 For Ringsmuth, who founded an organization one-and-a-half years ago called #UniteCloud to address rising community tensions over St. Cloud's growing Muslim and immigrant populations, the stabbings were her worst fear realized.
"We started it just for something like this," she said. "We thought something was going to happen in this area that is violent at some point, whether it be from whatever side of the community it would be on, and we were prepared for that, emotionally as much as we could be, even though we were so shocked when we heard."
RELATED: Dahir Ahmed Adan Named by Police as St. Cloud, Minnesota, Stabbing Suspect
Many questions remain about the Saturday night attack in St. Cloud, a city of around 66,000 about an hour northwest of Minneapolis. Police identified the suspect as 20-year-old Dahir Ahmed Adnan, who was fatally shot by an off-duty police officer, Monday night. Ringsmuth said he was Somali and said her organization's community director, Haji Yusuf, had met with the suspect's family.
She said that according to Yusuf, the family was baffled by the accusations made against the man.
"They want answers, they have zero clue," Ringsmuth said. "They said he left to buy an iPhone, and the next thing you know this is was happened. When he left, he was happy."
Authorities were investigating the stabbings as a possible act of terrorism. An ISIS affiliated media outlet claimed the attacker "was a soldier of the Islamic State," but there was no evidence suggesting any foreign group had any direct hand in the planning or execution of the attack.
The Minnesota stabbings came as explosive devices this weekend went off in New Jersey and in New York City, where 29 people were injured. After a shootout with police in Linden, New Jersey, Monday morning, a wounded 28-year-old Ahmad Rahami was arrested in connection with the explosions and charged Monday night with attempted murder.
Rahami was born in Afghanistan, and his family was granted asylum in 2011.
The motives of both men were still under investigation.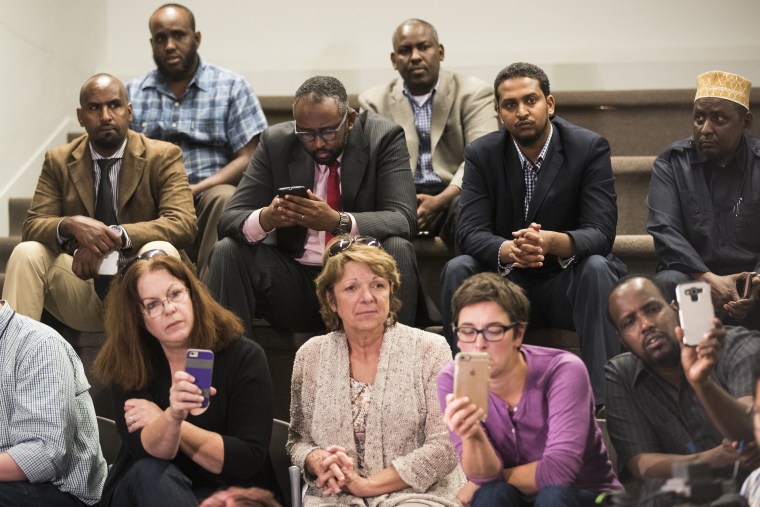 A report by the U.S. House Committee on Homeland Security last year revealed that among young people from at least 19 states, Minnesota produced the largest percentage of individuals who "sought to become foreign fighters in Syria and Iraq."
Ringsmuth said one of the ways to stop radicalization is for the community to come together, a goal she's hopeful #UniteCloud can help accomplish.
"We specifically know that we have a role to play when it comes to terrorists," Ringsmuth said. "Being a community that loves and accepts people means that we wouldn't accept terrorists — and hopefully no one else would either — but we're not there yet. We're trying to get there."
In an interview with NBC News in February, Yusuf said St. Cloud's Muslim and foreign-born population began to grow around 2007, as immigrants from African countries like Somalia, South Sudan, and Ethiopia settled in the city to join their families and look for work. Many ended up finding jobs at poultry slaughterhouses and factories, he said.
According to the Census, the black or African American population of St. Cloud more than doubled between 2000 and 2010, increasing from 1,402 to 5,152. During those 10 years, St. Cloud's total population also increased by nearly 10 percent, while the percentage of whites decreased from 91 percent to 84 percent, the Census shows.
That demographic shift has fueled anti-Muslim and anti-immigrant feelings, Yusuf said.
Following the stabbings this past weekend, the vitriol aimed at St. Cloud's Somali and Muslim communities has been especially pronounced on social media, Ringsmuth said.
"They want answers, they have zero clue. They said he left to buy an iPhone, and the next thing you know this is was happened. When he left, he was happy."
"'Get out of my country,' 'go home,' 'we don't want you here,' those types of things," she said. "We're used to that. There's a small group in this town that continues to beat that drum. It's unfortunate, but it doesn't deter us."
St. Cloud made news back in February when two members of the Somali community spotted a license plate on a red pickup truck that read "FMUSLMS." The men snapped a photo and called Yusuf, a friend, who posted it on Facebook. Minnesota's Department of Public Safety soon began the process of revoking those license plates.
Meanwhile, #UniteCloud continues to take steps to bridge the community, Ringsmuth said. She mentioned, for instance, that her group applied for a state grant in the summer specifically to bring local police and the Somali community together for events once a month.
RELATED: Hero Cop Was 'Right Person at Right Place' for Minnesota Stabbing Victims
Ringsmuth, who said she's had firebomb threats made against her house, hopes that #UniteCloud can ultimately change the way community members interact with one another and online. Although she said much work still remains, she added she's confident St. Cloud will triumph in the end.
"It's been a roller coaster, but we're going through it together, so that makes it easier," Ringsmuth said.
Follow NBC Asian America on Facebook, Twitter, Instagram, and Tumblr.