After 10 days of hunger strikes at San Francisco State University (SFSU), including a brief hospitalization of one of the four Third World Liberation Front 2016 hunger strikers Tuesday, an agreement with SFSU administration was reached Wednesday regarding the future of the SFSU College of Ethnic Studies.
"These four students are not only brave, they are also sacred gifts to the many communities they come from and represent," professor Andrew Jolivette, chair of the American Indian Studies Department, told NBC News. "Their sacrifice was a selfless act that such make us all proud of them. This is a huge step in advancing the healthy growth of the College of Ethnic Studies, and I look forward to the next phases of planning to bring the students demands into fruition in the coming years."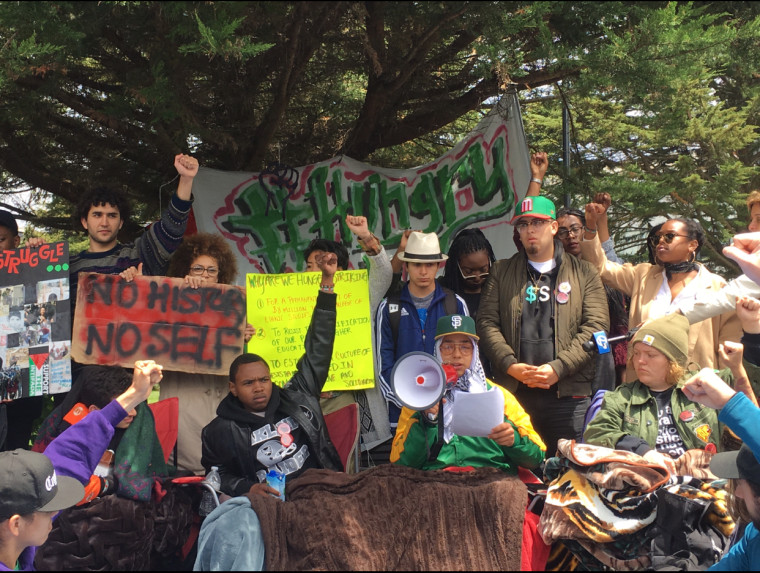 In this protest, which drew the support of actor and activist Danny Glover and ethnic studies programs around the nation, four students — Julia Retzlaff,19; Ahkeel Andres Mestayer, 20; Hassani Bell, 18; and Sachiel Rossen, 19 — launched a hunger strike on May 2, alleging that SFSU administration was trying to dismantle the program by starving it of funds and demanding $8 million in direct funding for the College of Ethnic Studies.
RELATED: SFSU College of Ethnic Studies Fights for Budget Survival, Wins Year Reprieve
In a letter addressed to the SFSU community and "our Ethnic Studies family around the world," and signed by SFSU President Leslie Wong and the four hunger strikers, the university administration agreed to eleven of the demands, including reallocating funding for two full-time tenure track faculty appointments in Africana Studies, reallocating funding for four work-study student positions, working towards departmental status for the Race and Resistance Studies program, and developing a program in Pacific Islander Studies. The agreement will result "in the additional investment of $482,806 in support of advancing the College — in addition to the $250,000 commitment for AY 2016-17 earlier already made by the President."
The university administration also pledged not to take disciplinary action against the students, staff, faculty, or administrators for participating in the protest activities, regular and continued negotiations, and ongoing budget transparency.
Considered to be the birthplace of ethnic studies, SFSU's ethnic studies program and ethnic studies as an academic discipline came out of historic student strikes in 1968 and 1969 led by the Black Student Union, Third World Liberation Front, and community leaders.
The hunger strikers called themselves Third World Liberation Front 2016 in honor of the original student strikers.
Follow NBC Asian America on Facebook, Twitter, Instagram, and Tumblr.