Thursday night's Republican debate may have gone on without frontrunner Donald Trump, but Sanjita Pradhan is trying to make sure Monday's Iowa caucuses won't go on without Asian Americans.
Pradhan, an immigrant from Nepal and a naturalized American, will be attending her first caucus meeting on Monday. As a community advocate in Des Moines, she's been on the phone urging other Asian American and Pacific Islanders in Iowa to join in at their precinct caucuses.
"I did hear a lot of people say, 'I'm going,' but some said, 'I don't know what that is,'" Pradhan told NBC News, adding that many Asian Americans she's spoken to are still intimidated by the process. "I hope there will be a good turnout, but I think there will be a smaller one. There's still an education process."
Pradhan said language remains one of the biggest barriers to engagement in Iowa for Asian Americans, a group of approximately 65,000 people — 2.1 percent of the state's population.
It's an Asian American micro-community that is unique because of its location in the middle of the country and because of its newness: nearly 80 percent of Iowa's Asian population entered the United States after 1990, according to U.S. Census data.
RELATED: As Asian-American Electorate Grows, GOP Aims to Turn Local Wins National
Census data also shows that Iowa's Asian population, as of 2013, is a unique mix: Asian Indian make up the largest proportion at 23.6 percent; Chinese, except Taiwanese, make up 22 percent; Vietnamese, 10.9 percent; Korean, 8.8 percent; Laotian, 8.1 percent; Filipino, 6.9 percent; and Burmese, 5.6 percent.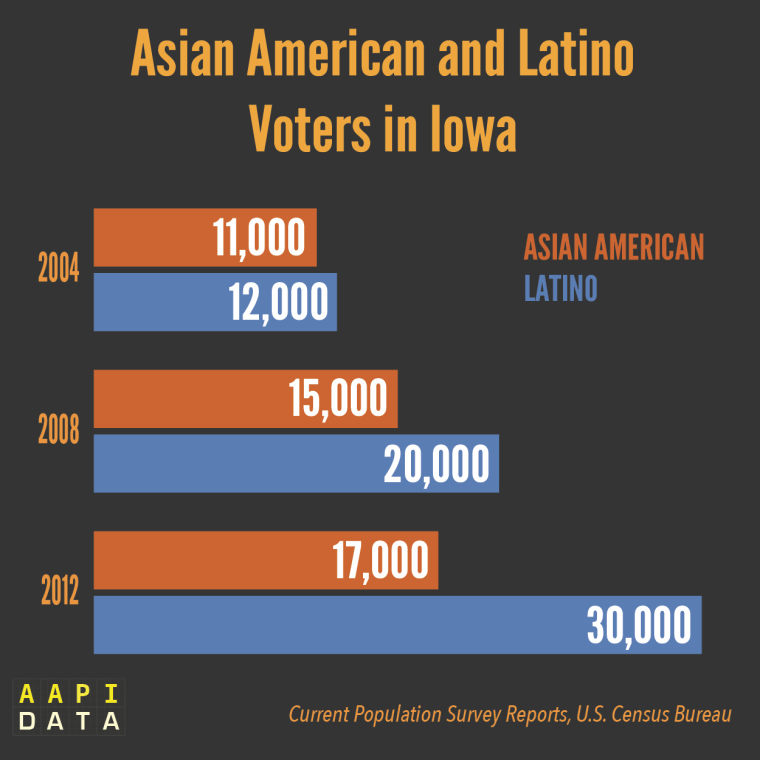 The Asian American electorate has also grown steadily in Iowa between national elections. Age-wise, nearly 70 percent of Asian Americans are over 18 years old, but only about 36.5 percent of foreign-born Asians in the state are naturalized.
But even though the number of possible Asian-American voters in the state are small, that doesn't mean their vote doesn't count at the caucuses. In a close race, community organizers say, votes matter. According to AAPI Data, in 2012 there were 17,000 Asian-American voters in Iowa. In a blog posted Friday, AAPI Data says that, in what's shaping up to be tight races in both the Democratic and Republican contests, Asian Americans at 1 percent of the vote could be more significant than people think.
RELATED: Courting the Youth Vote: How Both Parties Plan to Target Asian-American Millennials
But engagement takes preparation. Just as candidates hold mock debates before stepping behind podiums, Pradhan and nonpartisan organization APIAVote have been holding caucus training sessions aimed at educating and assisting Asian American and Pacific Islanders in Iowa on the party nomination process.
Pradhan said the trainings also aim to help those who don't feel comfortable attending the caucuses for fear of being made to feel stupid because they may not understand the rules.
"It's very intimidating," said Pradhan, who said people trust her because they see her as an advocate in the community, especially those from refugee communities like Burma and Bhutan.
Pradhan added that it was important to remove barriers to civic engagement and teach people how to feel comfortable with the process in a setting with others who are also learning — all key components to helping people gain the desire to engage in the process.
But sustained engagement, Pradhan said, also takes some outreach from the major political parties. "We're a little late bloomers but I think we're getting there," she said.
It's not fast enough for Benjamin Jung. A registered Republican, Jung, 45, is a native born Iowan, an Asian American of Korean descent. His father immigrated from South Korea in the late '60s and opened a liquor store. Jung now runs the family's two-store operation, Ingersoll Wine & Spirits on the main road leading out of Des Moines to the west.
He's also the chair of the Iowa Commission on Asian and Pacific Islander Affairs. Jung said he went to his first caucus as a high school student in 1988 and that he cancelled a business trip in order to stay in Iowa for caucus season.
RELATED: Is the GOP Losing the Asian-American Vote?
"I think the caucus is a perfect example how AAPIs need to be participating. To be vocal and be visible."
But lately, to Jung, the Republican Party has failed to understand the population growth of Asian Americans in Iowa — nearly a 75 percent change since 2000.
"They just don't recognize there's a shift going on and therefore they are losing out on the opportunity to market the Republican brand," Jung told NBC News. "I'm talking about outreach here … the Republican Party of Iowa has done very little."
Jung mentioned how the Brown and Black Forum usually schedules a Democratic and a Republican forum to reach out to minority voters. But the forum, on its website, clearly points to Latino and African-American issues as its main focus. "What does that say ... to Asians?" Jung asked.
RELATED: New Super PAC Launches, Aims to Increase Asian-American Votes
He added that the lack of Republican outreach may mean that the majority of his Asian-American friends will end up, not at Republican caucuses, but Democratic ones.
But Jung said the important thing is that they just show up.
"I think the caucus is a perfect example how AAPIs need to be participating," Jung said. "To be vocal and be visible."
Follow NBC Asian America on Facebook, Twitter, Instagram, and Tumblr.