Setsuko Thurlow still remembers the bluish white flash that filled the room she was in almost 71 years ago, the feeling of floating through the air, and the sight of the dead and injured, some with their eyeballs in their hands, some with their intestines hanging out.
It's a story that for decades Thurlow, now 84, has recounted countless times to schoolchildren across the world and to organizations promoting nuclear disarmament. It's also a story that has not become easier to tell, even with the passing of time.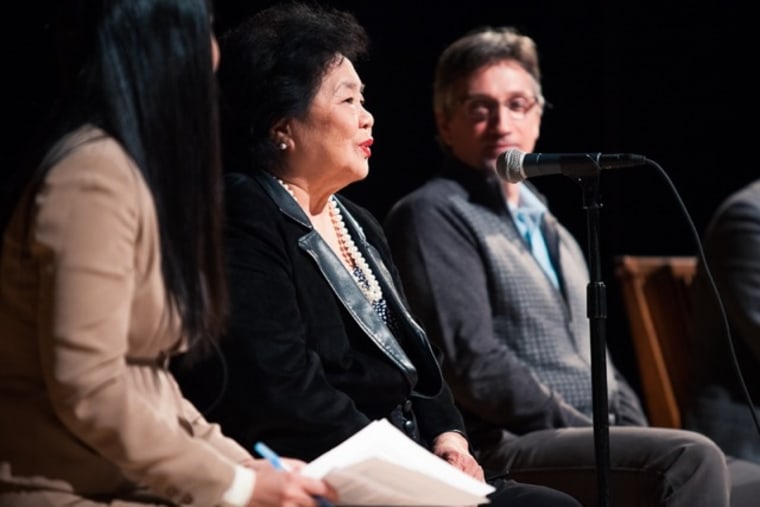 Like Thurlow, many of the more than 183,000 Japanese atomic bomb survivors, known as Hibakusha, will be watching with keen interest Friday as President Barack Obama becomes the first sitting U.S. president to visit Hiroshima, one of two Japanese cities where the U.S. dropped nuclear bombs in August 1945.
Thurlow told NBC News that while she appreciates Obama's courage to travel to her hometown, where some of her family were among the 140,000 killed in the bombing, she still has conflicting emotions over his trip, especially after a 2009 speech in Prague when Obama said the U.S. would take the lead on ridding the world of nuclear weapons.
"The world waited and waited and waited, but so far our problem continues and actually it's worse," said Thurlow, speaking by phone from Canada, where she lives. "So we are, and I am, very disappointed. Well, perhaps because of the party politics in Washington, he has not been able to succeed to achieve what he wanted to, but still it's a huge, huge disappointment for the world."
"If the president choose to apologize, I think it's appropriate. But if he chooses not to apologize, that's understandable considering the American political climate."
Obama first expressed interest seven years ago in traveling to Hiroshima and Nagasaki, which was bombed on Aug. 9, 1945, three days after Hiroshima, killing 70,000. After stopping first in Vietnam on Sunday, where Obama announced the end of a five decade-long arms embargo with the country, the president will later take part in his final G-7 Summit in Ise-Shima, Japan.
Together with Prime Minister Shinzo Abe, Obama will then visit the Hiroshima Peace Memorial Park on Friday, a site dedicated to the memory of the victims of the bombings.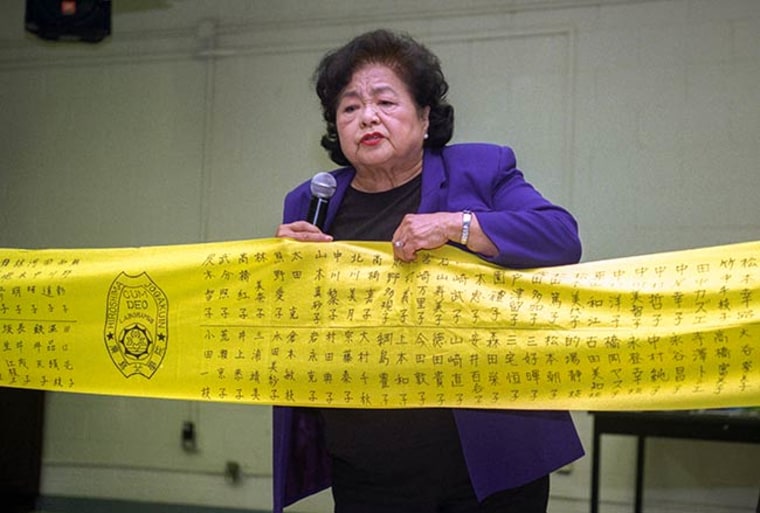 Many Americans believe the attacks were justified and were necessary to bring about an end to the war. Japanese bomb survivor groups, for their part, have advocated for decades to eliminate nuclear weapons. A television poll conducted by NHK, Japan's public broadcaster, found that 70 percent of Japanese favored Obama's visit to Hiroshima, while only two percent were against it, according to the Associated Press.
Deputy National Security Advisor Ben Rhodes wrote in a post on Medium that Obama will not apologize for the bombings, which was the only time a country used nuclear weapons in war. In a Kyodo News poll Sunday of 115 bomb survivors, 80 percent said the president does not need to make an apology, according to the Japanese Times.
RELATED: Obama's Visit to Hiroshima Will Be First for Sitting U.S. President
For Thurlow, a participant of Hibakusha Stories, a non-governmental organization that advocates nuclear disarmament and brings atomic bomb survivors to schools to share their experiences with students, an apology is something that must come voluntarily.
"If the president choose to apologize, I think it's appropriate," Thurlow said. "But if he chooses not to apologize, that's understandable considering the American political climate."
Thurlow was 13 years old the day the bomb dropped on Hiroshima. Having been recruited to decode secret messages for the Japanese government, Thurlow was at army headquarters instead of school to begin her assignment, she said. It was shortly after 8 a.m., and a major had commenced the morning assembly. That's when she saw the bluish white flash in the window.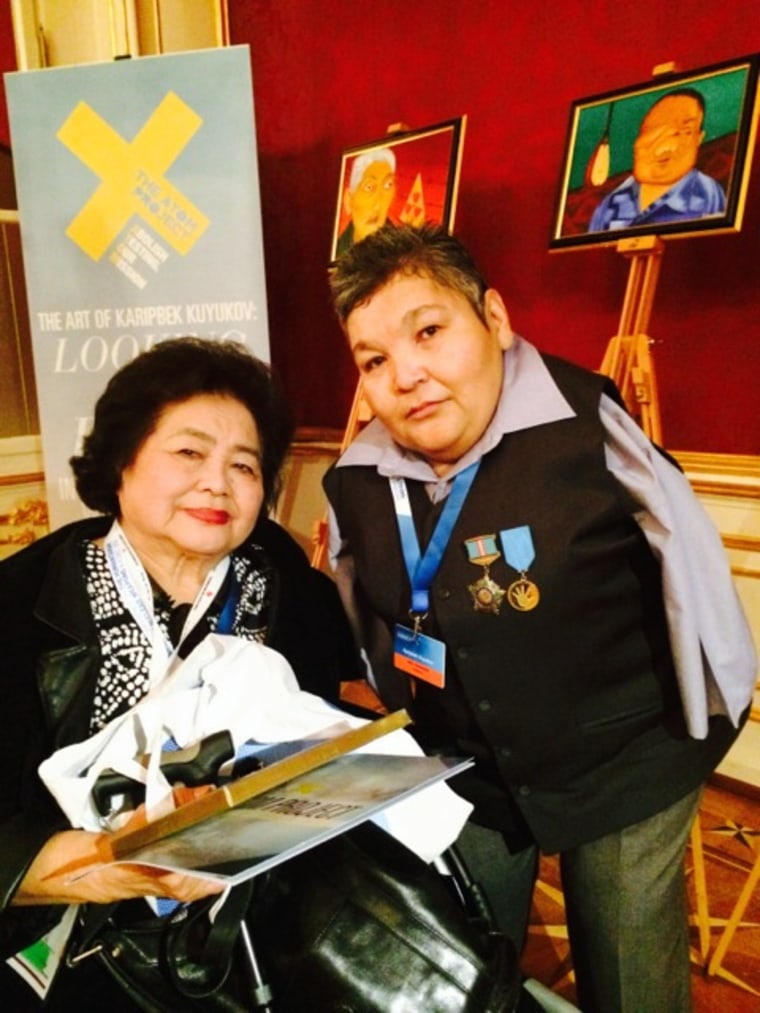 Just one mile from Ground Zero, the wooden building Thurlow was in collapsed from the blast, pinning her in the debris. When she regained consciousness, she tried to move her body but couldn't.
"Strange thing is, I wasn't panic stricken," Thurlow said. "I just calmly faced my death."
Coming to Thurlow's aid, a man with a strong voice urged her to crawl toward the light in an opening, she said. When she emerged, she saw the army headquarters engulfed in flames, a sign that the 30 girls she was with had been burned alive. As her eyes adjusted to the darkness outside, Thurlow spotted dark moving objects approaching her.
"My goodness, those procession of ghosts, I call them, because the people did not look like human beings," she said, referring to those who were injured.
One of Thurlow's sisters and her sister's four-year-old son, who were walking across a bridge to go to the doctor's office, were badly burned and died four days later, she said. Her sister-in-law who was in the center of the city directing high school students was vaporized. An aunt and two cousins also never came home.
Thurlow's favorite uncle and aunt did survive, though a week later purple spots began appearing all over their bodies, a sign of radiation poisoning. They too died.
RELATED: Members of Congress Respond to News of Obama's Hiroshima Visit
Thurlow said she was exposed to some radiation, but not as much as others, like some women who lost all their hair. She returns annually to the Hiroshima Red Cross Hospital & Atomic-bomb Survivors Hospital for check-ups, she said.
Thurlow came to the United States to study in 1954, married her late husband James a year later, and together enrolled at the University of Toronto. They lived in Japan for some time before returning to North America in 1962.
American audiences were not so receptive when she first shared her story in the 1950s, Thurlow said. Some even told her to go back to Japan.
"But somehow I came out of that trauma with a commitment, that unless I speak up, who can tell what happened in Hiroshima and Nagasaki," Thurlow said. "I decided not to put the zipper over my mouth, and I continued to speak publically."
More than a half-century later, Thurlow, a former social worker, continues to traverse the world telling her story. This past month, she traveled to the United Kingdom and also spoke before a newly formed United Nations working group on nuclear disarmament, which met in Geneva. In a joint statement with China, Russia, England, and France, the U.S. opposed the group's creation, saying the Nuclear Nonproliferation Treaty, enacted in 1970, has "proven to be a solid framework to advance nuclear disarmament."
"My goodness, those procession of ghosts, I call them, because the people did not look like human beings."
Last January, the Congressional Budget Office projected that the Obama administration's plans to operate, maintain and modernize its nuclear forces, the cornerstone of U.S. national security, would cost $348 billion between 2015 and 2024. That comes out to around $1 trillion over the next three decades.
"I just couldn't believe that, the man who dreams about the day when we have no nuclear weapons in this world," Thurlow said, referring to Obama.
Thurlow said she plans to watch live coverage of Obama's visit to the Hiroshima Peace Memorial Park, adding that she hopes the president, who will lay a wreath, does something to promote nuclear disarmament.
"Instead of just seeing the articles exhibited within the museum, I think it's appropriate for him to see and meet and talk with the living witnesses of that event, of that horror," Thurlow said.
Follow NBC Asian America on Facebook, Twitter, Instagram, and Tumblr.