With a major in art and a minor in marine science from the University of Hawaii at Hilo, Jeremiah White's designs of fish, sharks, whales, sea turtles, octopuses, wild boar, owls, and more are inspired by both the science and mythology of Hawaii. As founder and designer for Akua Creative, White said he strives to not only depict the natural world but to also tell some of the ancient Hawaiian stories that his mother read to him as a child using mediums of T-shirts, tank tops, dresses, and leggings.
"I started this business from my interest in biology and art, also mythology, geometry, and storytelling," White told NBC News. "I came to realize that they are all interconnected. I like hand printing my designs on apparel because it forces me to condense my ideas into a format that is functional."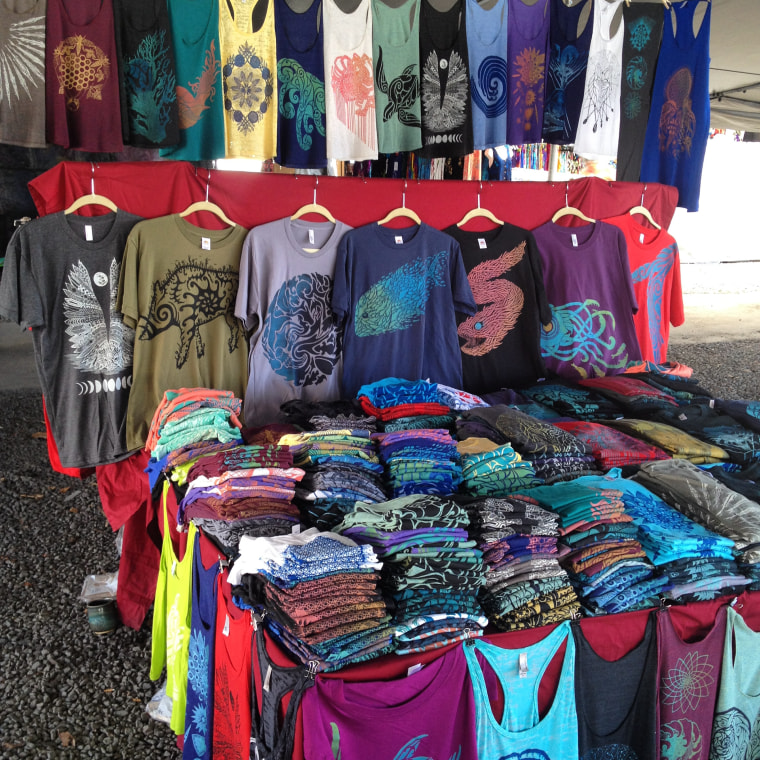 Each of White's designs tells a story, he said: One of them depicts a Hawaiian fish called an ulua that is composed of a school of many smaller fish to show how community is formed when families come together. Another design tells the story of the crossing of the mythical fish uhu makaikai, which caused storms in the stories of Kawelo. Other designs show marine life while evoking Polynesian tattoo traditions.
RELATED: 'Mele Murals' Explores Native Hawaiian Identity through Urban Street Art
For the first five years, Akua Creative was just White and his girlfriend, Aleishia Frost, hand-printing his designs in his basement and then selling them at Hilo Farmer's Market. As the popularity of his designs grew, his family asked if they could help him sell his shirts at locations around Big Island, White said. Now his shirts are available online through Etsy and have been purchased by people from the mainland United States, Europe, and Asia, he said.
With an ethnic background that is Hawaiian, European, Japanese, Chinese, and Filipino, White said, "My cultural background is a mix of all of those ethnicities that immigrated to Hawaii, but mostly Hawaiian, as my family always took to those ancient stories the most."
As he continues to explore connections between nature and different cultures, White hopes to take more trips abroad "to absorb the nature of places I haven't been before."
Follow NBC Asian America on Facebook, Twitter, Instagram, and Tumblr.