An Alabama police officer was arrested on an assault charge Thursday and could be fired for slamming a 57-year-old Indian man to the ground last week, leaving the grandfather partially paralyzed.
Madison Police Chief Larry Muncey said Officer Eric Parker was not justified when he stopped and then threw 57-year-old Sureshbhai Patel — who had traveled to Madison to visit his son only a week before the incident and speaks no English — on Feb. 6.
"I found that Officer Eric Parker's actions did not meet the high standards and expectations of the Madison City Police Department," Muncey said.
Parker turned himself into police Thursday and was charged with third-degree assault. Muncey also recommended in proposed disciplinary action that he be fired. The Federal Bureau of Investigation is conducting its own inquiry to see if there were any violations of federal law, Muncey said.
Madison police on Thursday released two dashcam videos of the incident and audio of the 911 call that led to the officers confronting Patel in the first place.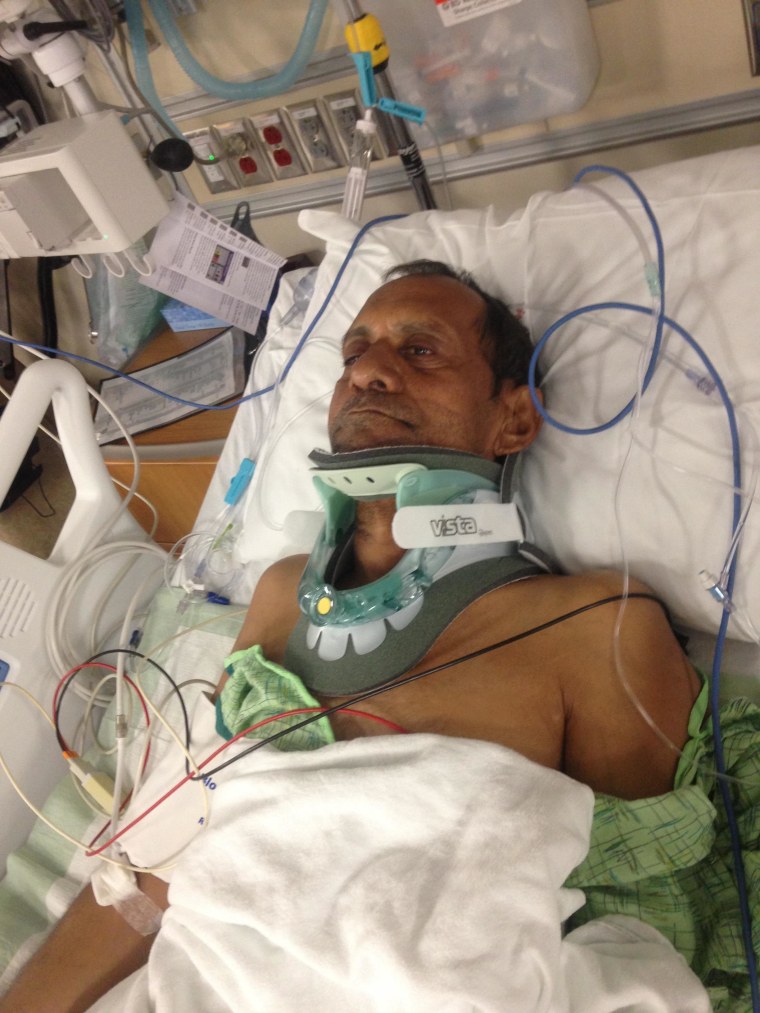 In a 911 call to police that day, the caller identifies Patel as "a skinny black guy" he had never seen before walking around the neighborhood. The caller also said that he was following Patel from a distance, and that he was afraid to leave for work and leave his wife alone at home.
Patel, who'd arrived in Alabama a week earlier from Pij, India, was staying with his son, Chirag Patel, and daughter-in-law who lived in the neighborhood, and had come to help care for their 17-month-old toddler while the younger Patel worked and attended graduate school at the University of Alabama.
The two dashcam videos show Parker and his trainee, Andrew Slaughter, approaching Patel, and they quickly learn that he does not speak English. A third officer was sent to the scene in a different car, which captured the video of the alleged assault.
As the officers ask Patel where he lives, he repeatedly points down the block and attempts to head that direction. Each time, the officers restrain him and continue to question him, asking him not to walk away.
Holding his hands behind his back, they begin to pat him down, again ordering him, in English, not to walk away. Parker then slams Patel into the ground.
Patel, clearly injured, is unable to stand as the officers try to bring him to his feet. The officers call for paramedics, continuing to discuss Patel's inability to speak English, and continuing to question him in English.
"For that, I sincerely apologize to Mr. Patel, his family and our community. Our desire is to exceed everyone's expectations."
Patel remains hospitalized and partially paralyzed, although the hospital reported him to be in good condition earlier this week. His son said that he is now able to move his right leg, and can raise both arms, but his left leg is still paralyzed and he cannot make a tight grip. He had no health problems previously, and he is expected to have a long recovery, his son said.
Muncey said he felt sorry about what happened to Patel.
"For that, I sincerely apologize to Mr. Patel, his family and our community. Our desire is to exceed everyone's expectations," he said.
An attorney for Patel reportedly filed a lawsuit in federal court earlier Thursday, arguing that the police used excessive force and had no reason to stop or search him on a public sidewalk.