Two months after its official Broadway opening, producers announced Wednesday that the George Takei-led musical "Allegiance" will close on Feb. 14, 2016.
"Bringing 'Allegiance' to Broadway was not only a labor of love for our entire creative team and this company of extraordinary artists, but it was also a work with deep commitment to social relevance and impact," a statement from "Allegiance" producers read. "We are so proud to have brought George Takei's very personal family history to the stage and – in the process – to have surfaced a chapter of history that was painfully unknown to so many."
"Allegiance" is inspired by actor and activist Takei, who was sent as a child with his family to an internment camp during World War II. The musical, which focuses on one family's struggle and story of endurance throughout internment, made its world premiere in 2012 in San Diego. It opened on Broadway on Nov. 8, 2015, following a month of previews.
"It was a little shocking to me when I first learned this part of our history, but also, I'm finding it's surprising and shocking to so many people who come to see 'Allegiance,'" Telly Leung, who stars alongside Takei and Tony Award-winning actress Lea Salonga in the show, told NBC News last November. "I've had all people of all different backgrounds and races come to me and say this story has resonated with them."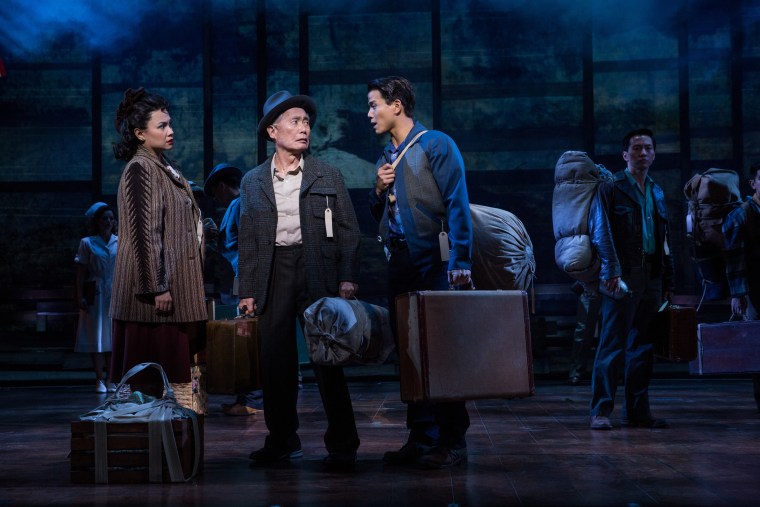 According to producers, by the last performance of "Allegiance," approximately 120,000 people will have seen the musical — a number that "eerily echoes the number of Japanese Americans who were directly impacted by the events that inspired our musical, and whose rights were trampled in the name of pure fear and intolerance."
The team behind "Allegiance" responded to comments on Facebook Wednesday saying they're planning a national tour.
Follow NBC Asian America on Facebook, Twitter, and Tumblr.
RELATED
SOCIAL