TAIPEI - Is the American Dream the United States' latest export?
The pursuit of upward mobility and better opportunity propelled millions of immigrants to cross continents and oceans. But for many second and third generation American kids, the smooth trajectory of "the dream" was getting harder and harder to realize. That ethos has now taken root an unlikely location, fueling an explosion of new, American restaurants in Taipei, launched by a collective of Asian-American expats.
For these entrepreneurs and restaurateurs, trying to bring a piece of America to Taiwan, it means leaving behind respectable and high paying jobs to risk it all in an unfamiliar territory. Being closer to family – retired parents and elderly grandparents – is also a shared element in their decision to uproot. The unspoken sense of duty and responsibility to take care loved ones, stemming from the esoterically Asian philosophy of filial piety, is a major contributing factor.
But this network of children who have returned to their parents' homeland have carried with them the American Dream their parents sought in the U.S. Taiwan is their new promised land. And from southern fried chicken to burger shops that seem to multiply monthly, everything that screams American comfort food is now within a 20-minute radius in Taipei.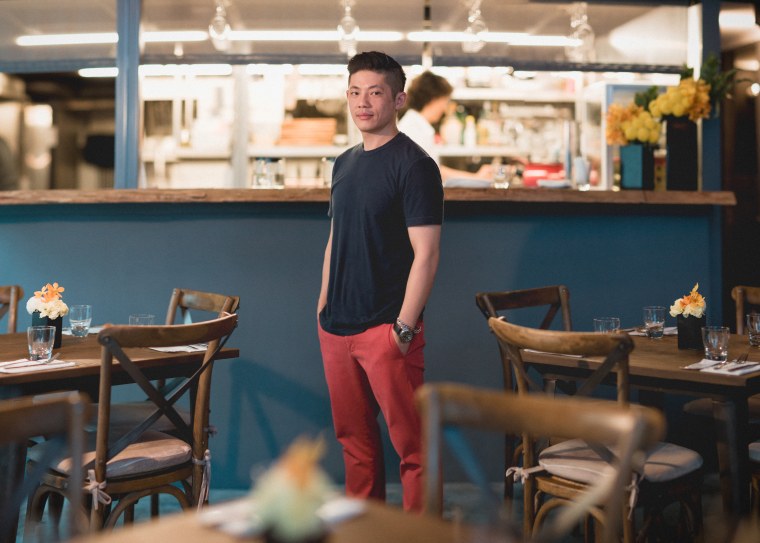 In the kitchen of Spot Taipei, owner Eric Wang is busy fixing a dessert plate – the deconstructed brownie – that he held back from being sent out. A self-aware perfectionist, Wang is meticulously torching the dollops of marshmallow that accessorize the dish.
A born and bred L.A. native with a finance background, Wang says Spot offers "unapologetic American food" that he won't be changing to please the local palette. The menu he's designed with Spot's Executive Chef Austin Hu includes Instagram popular dishes like the "Ferrerro Rocher French Toast" and the "Fried Chicken Waffle Sandwich."
Through a mutual friend, Wang's chef hunt led him to Hu, who is also the chef and owner of the award winning New American restaurant Madison in Shanghai. In part, the name Madison is an homage to Hu's hometown of Madison, Wisconsin. An undeniable bromance quickly developed between Wang and Hu after an initial meeting revealed their shared passion for food and vision of what they wanted to bring to Taipei. Wang was adamant on an American chef so it would "taste like home."
"Restaurants are like living energies. They have their own personalities with their own spirit"
Hu, a Gramercy Tavern alum who graduated from the school of Danny Meyer, has been a chef for more than 15 years. Even with a decorated resumé to justify his craft, his mother still calls to ask if he's ready for business school. "They're supportive, but for a long time they thought it was a phase I was going through," said Hu, in his usual speed-talking tempo. "It took them about six years to really wrap their minds around it."
Located in one of the most competitive areas in Taipei's food mecca, Spot's interior design is decidedly industrial. Wang even hauled lighting fixtures back from L.A. to complete the décor.
Lit by an assortment of Edison bulbs hanging from the ceiling, Spot's dark wooden furniture is accented with fresh flower arrangements placed on every table. The second floor lofted seating area overlooks the entire space, allowing the cityscape to casually stand-in as the backdrop. To add to his team, Wang found himself a consulting partner experienced with sourcing local ingredients. Khaled J. Abu Elsamid, the half Jordanian half Taiwanese consultant, was the last piece of the puzzle before Wang felt comfortable enough to open Spot. The two bonded over their love for urban farming and hydroponics.
Having been only opened for 3 months, Hu says a soft opening lets them work out the kinks. "Restaurants are like living energies," Hu said. "They have their own personalities with their own spirit, but it has to grow into that. It's what we design it to be and it's what it ends up being based on customer response and what we feed into it."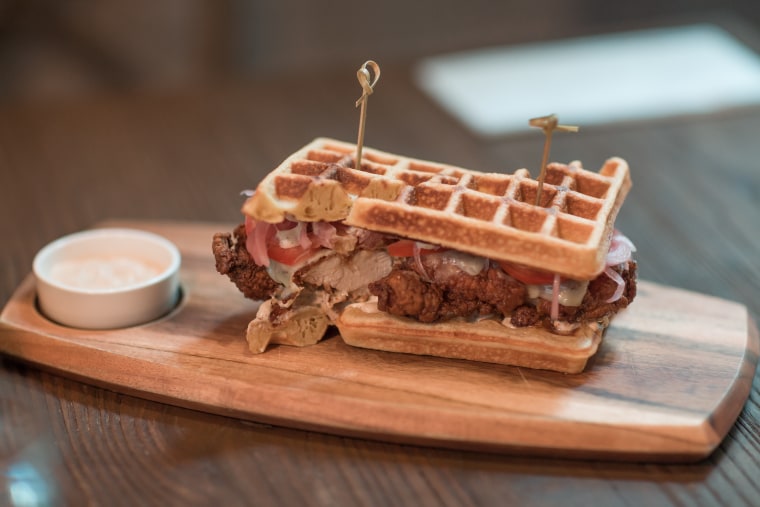 Even amongst Taipei's bountiful food landscape, nothing is more American than a New York slice.
Aside from modeling gigs and appearing in music videos, Tyler Rosso and Neill Wan are also the owners of Little New York (LNY) Pizzeria, where they sell New York style pizza. When they're not in the limelight with perfectly coifed hair, they're making dough, slicing pizza and making deliveries.
Unable to find New York style pizza in Taipei, Rosso took six months to find the perfect dough recipe. His research taught him about the different types of yeast and how temperature and water affect the dough's taste.
"We learn every step of the way," said Rosso, who survived on a diet of pizza and more pizza during his research period. "And with every step, comes a problem that needs a solution."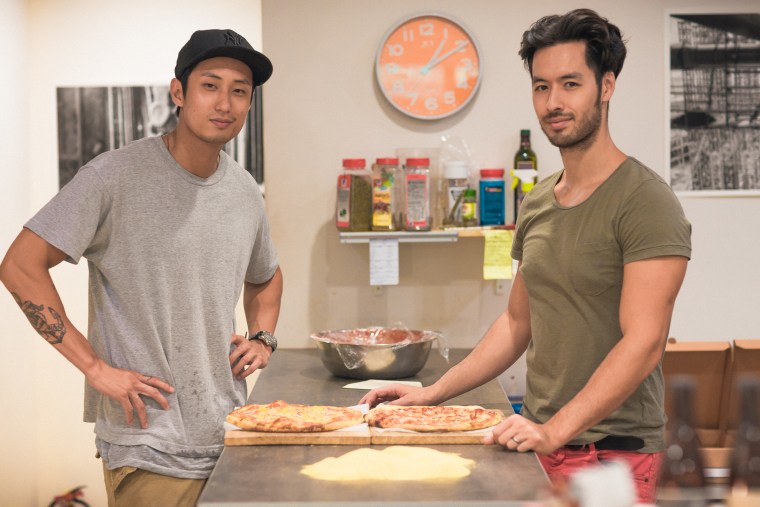 The two social media darlings have attracted hungry customers from far and wide, despite LNY being hidden in the residential alleys of Taipei. Some have admittedly come to just to take a gander at the famously-handsome pizza guys, while others have come to chomp down on a proper New York pie.
Rosso and Wan met briefly while modeling in Singapore. Returning to Taiwan, Rosso extended an invitation to Wan who was waiting for his next modeling assignment abroad. The arrangement turned into a permanent partnership that quickly expanded into a full-fledged business and has allowed them to grow out of their humble sized shop.
"All I knew was America. Then you come to Asia and I felt like I belonged a lot more than I did in America."
A native upstate New Yorker, Rosso has defied many of the plans that were laid out for him. His Taiwanese mother wanted him to join the Air Force, even having him attend the ultra selective West Point Prep School. After earning a degree in environmental science, Rosso worked as a contractor for General Electric, consulting on projects that fixed ground water pollution. Refusing to settle into a grind, Rosso packed up his cubicle and left for Taiwan.
"All I knew was America," said Rosso. "Then you come to Asia and I felt like I belonged a lot more than I did in America." Moving to New York City in the 80s, Rosso's mother also chased after her own American dream, seeking opportunities she did not have in Taiwan. In New York, she met Rosso's father.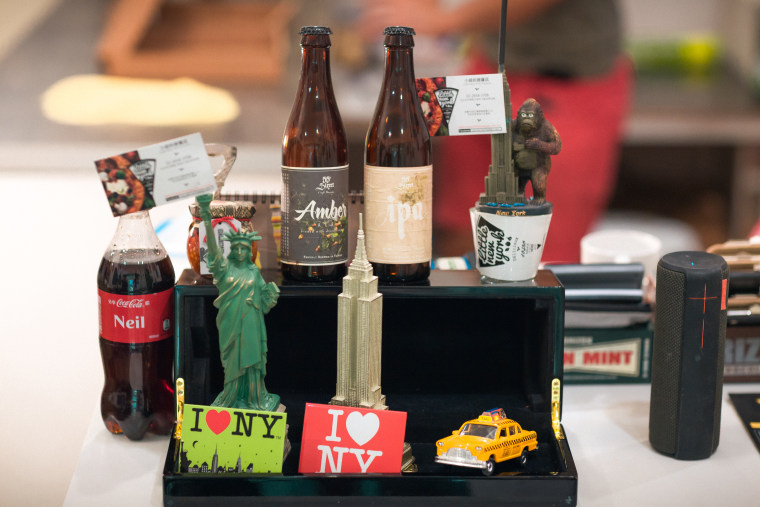 Rosso met his wife in Taiwan. Behind the shop's charming pizza box illustrations and website graphics is Rosso's wife and artist, Angela Rosso. In a cheeky and deliberate fashion, quintessential NYC tourist knick-knacks – NYC license plates, pictures of iconic NYC buildings, a statue of liberty figurine, an empire state building model, a Yankees foam finger, I <3 NY magnets, a miniature American flag – adorn the shop.
Aside from the classic pepperoni and margherita pizza, LNY serves up an exclusive "Spicy Emerald Pepper and Spanish Chorizo" pie, which is one of their best sellers. Being a small business, Rosso tries to support other entrepreneurs, like their pepper supplier. "What I love about this place is the people we meet," Rosso said. "The fact is, it opens your world and the people make your life better."