Growing up in Martha's Vineyard, Massachusetts, Sonika Vaid never craved the limelight.
"I had so many opportunities to sing when I was a little kid, and I never took them up," Vaid told NBC News. "I was just really comfortable being behind the piano because I would play upright piano, and I could perform in assemblies, and no one would see my face."
The 20-year-old pre-medical student has since performed onstage in front of the world, singing her way to the top eight in the 15th and final season of Fox's "American Idol."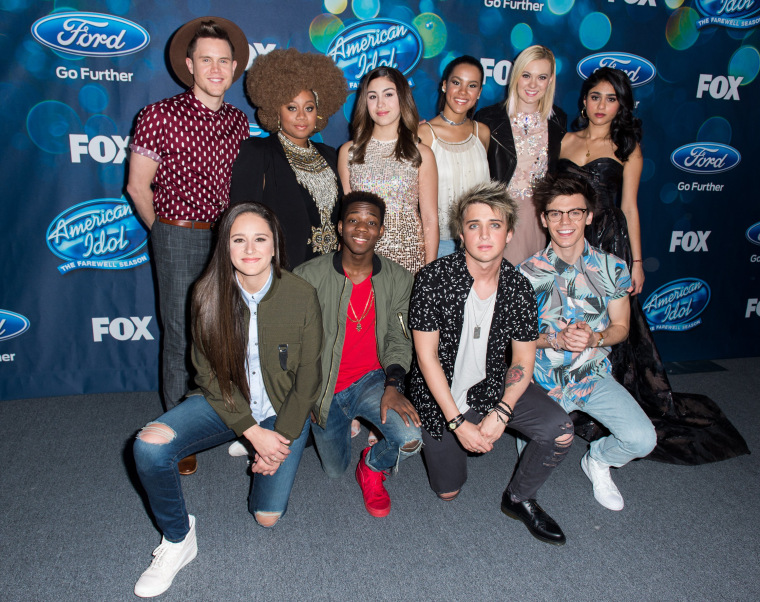 From her first audition, judges Harry Connick Jr., Jennifer Lopez, and Keith Urban were blown away by her voice.
"This is the one of the only times this particular season that I saw somebody that I actually think could win this thing, with a voice like that. That is a pure God-given voice," Connick said following Vaid's audition.
Vaid is no stranger to music. Her talents run deep within her familial roots, beginning with her grandfather. As a self-taught singer, he bought himself a harmonium — an instrument structurally similar to an accordion — and taught Vaid's mother Ananya how to sing and play.
"Basically, I owe my whole entire musical abilities to him because, without him, I would've never sang. My mom would've never sang. He passed it to my mom and my mom passed it to me," Vaid said.
Sonika's mother and father, Kuldip "Ken" Vaid and Ananya "Anna" Vaid, both moved to the United States at very young ages. Once settled into the country, they fought to achieve the American dream. Her father became an eye surgeon, which he still practices today, while her mother obtained an engineering degree and is currently working as a real estate developer.
"It's funny because I'll get the comments, like the occasional, 'Oh my God, your parents, do they have Indian accents?', and I'm like 'no, they moved here when they were five'," Vaid said.
Vaid's mother knew Vaid — the eldest of six children — had a gift. She became Vaid's personal vocal trainer and helped her break out of her shy personality.
RELATED: Amy Vachal Reflects on 'Trying to Make Ends Meet' to Making It on 'The Voice'
"It's so admirable to see my dad give people their vision back. That's a huge thing. To feel even a fraction of that, to make someone feel better or heal them, that's amazing."
Vaid attended a private school called The Meadowbrook School of Weston, where class sizes were small. While there, her mother would encourage her to pursue opportunities that would forcefully place her in the spotlight, a place Vaid was hesitant to step into.
"In sixth grade, she actually took the initiative to talk to the music program and asked if there were any singing opportunities or a chance to perform onstage and signed me up," Vaid said.
Together, they practiced "My Heart Will Go On" by Celine Dion for over a month. On the day of the performance, Vaid said she was sick to her stomach, and, instead of letting her back down, her mother joined her onstage.
"That was definitely a turning point of my career, and ever since then I've signed myself up and sang and played the piano at the same time, and I just got more comfortable on stage," Vaid said. "I'm just so grateful because you know your mom will always have your best interest at heart."
After winning viewers over with her first audition on "American Idol," Vaid has attracted fans from across the world.
"I'm getting a lot of love from India," Vaid said. "I've never been, but it's awesome. I'm getting love from South Africa and Europe, Brazil, the Philippines. It's so amazing."
But even with her success, Vaid is still focused on her education. She plans to transfer to the College of Holy Cross in Massachusetts in the fall to finish her degree in premedical studies, though she still plans to pursue music.
"I have taken time off to do music, and I think even if I don't win, I think music will still be a really big part of my life," she said.
But healing other people — like her father does — is just something she can't give up.
"Helping people is just something I really want to do," she said. "It's so admirable to see my dad give people their vision back. That's a huge thing. To feel even a fraction of that, to make someone feel better or heal them, that's amazing. I would be so lucky to be a part of something like that."
Follow NBC Asian America on Facebook, Twitter, Instagram, and Tumblr.