LOS ANGELES, Calif. — Taffy-lei T. Maene had been in her new job at the Washington Department of Licensing for more than a year when officials began re-verifying workers' immigration status in 2012.
The officials flipped through her passport and looked in the back, where the following was written: "The bearer of this passport is a United States national and not a United States citizen."
An administrator fired her on the spot. Under Department of Licensing regulations, only US citizens could work there.
"I was so embarrassed — I was crying," Maene recalled recently.
The now 36-year-old had fallen through a strange loophole in citizenship law that has created two types of Americans: US citizens, and second-class American Samoan US "nationals."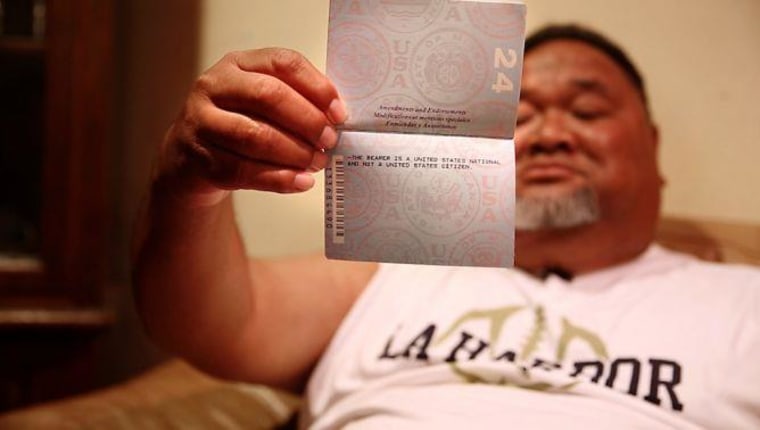 Those nationals — born on the 55,000-person US island territory in the South Pacific — receive US passports, can serve in the military and work and live on the mainland United States. But they are legally excluded from basic rights enjoyed by all Americans like voting, working in many government jobs or owning concealed weapons. They have to go through a byzantine and expensive naturalization process that can take months or even years before gaining full citizenship.
But as more American Samoans have moved to the mainland seeking economic opportunity, they've begun organizing and demanding birthright citizenship. People born of all other US territories — including far­-flung places like the Northern Mariana Islands or Guam — are automatically granted citizenship, they point out. So why are American Samoans excluded?
The question has prompted a constitutional legal challenge from Samoans, including Maene, and a coterie of pro-­bono lawyers. Although their arguments were dismissed in court last year, they are arguing a landmark federal appeal this fall. Within the Samoan community itself, birthright citizenship has become an explosive topic. There is almost universal agreement that American Samoans are being treated like second­-class citizens, but some islanders, particularly territorial government officials, think the granting of birthright citizenship — especially through the courts — could dilute the territory's unique legal and cultural status under US law.
A territory since 1900
All sides acknowledge that the tiny territory has a complex and unique relationship with the US government. The US occupied modern-day American Samoa in 1900 but over the years has allowed the territory to govern itself, even letting it run its own customs and immigration system. But despite granting birthright citizenship to other similarly run US territories over the years, Washington has left American Samoans with their unusual status.
The thing American Samoans most hold dear is the local land ownership system. More than 90 percent of land on the territory is owned communally. Most of the rest is owned by ethnic Samoans under laws that limit most property ownership to people with "native blood."
"The current situation is not right and it's not fair"
Local officials have repeatedly presented a slippery slope argument against full US citizenship: If the lawsuit is successful, they argue, the land tenure system and other American Samoan laws could also be challenged in court. They've argued that Samoans should decide if they want citizenship at the ballot box, and then petition Congress to change citizenship laws. This, they and the US federal government claim, is the only legal way for American Samoans to gain birthright citizenship.
More from GlobalPost: For the stateless, hope for path to citizenship in Obama's second term
"They've said that in order for American Samoans to become citizens, American Samoa would have to be fully incorporated into the United States, meaning US laws would completely apply here," said Micah Van der Ryn, an anthropologist working at the American Samoa Community College. "With the unique status of the territory, that's something that's concerning to a lot of people."
Satele Galu Teutusi Satele, an American Samoan government official in the Samoan Affairs department, said: "We want people to make the decision themselves, not have the courts decide."
Neil Weare, an attorney involved in the lawsuit from the We the People Project, which advocates for the rights of people in US territories, believes any fears are based on misunderstandings. He points out that the Constitution promises citizenship to everyone born in the United States, and says that should be true for American Samoans.
"This lawsuit is simply about citizenship, which is a fundamental right for all Americans," he said. "We don't believe other aspects of the US­-American Samoan relationship will be affected by this."
'My community is suffering'
For the tens of thousands of American Samoans living outside of their tiny territory, technical arguments are of little interest. The expense and humiliation of undergoing a naturalization process despite already being "Americans" are anachronistic and frustrating, they say.
"My community is suffering because of this. The current situation is not right and it's not fair," says Chief Loa Pele Faletogo, who leads the Samoan Federation of America, a Carson, California-based organization that advocates for Samoans' rights and is a plaintiff in the lawsuit.
The result, Loa says, listing off a litany of indignities he says the community experiences, is that Samoans don't vote and then get ignored by local politicians or lose out on job opportunities.
"This whole thing was a shock to me," Maene said, saying that as a matter of principal she refuses to go through the naturalization process. "I don't want it to happen to anyone else."
Maene too says she has suffered. After her humiliating firing she was without health insurance for three months before another state agency, the Department of Social and Health Services, offered her a job in their financial department. There, managers were satisfied that her status as a "national" was good enough to meet their regulations.
"This whole thing was a shock to me...I don't want it to happen to anyone else."
This story was partly funded through grants from the Fund for Investigative Journalism and the International Center for Journalists as part of a year-long project on stateless people in the West. For more information visit statelessvoices.com.
This story first appeared on GlobalPost.
More from GlobalPost:
For the stateless, hope for path to citizenship in Obama's second term
The Great Divide: Global Income Inequality and its Cost