In the wake of an election that astounded most Americans, there is a lot of 'splainin' to do.
Here are some especially intriguing numbers: According to the National Election Pool (NEP) exit polls sponsored by the major media outlets, 65 percent of Asian Americans voted for Hillary Clinton and 29 percent voted for the victor, Donald Trump. The figures on Latinos are identical: 65 percent and 29 percent.

If these numbers are accurate, Donald Trump had another magic trick up his sleeve beyond his astonishing triumph in the election. These numbers tell us that Trump outperformed Mitt Romney among Asian Americans and Latinos.
RELATED: Who Got the Latino Vote Right?
Put bluntly, Trump did this despite being a candidate who bullied and bruised for a fight with Latinos and Asian Americans. Pertaining to Asian Americans, Trump promised to deport America's undocumented immigrants (1.45 million of whom are from Asia), disputed the constitutionality of birthright citizenship, bandied around the idea of a categorical ban on Muslim immigrants (the Asia-Pacific region accounts for 62 percent of the world's Muslims), launched a Twitter tirade against Pakistani-American Gold Star parents Khizr and Ghazala Khan, signaled his willingness to enter into a trade war with China, casually intimated that South Korea and Japan might nuclearize themselves. Not to mention Trump's disparaging comments on the 50-plus percent of the electorate who have never had a President of their gender in the White House.
If these numbers seem hard to reckon, that is with good reason.
Results from two polls that interviewed early voters and registered voters who were "certain to vote" just days before Election Day tell a radically different story. According to the Asian American Election Eve poll, Asian Americans favored Clinton over Trump by a 75 percent to 19 percent margin and the Latino Election Eve poll finds that Latinos favored Clinton to Trump by a 79 percent to 18 percent margin. These numbers tell a frankly more believable story that both Asian Americans and Latinos exceeded their already high Democratic vote share in the 2012 election. (For accurate estimates of the Asian American and Latino vote share in 2012 to compare against these 2016 numbers, see here and here.)
In a year in which the credibility of poll results has been widely questioned, one might reasonably ask: Why are these numbers more believable?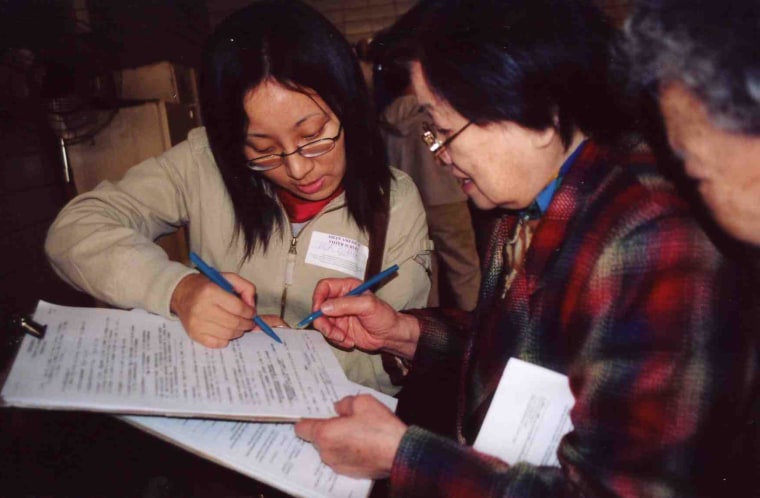 First, there are some long-standing reasons to question the accuracy of national exit polls when it comes to their Asian-American and Latino numbers. Chief among these is that when national exit polls sample precincts and polling locations, they do so to accurately predict the election outcome, and not to accurately predict how particular segments of the electorate vote. Warren Mitofsky, arguably the godfather of exit polling, acknowledged in a 2005 self-assessment that exit polls are "not designed to yield very reliable estimates of the characteristics of small, geographically clustered demographic groups." Groups like Asian Americans and Latinos, that is.
RELATED: Experts: Polls Can Get Latino, Asian American Vote Wrong
More importantly, there are known best-practices for getting reliable estimates of voters like Latinos and Asian Americans, and the NEP exit polls fail to follow those practices while the Asian American Election Eve and Latino Election Eve polls follow them sedulously.
Focusing just on Asian Americans, here are three keys to doing it right. You have to know:
1. Who to ask. Samples are designed to be representative of a "target population." For the NEP exit polls, that target population is all voters. For the Asian American Election Eve poll, the target is Asian American voters.
2. How to ask. According to the American Community Survey, two-thirds of the Asian American population are foreign-born, three-quarters speak a non-English language at home, and one-third are limited English proficient (LEP). The NEP exit polls only interview respondents in English; the Asian American Election Eve poll interviewed in English, Chinese (Mandarin and Cantonese), Korean, Tagalog, and Vietnamese. And research shows that interview language can make a big difference in what you learn about a population of interest.
3. What to ask. Survey responses are notoriously sensitive to how you ask questions and the order in which those questions are asked. The art of question wording and question order is especially important when interviewing a culturally, ethnically, and linguistically diverse group like Asian Americans — again, something that NEP exit polls are not attentive to and the Asian American Election Eve poll is.
To be fair, there are other differences between the NEP exit poll and the Asian American and Latino "eve" polls. Yet these do not fundamentally alter this fact: Surveys designed from soup to nuts to accurately gauge Asian-American and Latino votes are much likelier to achieve just that. In a year full of twists and turns, Asian Americans and Latinos in overwhelming numbers repudiated the candidacy of the election's unexpected victor, Donald Trump.
Taeku Lee is Managing Director at Asian American Decisions and Professor of Political Science and Law at the University of California, Berkeley.
Follow NBC Asian America on Facebook, Twitter, Instagram, and Tumblr.