For months, New York City mayoral candidate Andrew Yang has been amplifying his Asian American identity as he campaigns to win over a famously opinionated and diverse electorate.
Yang, who is Taiwanese American, has been leaning into his heritage and on Asian American voters to garner support in his bid for the Democratic nomination. On the campaign trail, he has spoken about his own background at various events, from anti-Asian hate rallies to a fundraiser at a boba joint in the heavily Asian immigrant-concentrated area of Flushing, Queens.
After a cartoon about Yang in the New York Daily News drew backlash for its resemblance to racist caricatures that historically villainized Asian Americans, Yang released a lengthy statement about the struggles the community has long shouldered.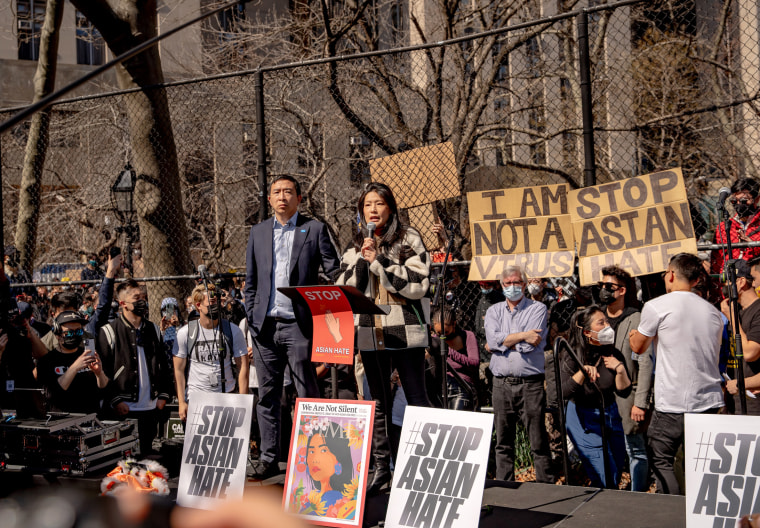 To some, it's a sharp departure from the way Yang cast himself during his 2020 presidential run. When he made history as the first Asian American man to run for president as a Democrat, he rejected what he called "identity politics," saying it only divided Americans. He once even wrote that identity politics was a "great way to lose elections."
But in the mayoral race, Yang says he now feels differently.
"My position has changed in that I'm a contender, or a front-runner, in the New York City mayoral race and I feel a lot of responsibility to represent Asian Americans in New York City, who feel like their place in New York, their place in America, has been questioned. And so I take that responsibility seriously," Yang told NBC Asian America.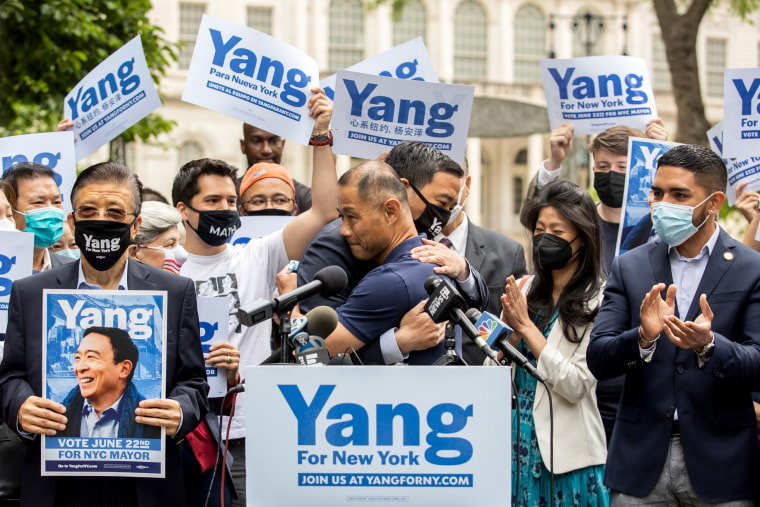 With the city just two weeks away from the primaries — which given the heavy Democratic population, frequently forecasts the winner of the general election — Yang is not quite the front-runner. He is polling at 16 percent, trailing Eric Adams, the borough president of Brooklyn and a former NYPD officer, who was at 22 percent, as of Monday.
Yang's second political campaign has resurrected discussions around what it means to represent the racial group in city politics.
"We're all individuals, and it would be impossible for anyone to stand up and say, 'I represent this community, because the thing I say, or do is what the community also thinks or believes.' I think that people have to be true to themselves, and do what they think is best," he said. "I think expecting someone to represent our community ideologically is actually, like, not giving the community enough credit."
Though many have questioned whether he's a "real" New Yorker and have mercilessly roasted him for his questionable choice in Jay-Z songs and favorite subway stop and bodega, Yang, who has never voted in a New York City mayoral election, moved to Manhattan roughly 25 years ago. It's where he said he fell in love, put down roots and raised children. Surrounded by the diversity of the city for decades, identity did not become a focal point of his political career until recently, with the rise of anti-Asian racism amid the pandemic, including several violent attacks in New York City.
A compilation of hate crime data against Asian Americans found a surge of 169 percent from the first quarter of 2020 to the same time period in 2021 across 15 major cities. The climate has "changed dramatically," Yang said. He remains proud of his "MATH" slogan, an acronym for "Make America Think Harder," but he's not so sure many of his jokes that played off of Asian stereotypes during his presidential run would be appropriate in the current climate.
"Unfortunately, for all of us, 2021 is a very different time than even 2019 was, and some of the things that if you were to express them, even a year or two later, they wouldn't come across in the same way," Yang said. "My experience as an Asian American has changed over the last number of months, as it has for just about all of us. ... I think that things evolve over time."
As "one of the most visible Asian Americans in the country," Yang said he felt it was important to show he would stand up for those who had become targets and harness a sort of representational power he gained in his last run. For the candidate, one moment that underscored the importance of physical representation was when he saw himself on stage.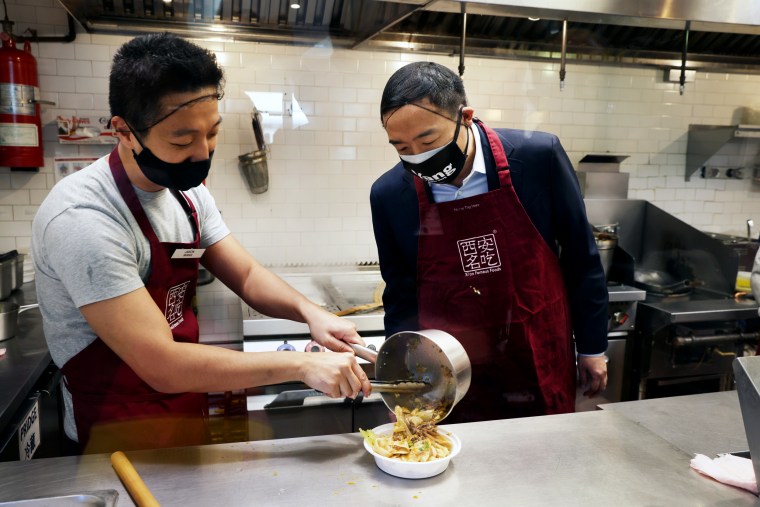 "I definitely remember growing up in the '70s, and '80s, and there weren't many Asians on TV," he said. "I remember walking offstage and then someone just showing me a video from the first presidential debate and seeing myself, I was like, 'Oh my gosh, that's a very different looking image. I have not seen that before.'"
He added: "One of the things that I was excited about at that time was imagining all of the Asian American children who would turn on the TV and see me there and think, I guess we can run for president now."
The idea of his own Asian American image, breaking through in areas typically not inclusive of the community, has continued to be a motivating factor for him in this race.
"If I win this race, and then people land in JFK, or drive into the Bronx, it says, 'Welcome to New York City Mayor Andrew Yang,'" he said. "That's a different message about what Asian Americans can be and do in New York City and in this country. If there are tons of kids growing up, who see, 'Welcome to New York City Mayor Andrew Yang, ' they'll say, 'Oh, Asian Americans can be mayor of New York City. Maybe I should do something in government.'"
Physical, or "descriptive" representation, as it's referred to in academia, is undoubtedly important, experts say. And regardless of their support for Yang during the presidential election cycle, most agree that the optics of an Asian American gaining widespread support and running a formidable campaign will influence aspiring politicians and youth for years to come.
"The significance of Andrew Yang is simply that he was the first one to run," Van C. Tran, a sociologist and associate professor at the City University of New York's Graduate Center, said.
Janelle Wong, senior researcher at the data and civic engagement nonprofit AAPI Data, said seeing such images has been linked to "some positive effects on Asian American turnout in places where there is a critical mass of Asian American voters." But a person's race or ethnicity isn't the only dimension of representation.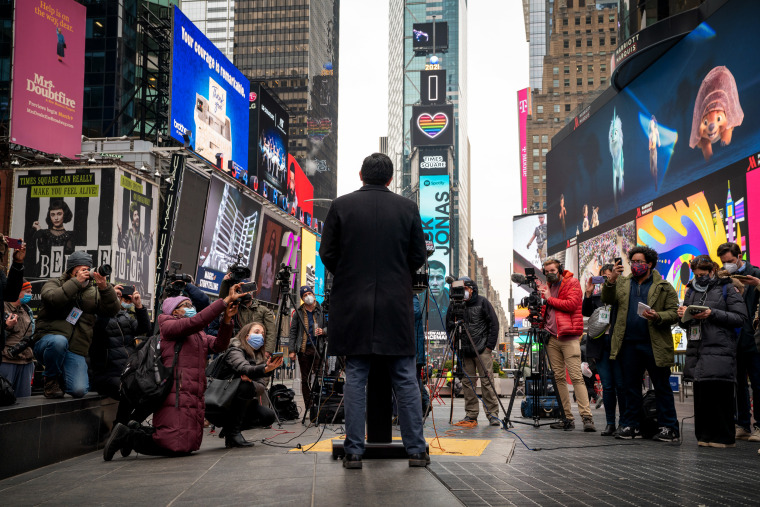 "What really matters with elections is 'substantive representation' and the degree to which a candidate, regardless of race, understands and fights for policies that will benefit group members," Wong said.
Sara Sadhwani, also a senior researcher at AAPI Data, said that "a crude count of individuals of a minority background being elected to office falls short of communities feeling represented." While Yang has won endorsements from major leaders of Asian descent in New York and national politics, including Rep. Grace Meng, D-N.Y., he's also been met with heavy opposition from the community, including roughly 800 progressive Asian Americans who signed a letter rejecting his bid.
"If Andrew Yang wants to represent the AAPI community, he will need to build trust and organize the community just like any other candidate," Sadhwani said. "Sharing his immigrant story, listening and showing understanding for the needs the community faces, and most importantly, making good on any promises that are made to the community — this is all part of responsive representation."
But when asked about any work in the Asian American community that predated his mayoral campaign, Yang responded by rattling off the names of politicians he knew or who had endorsed him.
"I certainly had relationships before this race, but I didn't know everyone. And certainly I've gotten to know a lot of people I didn't know before running for mayor. I was friendly with [state Sen.] John Liu, who endorsed me. I was friendly with Grace Meng, who's endorsed me. I didn't know [City Council member] Margaret Chin, for example ... so it was exciting getting to know her."
Tran said that this is insufficient, and that connections with leadership in the city is only the first step.
"True engagement means not just with political leaders, not just formal Asian American organizations across the city which exist, but the actual people and voices and experiences behind these organizations and the Asian American communities," he said. "That outreach, Andrew Yang has not fully done, and has not had prior deep connections with these different Asian American communities in the city."
Engagement also means lifting up others so that Yang doesn't remain the only Asian American in New York City politics, Tran said. Likewise, Jo-Ann Yoo, executive director of the NYC-based social services nonprofit Asian American Federation, said that deep commitment means ensuring there's a long-term focus on Asian Americans, not just when they're being targeted by a significant rise in hate crimes. It's something she challenges all candidates to do.
"Has he worked in a community? Has he volunteered? Does he understand all of the nuanced stories? Has he worked with anybody to support immigration policies? There's plenty you can do to engage," she said. "We're looking for long, sustained, permanent interaction that engages our community. It's not just campaigning for five minutes with sound bites."
Given the complexity of the community, there is no unifying, monolithic stance among Asian Americans, making it impossible for him to represent them all, Yang claimed. His website includes targeted policies for other similarly diverse, marginalized groups, including Latinos and the LGBTQ community, but has no such specified platforms on Asian Americans. But Wong said while there are tensions between progressive and moderate members of the group over policing and other racial justice issues, like integrating specialized high schools, surveys reveal that the community does, in fact, converge around core issues like environmental protections, expanded health care and a strong government social safety net.
Experts emphasize that the pandemic had displayed elements of historical racism toward Asian Americans. But some do agree with Yang in that this period of anti-Asian hate is in some ways different. It's an era marked by the catalyzation of activism, one that Tran says Yang is part of. With increased mobilization of Asian American groups, the candidate, while influential in his own way, will have to then confront this new generation through building meaningful relationships.
"What is different is that AAPIs are organizing to fight back against this new wave of hate, so they are more mobilized and are actively claiming their power, more than ever before," Sadhwani said. "An organized community, however, will want more than pandering to ethnic appeals and instead will likely want to see action and candidates who make good on their promises."