Andrew Yang made an unexpected appearance Monday before a primarily Asian American crowd at a hip-hop concert in New York, another in recent attempts by the Democratic presidential candidate to respond to criticism that he has been perpetuating Asian stereotypes and feeding into the model minority myth with jokes such as being good at math and knowing a lot of doctors.
The efforts include a meeting last week with activists, scholars and journalists in Los Angeles at which Yang appeared receptive to such concerns, one participant said, but also defended his campaign style as necessary to being competitive.
On Monday, Yang joined the Indonesian-born rapper Rich Brian, a member of the Asian-centric label 88Rising, on the first stop of his tour.
"It feels like there's a f------ Yang Gang here tonight," shouted Yang, wearing his trademark "MATH" hat, for "Make America Think Harder."
"Just like Brian shows that there are no limits to what we can do creatively, we're going to show that there are no limits to what we can do — the biggest leadership stage in the world," Yang said.
Later on Twitter, the candidate also lauded the rapper and his label for being "true pioneers." Rich Brian was propelled to a prominent place in the Asian hip-hop movement after his controversial 2016 viral hit "Dat $tick." The rapper's latest album, "The Sailor," dives deeper into the Asian experience, revolving around his reclamation of the Asian identity as well as his bold statements on the immigrant story.
While Yang's appearance at the concert drew cheers, he garnered criticism from Asian Americans in September with his joke on the presidential debate stage that "I am Asian, so I know a lot of doctors."
The same month, Yang also earned backlash for his response to the firing of Shane Gillis from "Saturday Night Live" for making racist comments about Asians in a podcast.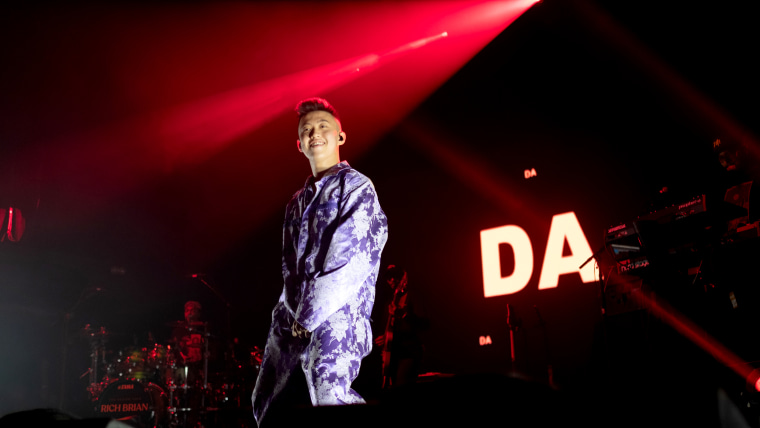 "Our country has become excessively punitive and vindictive about remarks that people find offensive or racist," Yang said on CNN's "State of the Union."
"We need to try and move beyond that, if we can," he said, adding, however, that a comedian's words "should be taken in a slightly different light."
Critics claimed Yang was excusing Gillis' remarks while also exploiting the Asian American community, making jokes at their expense to gain favor with a larger mainstream audience. And while Yang initially defended his behavior in an interview with Politico, he recently increased his outreach to the Asian American community by holding the meeting in Los Angeles last week.
Frank Shyong, a Los Angeles Times columnist who was at the meeting, wrote that Yang appeared receptive to concerns from those in attendance and admitted to confronting issues of race and identity ungracefully at times.
"I'm a person of our community who I believe understands the concerns of the community and wants very deeply and passionately to represent them to the best of my ability," Yang told the group, according to Shyong. "The best of my ability will never be perfect or ideal."
However, Shyong wrote that Yang was not afraid to push back on criticisms, either, rationalizing his use of Asian jokes by saying, "For me this was and is the best way that I can compete."
Yang did not respond to NBC News' requests for comment. Rich Brian declined to comment on the candidate's appearance at his concert.
Follow NBC Asian America on Facebook, Twitter, Instagram and Tumblr.