Roughly one in four American students have reported being bullied in school, student advocates say. For Muslim-American children in California, the number is more than double, according to a 2015 report from the California chapter of the Council on American-Islamic Relations.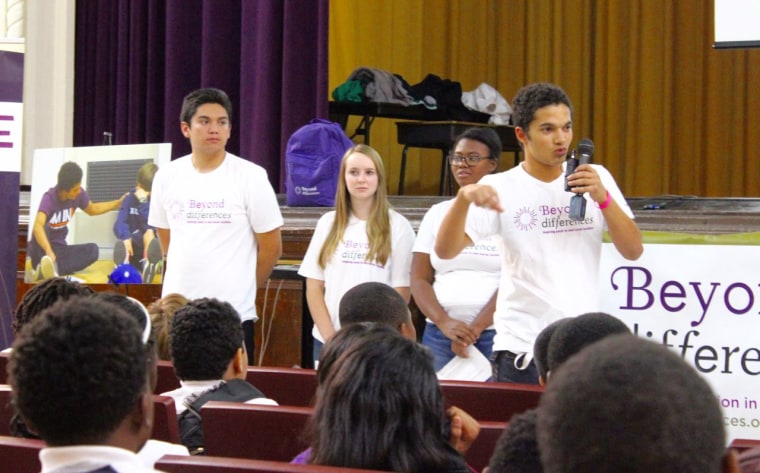 That statistic led two California-based nonprofits — Beyond Differences and the Islamic Networks Group — to partner earlier this year and create a middle-school curriculum called "Know Your Classmates," which aims to end social isolation and bullying by turning all students into activists at their own schools.
"When hate occurs against any one group or population of kids, it impacts everybody in the school and in the classroom, because then you have an environment of hate," Islamic Networks Group CEO Maha Elgenaidi told NBC News.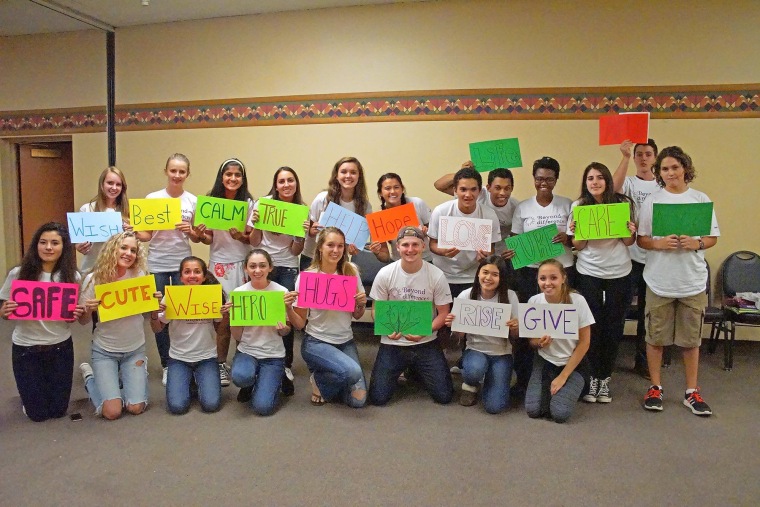 The Know Your Classmates campaign kicked off last Monday, with copies of curricula and activity kits having been sent to more than 400 schools across 40 states, Beyond Differences executive director and co-founder Laura Talmus told NBC News. The idea emerged from the national "Know Your Neighbor" program, launched at the White House in January and spearheaded by 15 civil rights and faith-based organizations, including the Islamic Networks Group.
Talmus and Elgenaidi will join San Francisco Mayor Ed Lee, District Attorney George Gascon, and other officials Thursday morning to discuss the initiative — and announce Oct. 21 as "Know Your Classmates Day" — during a news conference at Everett Middle School.
In April, Talmus connected with Elgenaidi through Hala Hijazi, who chairs the San Francisco mayor's and district attorney's committees on Arab, Middle Eastern, Muslim, and South Asian communities. Hijazi told NBC News that the city was concerned with rising Islamophobia affecting communities in San Francisco and thought the two organizations could help.
RELATED: Sikh-American Teen Writes Book to Raise Awareness About Bullying
The curriculum came together fairly quickly, after 12 to 15 edits, said Talmus and Elgenaidi, whose groups have worked extensively with middle and high school children on issues of social isolation — the feeling of being left out. It consists of five lessons on topics like exploring self-identity, as well as recognizing stereotypes and embracing differences, according to the curriculum.
Depending on students' needs, educators can select any or all of the lessons they wish to teach, which include individual and group activities, as well as discussions on videos, some of them focused on Muslims. The unit culminates with students planning their own "Know Your Classmates Day."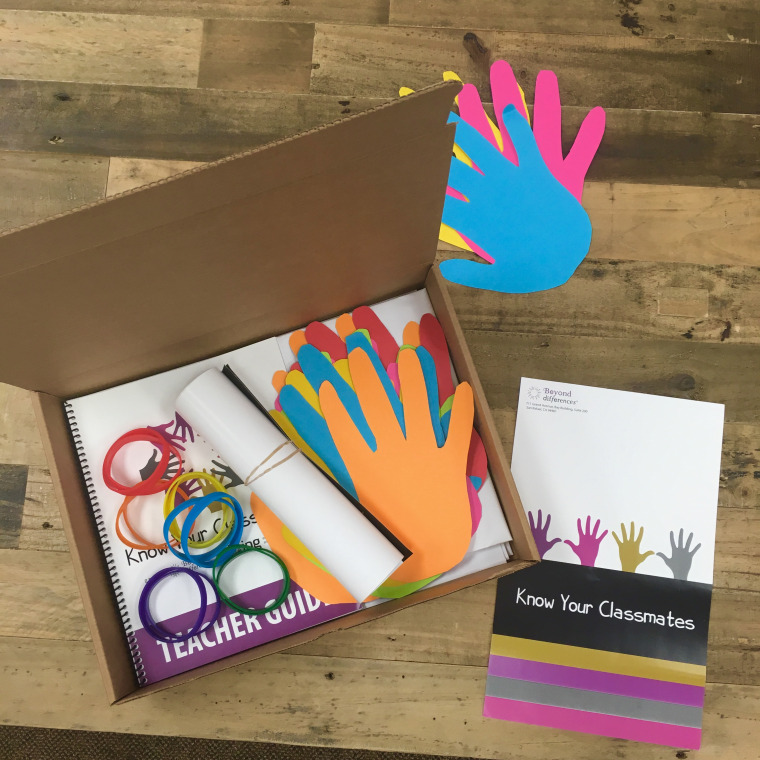 Talmus said their program is geared toward both children and adults — an important point since much of the bullying against Muslim and Arab students, Elgenaidi said, comes from teachers and administrators.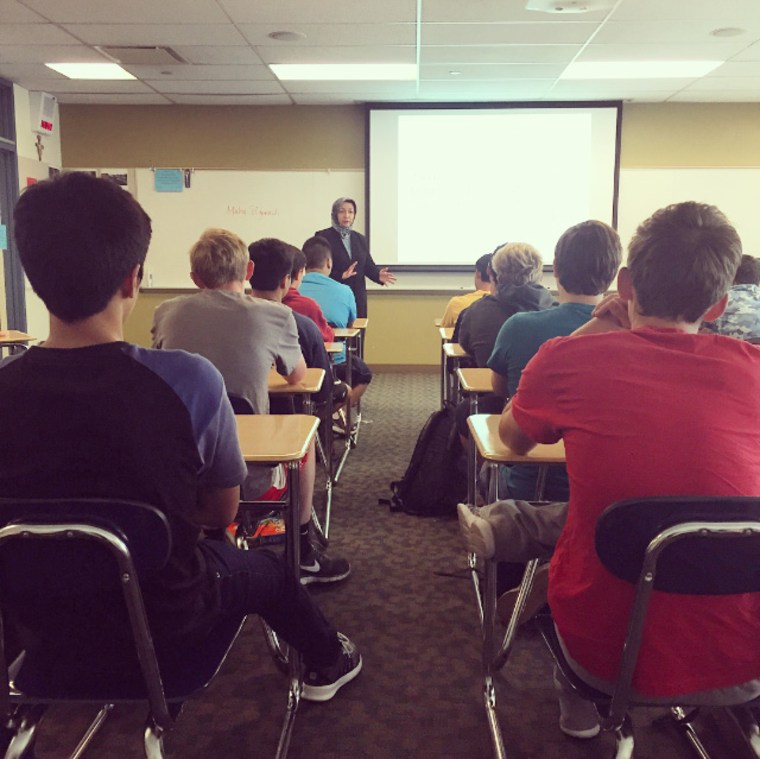 "We've had Muslim students who have told us that teachers have said, 'You deserve what's happening to you because your family or your people are responsible for the wars we're involved in in the Middle East,'" Elgenaidi said.
Social isolation among students can stem from many factors, including a perceived lack of confidence or self-esteem, as well as being a religious or ethnic minority, Elgenaidi said. It can also lead to bullying and teasing, children advocates say.
"Children can look typically, developmentally like they fit in, and still feel terrible," Talmus said.
The results, later on, can be tragic.
"The worst example is that almost every mass shooting we've seen in the United States, where it's been written about the shooter, they've been described as someone who is a loner or socially isolated," Talmus said.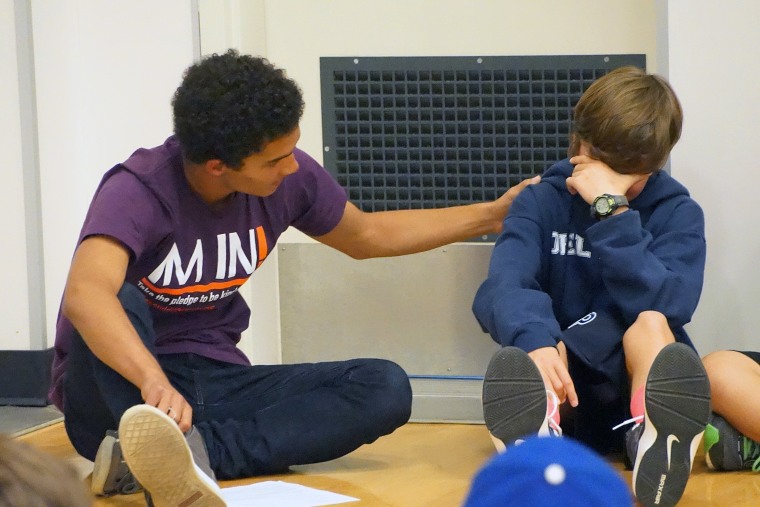 Elgenaidi said their curriculum, free of charge to schools, has additional relevance coming at a time of heightened Islamophobia, coupled with an increase in hate crimes against Muslims and other minorities. All of this, she added, takes a toll on the school environment.
"I can tell you as a person of color, as a woman who wears a hijab, as a minority, as a religious minority, I feel it everyday I step foot outside of my front door," she said. "I feel it in how people engage with me, how people view me, and we also see it in the classroom when we're out there talking about these issues."
RELATED: Asian-American Students Targets of Bullying: Federal Report
Elgenaidi and Talmus hope their "Know Your Classmates" curriculum can help foster more inclusive schools throughout the country, they said.
"We're not trying to create a generation of victims," Talmus said. "We're really trying to create a new generation of leaders — where it's cool to include."
Follow NBC Asian America on Facebook, Twitter, Instagram, and Tumblr.