As the busy holiday travel season approaches, and especially after recent terrorist attacks in Paris and Beirut, many in the Asian-American and Muslim-American communities are anticipating additional time and hassle to get through airport security because of what is colloquially called "flying while brown."
Luckily, there is an app for that: FlyRights, developed by The Sikh Coalition.
"[After 9/11] there was considerable anecdotal evidence that the TSA was profiling passengers on the basis of race and religion," Arjun Singh, Sikh Coalition Law and Policy Director, told NBC News. "The phone app was meant to supplement that evidence and empower victims to speak out against bias."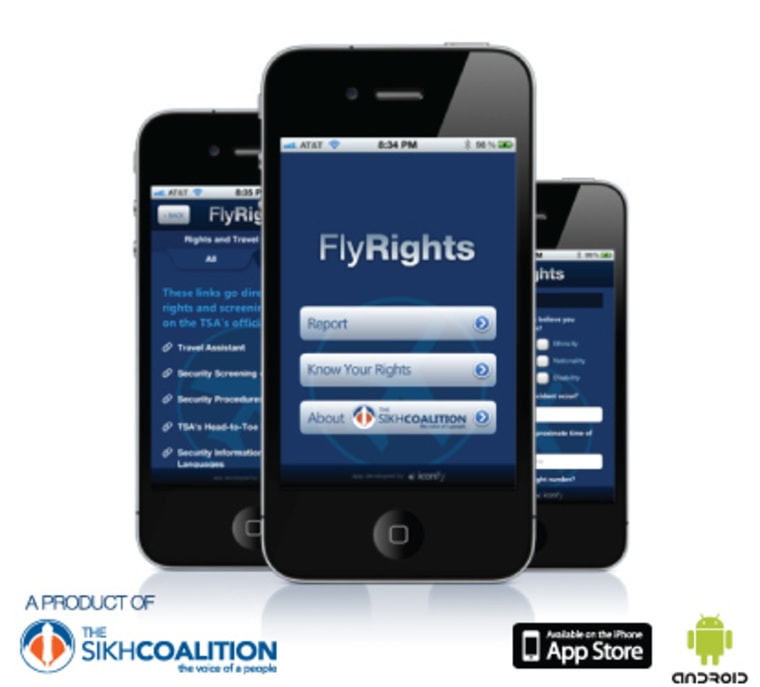 Launched in 2012, FlyRights is a free mobile app with which one can quickly and easily document air travel discrimination and report it directly to the Transportation Security Administration (TSA) and Department of Homeland Security (DHS), one's elected representatives in Congress, and/or the Sikh Coalition — right as it occurs, right from the airport. The app also includes a "Know Your Rights Guide."
Usage of the app has resulted in apologies, remedies, and TSA re-trainings.
Although created by the Sikh community, the app can be used by anyone, and has also been popular with women, Asian Americans, African Americans, and people with disabilities.
"If the TSA profiles," Singh said, "they can be held accountable through the app. The app is a powerful tool to combat profiling because it immediately alerts the TSA, DHS, and members of Congress about air passenger screening violations and helps identify problem airports."
RELATED: Spirit Responds to Demand for Apology After 4 Removed From Chicago Bound Flight
In 2012, 157 incidents of alleged TSA screening discrimination were filed through FlyRights, compared to eight incidents reported by DHS to Congress.
The Sikh Coalition also offers free legal assistance for Sikhs who have experienced backlash and discrimination, educational brochures about Sikhs, and trainings for TSA employees.
Follow NBC Asian America on Facebook, Twitter, and Tumblr.
IN-DEPTH
SOCIAL