Speaking truth to power is one thing, but speaking truth to Donald Trump?
That possibility of "trumping" the Donald didn't intimidate 20-year-old Joseph Choe last week at the No Labels Problem Solver Convention in New Hampshire featuring the leading candidate in the Republican primary field. But on his own, the Harvard junior decided to correct Trump on a misstatement the candidate made about South Korea's contribution to the defense of the peninsula.
"I just wanted to get the facts straight with Mr. Trump," Choe told NBC News. "He specifically said [in the past] that the South Korean government pays 'nothing,' which is not true. South Korea pays $861 million, which is almost half the cost."
But it wasn't Choe's question that made the headlines: it was Trump's response.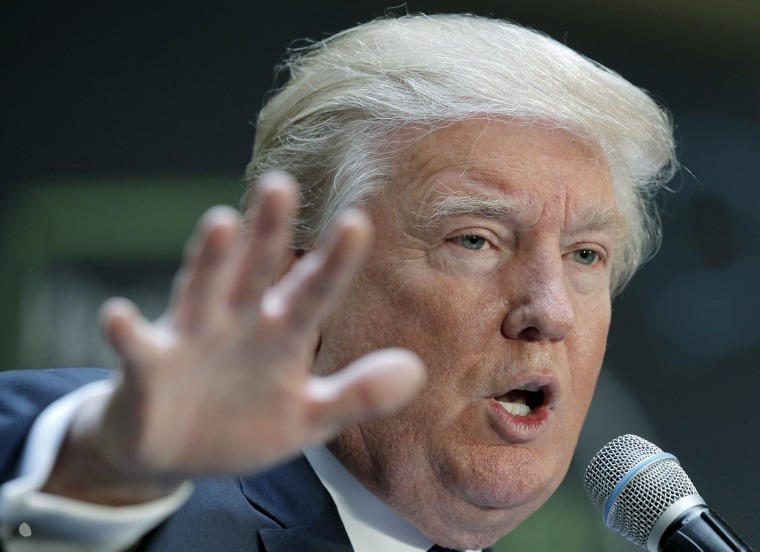 "Harvard?" Trump asked, noticing Choe's sweatshirt. "You go to Harvard?"
When Trump didn't get an immediate answer, he became impatient with Choe. "He's choking!" Trump jabbed.
"I was frustrated," Choe told NBC News about the moment. "I was waiting for the microphone to come over from across the room. That didn't mean I was choking."
Even as he finally got the microphone and began to ask his question about South Korea, Choe was interrupted by Trump. "Are you from South Korea?" Trump asked.
"I'm not," Choe replied. "I was born in Texas, raised in Colorado."
"My best guess for what [Trump] did to me was because he knew that if I kept on talking, he would have had to confront the fact that he made a factually incorrect statement, which means he would have had to apologize."
Some in the audience laughed and, soon after, Choe lost the floor.
"When he abruptly and rudely asked me whether I was from South Korea, I was taken aback," said Choe, an American born to Korean immigrant parents educated in the U.S. Choe said he identifies as a Korean American and says he values both parts equally. "I do not think that being both a Korean and American is mutually exclusive."
Last week's encounter with Trump is not the first time Choe corrected a high-profile political figure. In April, Choe asked Japanese Prime Minister Shinzo Abe a question regarding comfort women during Abe's visit to Harvard's Kennedy School. Abe's answer resulted in breaking news in Korea.
"I apologize in advance if my question comes off as provocative, but it has to do with a topic that weighs heavily on my heart," Choe began at the April event. "As someone with ties to South Korea, I know the issue of comfort women is a source of contention between my country and yours."
He questioned Abe on the "solid proof that shows the Japanese government and military were directly involved in the comfort women system," and asked if Abe "still den[ied] the Japanese government's explicit involvement in the subjugation of hundreds of thousands of women into coerced sexual slavery."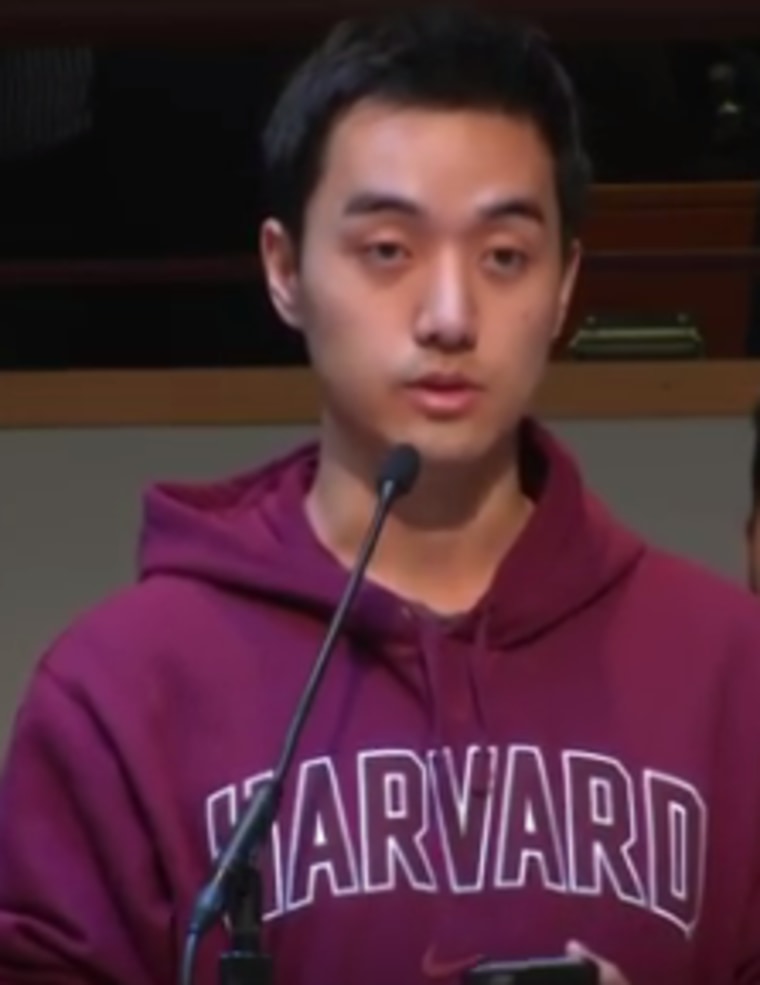 After a translation from English to Japanese, Abe avoided the question on his continued denial of history, but said, "When it comes to the comfort women issue, my heart aches when I think about those people who were victimized by human trafficking and were subject to immeasurable pain and suffering." Abe then went on to talk about Japan's plan for reducing sexual violence toward women.
Choe expressed his disappointment at Abe's response to Korean media after the event. "I didn't expect him to make a new apology for the past," Choe said. "But I was very disappointed when he pointed to Japan's efforts to support women's rights. How can he talk about increasing women's rights while they continue to deny the past?"
After that, Choe thought he was prepared for anything Trump could throw at him, but Trump's reaction based on Choe's race upset him.
"First of all, I do not see how that question was relevant," Choe told NBC News. "What if I actually were from South Korea? Would that have made my opinions less legitimate? I know some people feel like Mr. Trump's question was perfectly fine, but it wasn't. Not only was he rude cutting me off and not letting me finish, but it's obvious he asked that only because I look Asian."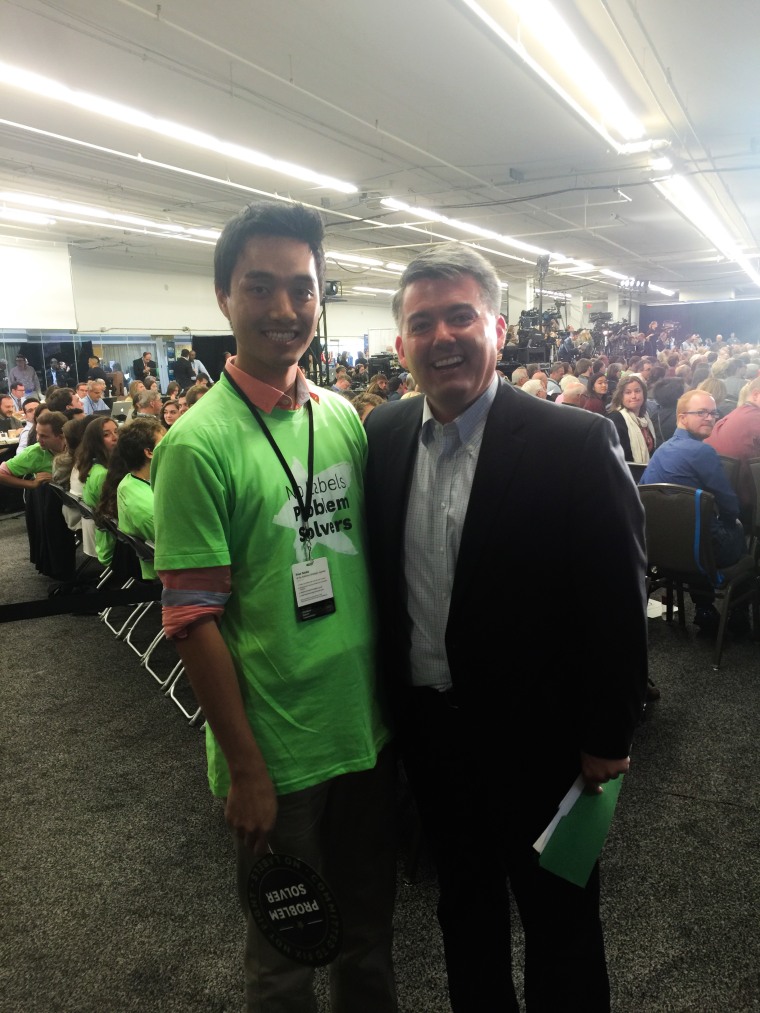 Choe continued, "Whenever I encounter micro-aggressions, or even just outright racism, I try to maintain my composure and have honest conversations with the perpetrators. I've learned that often, these hurtful words and thoughts come from ignorance, not hatred, so a productive conversation usually helps."
It wouldn't be the first time for Choe to encounter an example of what he called a "micro-aggression." Choe recalled how the first time he experienced something like that he was when growing up.
"One of my classmates in middle school would call me a 'chink' for fun," Choe said. "I was young then so I didn't know the history and hatred behind the word. But the tone he used was filled with so much disgust that this in itself bothered me."
A few weeks later, Choe said he went to a local Korean store and bought some Korean snacks. "I gave it to him to show him a piece of my culture," Choe said. "He never bothered me again."
But last week, Choe didn't have any offerings for Trump.
"What if I actually were from South Korea? Would that have made my opinions less legitimate?"
"Mr. Trump is a difficult person to read," Choe said. "He has made a whole lot of outlandish, incorrect statements in the past, and he never apologizes. My best guess for what he did to me was because he knew that if I kept on talking, he would have had to confront the fact that he made a factually incorrect statement, which means he would have had to apologize. But I guess he couldn't bring himself to doing that, so he cut me off and went on his own rant."
Choe, who speaks both Spanish and Korean and has traveled and worked in Chile and Korea, said no one suggested he attend the event. As a senior campus editor for the Harvard Political Review, he is active politically, but says he's not tied down to any one party. "No one is perfect, and there are different characteristics of each candidate [both Democrat and Republican] that I admire," he said.
Choe said he has no regrets about last week's confrontation.
"Misstatements are extremely dangerous, especially for an influential figure like Mr. Trump," Choe said. "Ignorance can be easily perpetuated, if we ignore the truth."