The U.S. Army has issued updated rules that make it significantly easier for Sikh and Muslim Americans to serve with their religious articles of faith intact, following years of lobbying from community groups and politicians.
RELATED: Sikh-American Army Officer Wins Ability to Serve With Beard, Turban
The update, dated Jan. 3, 2017, directs brigade-level commanders to grant religious accommodations for hijabs, beards, and turbans with unshorn beards and hair for soldiers in all roles unless the requester's religious belief is not sincere or if the Army identifies a specific, concrete hazard.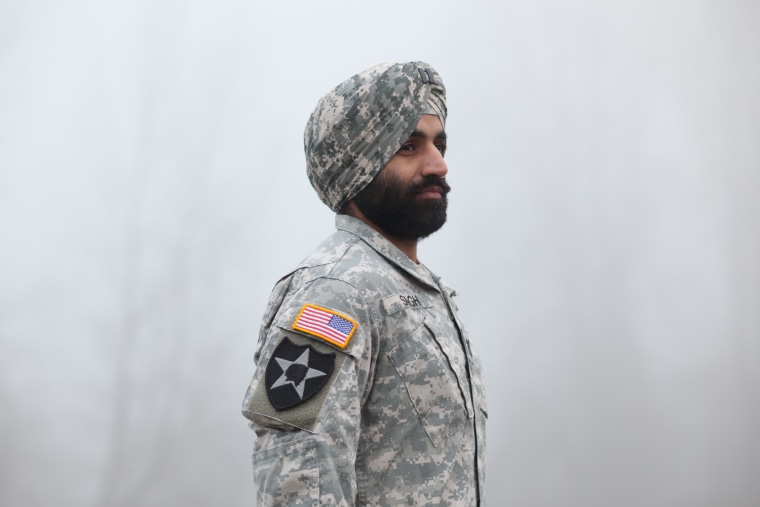 "For the past eight years, The Sikh Coalition has led the effort to build a 'proof of concept' that the Sikh articles of faith are completely compatible with our military's safety and uniformity standards," Amandeep Sidhu, a partner at the law firm of McDermott Will & Emery and co-founder of The Sikh Coalition, told NBC News. "The Army's new policy is the embodiment of the cases we presented to the Army with Major Kamal Kalsi and Major Tejdeep Rattan in 2009, bolstered by the experiences of several other clients, including West Point graduate and Bronze Star Medal recipient, Capt. Simratpal Singh. Our Army can now fully reflect the diversity of faiths, cultures, and experiences that are woven into the fabric of our American experience and make us stronger."
Before 1974, Sikh Americans were allowed to serve in the U.S. military with their articles of faith intact, according to The Sikh Coalition, but since 1981, stricter grooming regulations have required requests for religious accommodation on a case-by-case basis.
In 35 years, only nine have been granted, according to The Sikh Coalition. In contrast, about 50,000 U.S. soldiers have permanent beard exemptions for medical reasons.
RELATED: NYPD to Allow Officers to Wear Turbans, Grow Beards for Religious Reasons
Many have expressed support for Sikh Americans serving in the U.S. military with their articles of faith intact, including 27 retired U.S. generals and more than 100 members of Congress.
"This is major progress, not just for the Sikh American community but for our nation's military. Sikh Americans love this country and want a fair chance to serve in our country on equal footing," Rep. Joe Crowley (D-N.Y.), chairman of the Democratic Caucus, said in a statement. "We are a stronger nation, with a stronger military, because of our respect for religious and personal freedom."
Follow NBC Asian America on Facebook, Twitter, Instagram, and Tumblr.