A U.S. Army reservist is suing the owners of a gun shop and range in Oklahoma who allegedly asked him to leave after he told them he was Muslim.
The lawsuit, filed Wednesday in U.S. District Court for the Eastern District of Oklahoma, accuses Chad and Nicole Neal of violating the Civil Rights Act and Oklahoma's anti-discrimination laws for refusing to allow Raja'ee Fatihah to use their gun range last October because of his religion. At the time, the Neals' business, Save Yourself Survival and Tactical Gun Range in Muskogee County, reportedly had a sign outside saying it was a Muslim-free business, according to the lawsuit.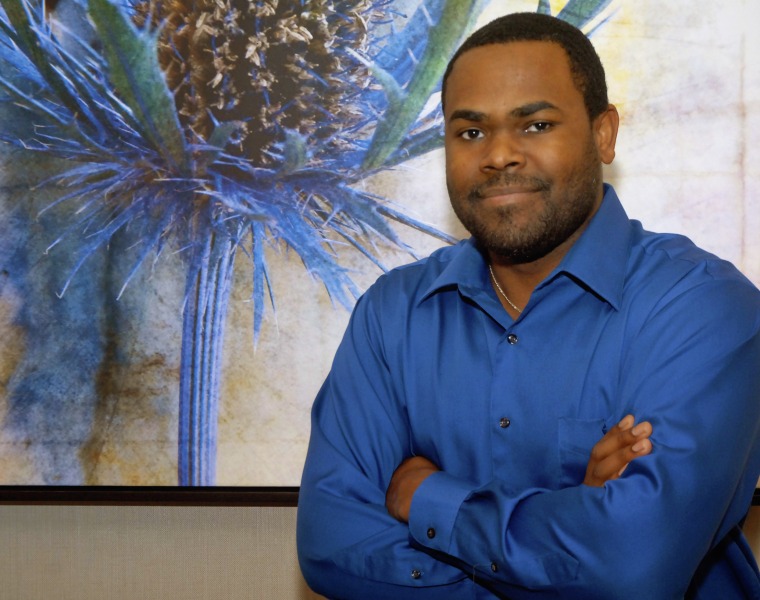 "For an establishment to ban someone based on their religion isn't just reprehensible — it's against the law," Veronica Laizure, civil rights director for the Oklahoma chapter of the Council on American-Islamic Relations, said in a statement. "We hope that these owners and others around the country will comply with civil rights law and stop refusing service to customers in this manner."
The Oklahoma chapter of the Council on American-Islamic Relations (CAIR), of which Tulsa-native Fatihah is a board member, filed the lawsuit along with the American Civil Liberties Union in Oklahoma and the national ACLU.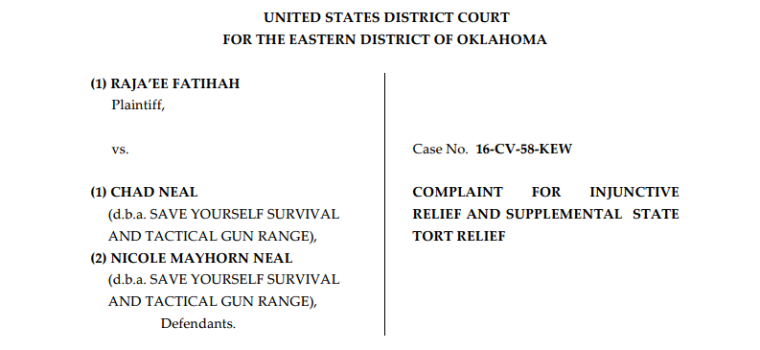 Last year, CAIR brought a similar complaint against Florida gun store owner Andy Hallinan, but a federal judge dismissed it in November, saying the organization did not prove its members were harmed by the store's policy.
Robert J. Muise, senior counsel of the American Freedom Law Center, which represented Hallinan and now the Neals, told NBC News in a statement Thursday that the center hasn't had a chance to review the lawsuit in detail because the Neals had not yet been served, but added that such litigation weakens local and national security.
"Not only do our clients have a right to refuse to serve someone they believe to be a public safety risk, they have an obligation to their other customers, employees, and the community to do so," Muise said.
RELATED: Hate Attacks on Muslims in U.S. Spike After Recent Acts of Terrorism
Muise told the Guardian Wednesday that the Muslim-free sign outside the Neals' business is protected free speech, and that Fatihah was asked to leave not because of his religion but because he was belligerent, an accusation Fatihah denied.
"The only thing the law prohibits is if somebody denies services strictly on the basis of religion, and that didn't happen here," Muise told the Guardian.
According to Fatihah's lawsuit, Nicole Neal asked Fatihah to fill out a liability waiver when he asked to use the range on Oct. 23. After signing it, Fatihah told Nicole Neal he was a Muslim, prompting her to summon her husband, the lawsuit alleges. The Neals then allegedly armed themselves with handguns and asked Fatihah, who enjoys recreational shooting and wanted to practice, if he had come to the gun range to commit an act of violence or as part of a jihad, according to the lawsuit. Fatihah was then asked to leave, he alleges.
Fatihah, who works as an investigator for the state of Oklahoma, is asking the court to order the Neals to comply with the Civil Rights Act and Oklahoma common law and is seeking monetary damages for mental and emotional distress.
Follow NBC Asian America on Facebook, Twitter, Instagram, and Tumblr.