Asian American and Pacific Islander (AAPI) groups are among those slamming the Trump administration for its decision to end an Obama-era executive action that allowed undocumented immigrants who came to the United States as children to remain in the country.
Criticism has been sharp and pointed after Attorney General Jeff Sessions made the much-anticipated announcement Tuesday about what Trump called the "wind-down" of the Deferred Action for Childhood Arrivals (DACA) program, signed by then-President Barack Obama in 2012.
"The Trump Administration's decision to rescind DACA is a cruel and devastating blow to the nearly 800,000 young Americans currently enrolled in the program," Rep. Judy Chu (D-CA), the chair of the Congressional Asian Pacific American Caucus , said in a statement. "This indefensible action is an open attack on America's immigrant communities and undermines our core values as a nation."
RELATED: Trump Ends DACA Program, No New Applications Accepted
Under the plan, the Trump administration will stop considering new applications for legal status dated after Tuesday, but will allow any DACA recipients with a permit set to expire before March 5, 2018, the opportunity for a two-year renewal if they apply by Oct. 5.
Congress will have a six-month period to possibly save the policy. The Development, Relief, and Education for Alien Minors (DREAM) Act, a bill to put undocumented immigrant children on a pathway to U.S. citizenship, has been reintroduced and repackaged over the years, but has never passed Congress.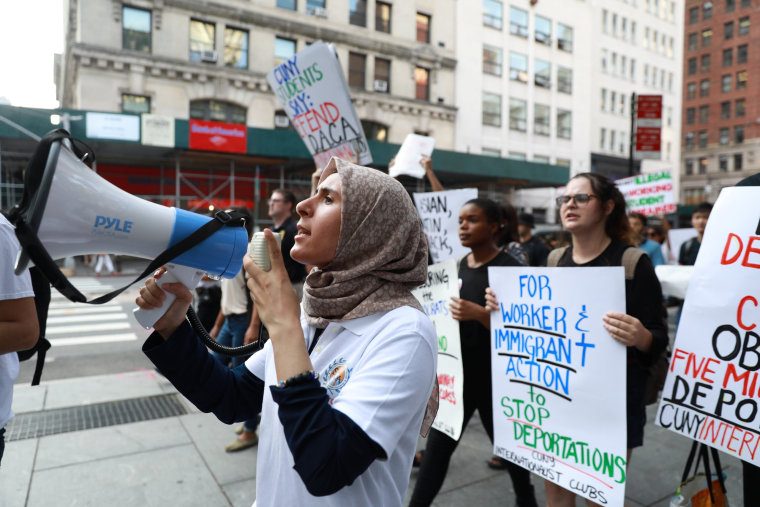 Trump in a statement Tuesday accused Obama of bypassing "Congress to give work permits, social security numbers, and federal benefits to approximately 800,000 illegal immigrants currently between the ages of 15 and 36."
"The legislative branch, not the executive branch, writes these laws — this is the bedrock of our Constitutional system, which I took a solemn oath to preserve, protect, and defend," Trump said.
RELATED: 'Original Dreamer' Still Fights for Undocumented Immigrants 16 Years After First Dream Act
DACA has helped temporarily remove the threat of deportation for undocumented children of Asian descent. According to federal immigration statistics, four of the 24 top countries of origin for DACA recipients are in Asia — South Korea, the Philippines, India, and Pakistan. Asians made up 10 percent of the population potentially eligible for DACA, according to a September 2014 report from the nonprofit Migration Policy Institute.
Advocates of DACA argue that deferred action increases economic opportunities for recipients who have grown up in the U.S., allowing them to earn higher wages and contribute to the country's economic growth.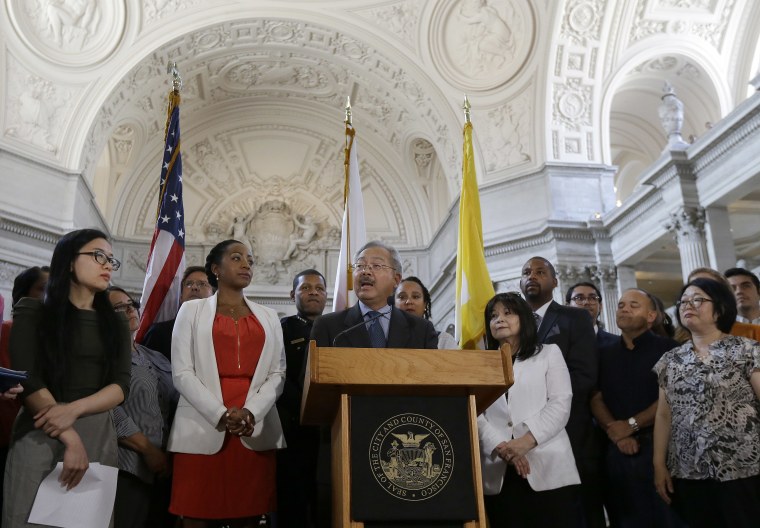 But critics, including the U.S. attorney general, charge that Obama overstepped his constitutional authority by changing immigration policy through an executive action.
At least a dozen AAPI organizations across the country Tuesday defended DACA and lashed out at the Trump administration's choice to phase it out.
RELATED: What Is DACA? Here's What You Need to Know About the Program Trump Is Ending
"DACA is a legal, successful, common sense policy that has transformed the lives of the nearly 800,000 young immigrants," John C. Yang, president and executive director of Asian Americans Advancing Justice | AAJC, said in a statement released by the National Council of Asian Pacific Americans (NCAPA).
"We stand together with DACA recipients, including more than 16,000 Asian Americans, many of whom have pursued higher education, financially provided for themselves and their families, and contributed to the growth of the economy and the strength of America – all because the DACA program afforded them a chance," Yang said.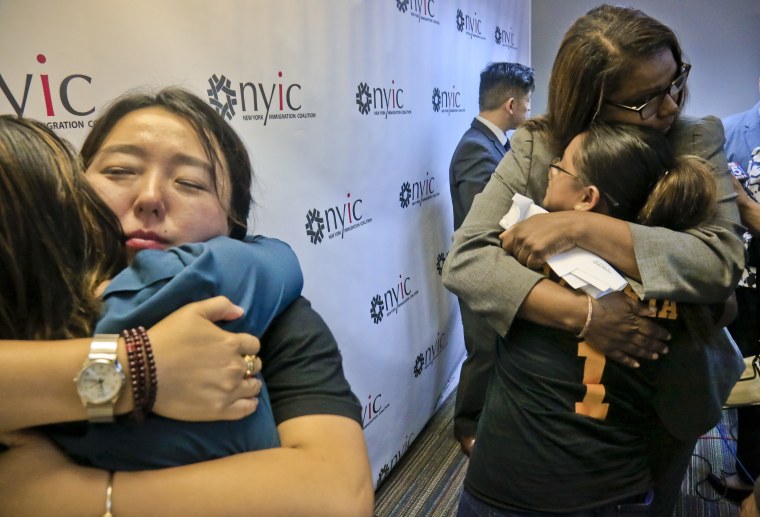 Quyen Dinh, executive director of the Southeast Asia Resource Action Center and NCAPA chair, expressed deep disappointment over the DACA decision.
"We stand ready to fight and protect families that will suffer the repercussions of this heartless policy decision," Dinh said in a statement. "We call on congressional leaders to defend the rights of all immigrants and refugees by enacting long-term, humane legislation that protects the vulnerable and keeps families together."
RELATED: Tears, Anger and a Promise to Fight Back as Trump Ends DACA
There are approximately 154,000 individuals with DACA expiration dates between now and March 5, 2018, according to the Department of Homeland Security.
The Asian American Legal Defense and Education Fund (AALDEF) said the U.S. will face "enormous human and economic costs" without DACA.
"Despite President Trump's promise to treat DACA recipients with 'great heart,' his administration has decided to pursue a heartless and blatant attack on the young immigrants and their families who contribute to and strengthen our country every day," AALDEF executive director Margaret Fung said in a statement.
One AAPI Republican group also weighed in on Tuesday's announcement.
Cliff Li, executive director of the National Committee of Asian American Republicans, told NBC News by phone that AAPI conservatives were split over the move to end the controversial program.
"In terms of our own organization...we understand and agree with the decision [and] think it's necessary," Li said. "It's not something happy to see...but it's necessary, and [we] hope the liberal side and also the conservative side can sit down together to cure the [illegal immigration and border security] problem at the root."
Follow NBC Asian America on Facebook, Twitter, Instagram and Tumblr.