The calls in the dead of night don't happen that often, but when they do, it's usually not good. Sometimes, the women need to be brought to a shelter right away. Other times, they just need to tell someone in their mother language of Korean that they are at the end of their emotional tether, having endured abuse from a boyfriend or husband.
Bomsinae Kim was one of the volunteers who answered those calls some 13 years ago when she manned the 24-hour emergency hotline at the Korean American Family Service Center, an organization based in Queens, New York, founded in 1989 to help Korean Americans facing domestic violence.
Kim, who now serves as the center's interim executive director, told NBC News that, for many Asian women, speaking out about domestic violence is taboo because of certain stigmas in Asian culture. Oftentimes, the women may feel that ending an abusive relationship would bring shame to their family, or that they must endure domestic violence because of traditional gender roles in their culture, Kim said.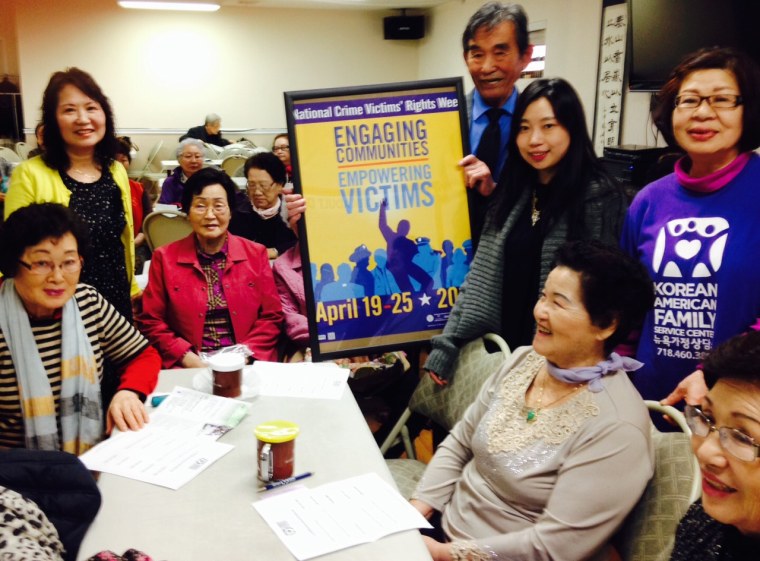 But with over 3,000 calls to its hotline every year, the Korean American Family Service Center is helping Korean Americans, as well as women of other Asian ethnicities and even some who are not Asian, find the inner strength to speak up and to break free of abusive relationships without feeling estranged from their communities.
"Korean-American women's only access to services usually used to be with churches," Kim told NBC News at a recent 5K fundraiser in Queens. "But a lot of them would tell them they need to endure and just stay. It was the same message."
Despite inroads made by groups like the Korean American Family Service Center, domestic violence in the Asian American and Pacific Islander community remains a serious issue, advocates say.
"We need to make sure culture is not an excuse or justification to perpetuate domestic violence."
In the United States, one in four women will experience domestic violence during her lifetime, according to Safe Horizon, a nonprofit victim services agency. But for Asian women, the numbers are even higher, with 41 to 61 percent having reported being victims of physical or sexual violence at the hands of an intimate partner, according to studies examined by the Asian Pacific Institute on Gender-Based Violence.
Beckie Masaki, the institute's director of community building, told NBC News that those figures don't necessarily imply an increase in domestic violence within the Asian American Pacific Islander community.
"It's just that more people are able to name it," she said, adding that Asian-American women today feel more emboldened and have more options and services available to report domestic violence than they once did.
Community outreach is a big reason behind that shift. For its part, the Korean American Family Service Center spreads awareness of domestic violence by publishing brochures and taking out public service announcements in Korean-language media, Kim said. It also works with schools and police precincts in hopes that they may refer those encountering domestic violence to the organization, she said.
For those who make that first phone call to the 24-hour hotline, the Korean American Family Service Center can provide one-on-one and group counseling, art therapy and job classes, all in an effort to help domestic violence survivors become self-sufficient, Kim said. If necessary, women and children who are being abused can also be sent right away to its Rainbow House Shelter, where they can stay for up to three months at no cost, Kim said.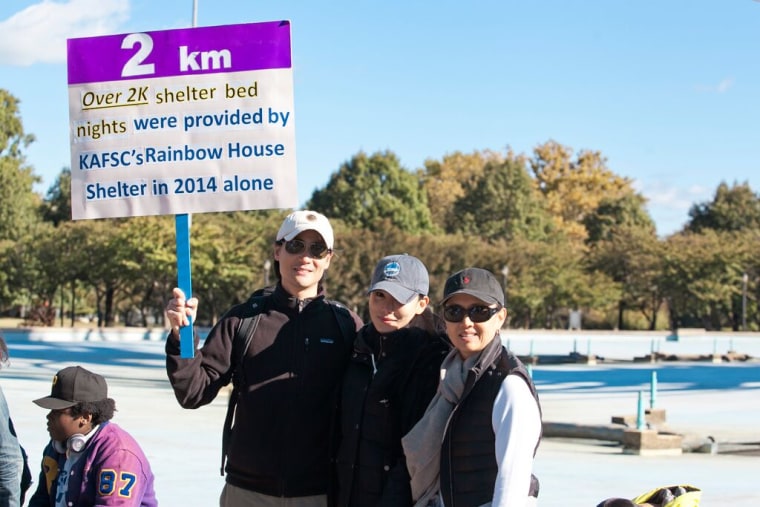 Founded 20 years ago to assist Korean women in dealing with abuse from American soldiers they married, Rainbow House became part of the Korean American Family Service Center in 2014, said Eun-Kyung Kim, the shelter's director. In recent years, Rainbow House Shelter has also taken in Japanese, Vietnamese, Filipino, Nepalese, and Indian women, serving between 25 and 35 victims a year.
"When they leave the house, their faces are lit up, and they are confident," Eun-Kyung Kim told NBC News at the 5K fundraiser for the shelter. "They call us 'our family.'"
In addition to the shelter, the Korean American Family Service Center also provides longer-term housing for Asian immigrant women, which is subsidized for up to 18 months through government funding, Bomsinae Kim said.
"We keep telling them our message is there is domestic violence and you're not alone and you have rights," Bomsinae Kim said.
Masaki, who cofounded the Asian Women's Shelter in San Francisco in 1988, said that the Asian extended family structure can sometimes create barriers for victims of domestic violence seeking help. For instance, in communities with Mien people, an ethnic group from southern China and Southeast Asia, discussion of abusive relationships is traditionally verboten, she said.
"People who cared about that woman didn't want her to speak out or get help because it might make their community look bad," Masaki said.
But an extended family can also serve as a vital resource for helping women escape abuse, Masaki added. "It depends on how that family and how that community is acting around domestic violence," she said.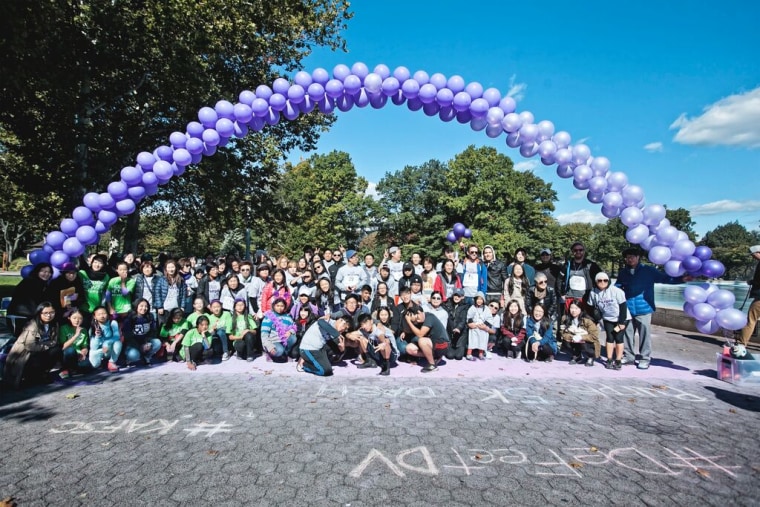 Some Asian-American women also view domestic violence as something they must endure, Masaki said. "I've heard that too — I have to accept my Asian fate to endure violence," she said. "It's a revelation for them to hear from another woman or another person in their own language or own background saying, 'No, you do not deserve that. You deserve more.'"
In her experience, Rainbow House Shelter director Eun-Kyung Kim said she senses a change in that mindset, but said there is still work to be done. "Especially in Asian culture, it is very very shameful to talk about domestic violence issues to anybody," she said.
"We keep telling them our message is there is domestic violence and you're not alone and you have rights."
That reticence, she added, often exacts an emotional toll on abused women and ultimately affects their children and the women's physical health.
Members of Asian communities sometimes write off abusive relationships as the result of traditional, feudal thinking, Masaki said, arguing that men are dominant in Asian culture and domestic violence is "just an American thing."
That, she said, is unacceptable.
"We need to make sure culture is not an excuse or justification to perpetuate domestic violence," Masaki said.