Two Asian Americans have been chosen to curate the Whitney's 2017 Biennial, a large-scale exhibit that surveys the latest in American contemporary art.
Christopher Y. Lew and Mia Locks will serve as co-curators for the Whitney Museum of American Art's signature invitational show, introduced by Gertrude Vanderbilt Whitney in 1932, according to the museum's website. The 2017 Biennial, which will open in the spring of that year, will be the first in the Whitney's new building in Manhattan's Meatpacking District, and will spotlight emerging artists.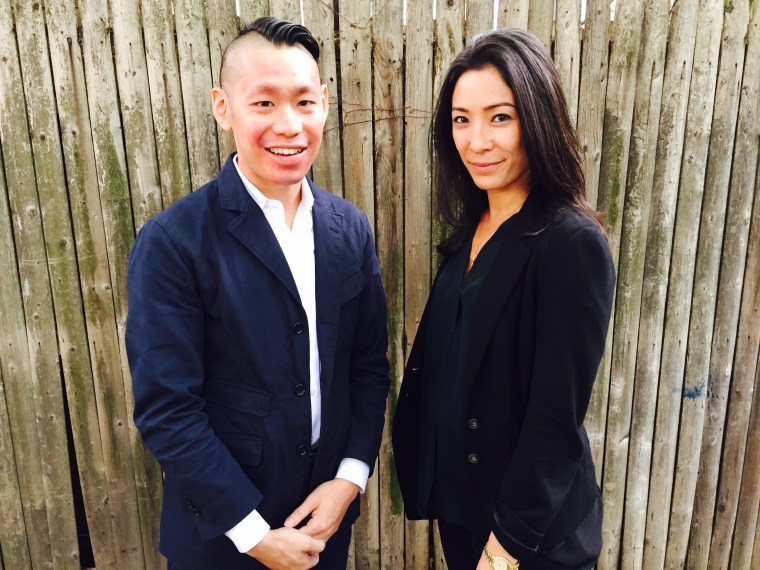 "Chris' keen eye has been critical to this renewed focus in our program, which just launched with his presentations of Jared Madere, Rachel Rose, and New Theater," Scott Rothkopf, the Whitney's deputy director for programs and chief curator, said in a statement. "Mia's interest in both historical figures and new tendencies, as well her years on the West Coast, will add important perspective to the Biennial."
Before becoming an associate curator at the Whitney in 2014, Lew, 34, held positions at MoMA's PS1 in Queens beginning in 2006. Locks, 32, also worked from 2013 until recently as an assistant curator at MoMA's PS1, and before that at the Museum of Contemporary Art, Los Angeles (MOCA).
"The invitation for the two of us to do this really stems from a lot of what we've been doing recently, and also Mia's background in LA," Lew told NBC News. "We've known each other, we've overlapped at PS1 for about a year's time, so there's a bit of shared interest and also other things that play in that sense."
Locks said the purpose of the Whitney Biennial is to highlight projects, practices, and works in contemporary art from the previous two years. "One of the important things, or what people really look towards the biennial for, is the sense of taking the pulse of what's going on with art in the United States right now," Lew added.
Lew said it was too early to say what themes might be showcased in the exhibition. He did say that one of the things they need to consider is how to "engage with the new gallery" in the Whitney's recently completed building, which opened May 1.
As curators of the biennial, Lew and Locks are tasked with choosing the works to be featured in the exhibition. That process includes tapping into a team of advisers to gauge their thoughts on art and other disciplines, as well as travelling around to meet with artists and others who think about contemporary art, Lew said.
"One of the important things is also to come in without too many preconceptions," he added. "Obviously we both have been looking at a lot of art, but we want to start with the art, which means you have to go in and really look and talk to those who make it."
Asked whether being Asian American affects the type of art they gravitate toward, Locks said that, to a degree, it's definitely present in her thinking.
RELATED: Wikipedia Entries on Asian-American Art Get Update With Edit-A-Thon
"A lot of questions around what we used to call identity politics and questions that I think are still really relevant in art are things that I tend to think about a lot," said Locks, who is half Korean. "It's partially my own interest and my own background. And that extends beyond just Asian American."
It's unclear how many Asian Americans work as art curators in the United States, though Locks said there were "a handful" in contemporary art. According to the U.S. Department of Labor, there were 47,000 archivists, curators, and museum technicians in the U.S as of 2014, but the department did not break down that number by ethnicity. Nationwide, there were 203,000 artists and related workers, with 5.7 percent identifying as Asian, the department reported.
For Lew, a Chinese American who grew up in New York, and for Locks, being selected to curate the 2017 Biennial is a huge honor, they said.
"To be able to really participate and engage with not only the history of the Whitney, but also with all these artists that are making work right now, I think is going to be a big thing," Lew said.