Even without a traditional turkey on your dinner table, an Asian-themed menu this Thanksgiving is sure to be a hit.
Ahead of the holidays, NBC News spoke with Asian-American chefs across the country are swapping out dry, overcooked turkey with everything from Cornish hen games and coconut pies. The best part? Many of the dishes are perfect for sharing — exactly what you want for this holiday.
Follow NBC Asian America on Facebook, Twitter, and Tumblr.
Diane Yang, Executive Pastry Chef of Spoon and Stable in Minneapolis, Minnesota
"At family gatherings, especially Thanksgiving, we have to have some coconut pandan jellies," says Diane Yang, who considers this recipe an annual tradition at her dinner table. "It's super simple to make. It's my daughter's favorite snack/dessert."
Coconut Pandan Jellies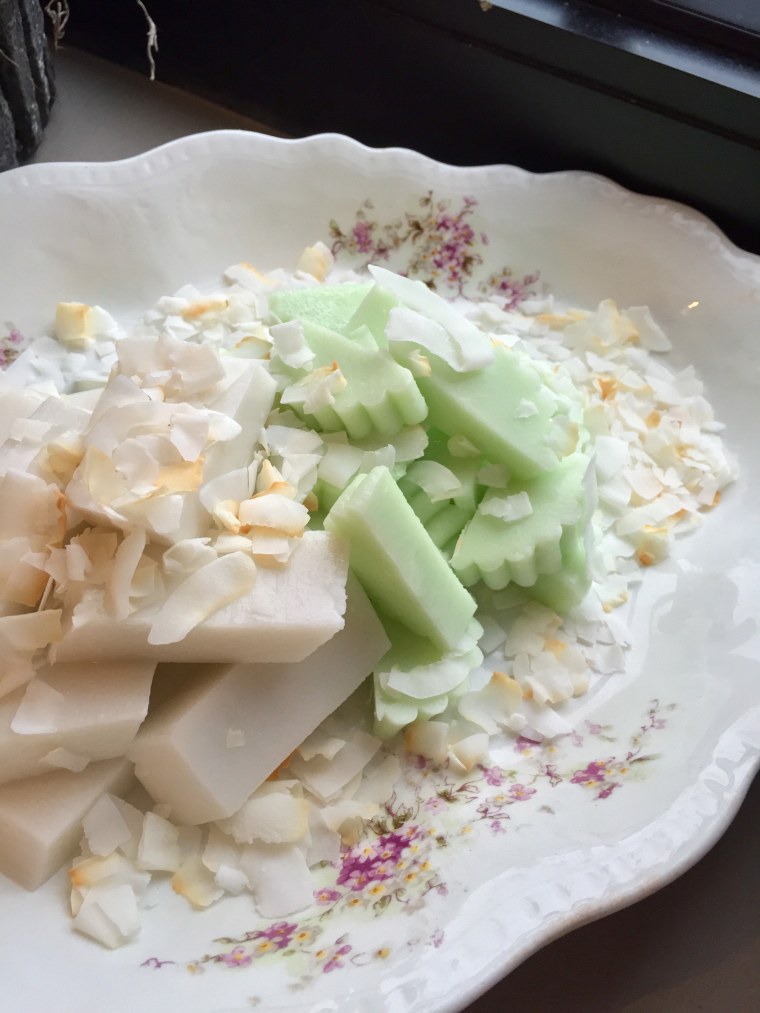 Ingredients
2 1/2 cups coconut milk
3 dashes of pandan extract
1/4 cup simple syrup
1 1/2 tsp agar
Coconut flakes for garnish
Method
Lightly pan spray a flat Tupperware/pan, set aside. Put everything in a pot and whisk constantly until it comes to a full, rolling boil. Strain into a container and let sit for one hour in refrigerator before cutting into desired shape. Garnish with some lightly toasted coconut flakes
Vikram Garg, Executive Chef of Halekulani in Honolulu, Hawaii
The cranberry-and-date chutney accompanying this ginger rosemary glazed cornish hen celebrates American traditions with Vikram Garg's Indian roots: "For the chutney I created, it reminds me of my home and family in India, and I've used cranberry as the American element combined with the dates and Indian spices."
Ginger Rosemary Glazed Cornish Hen with Cranberry-and-Date Chutney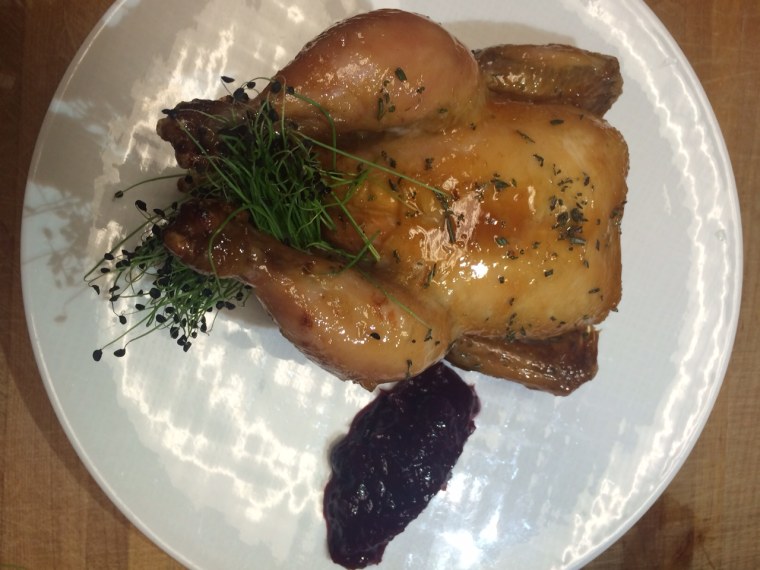 Ingredients
For rosemary ginger glaze:
3 ounce honey
5 ounce ginger juice
2 ounce kalamansi juice
1 ounce soy sauce, such as Tamari
1/4 teaspoon rosemary, finely chopped
Method
Combine all the ingredients in a sauce pan, bring to a boil and reduce until it coats the back of spoon. Brush cornish hen as it comes out of oven. Let it rest for 5 minutes and brush again. The remaining serve on the side with cornish hen.
Cranberry-and-Date Chutney
Ingredients
8 ounce cranberry
8 ounce pitted medjool dates minced
4 ounce coconut sugar
16 ounce apple juice
1/4 teaspoon chile flakes
1/4 teaspoon Nigella seeds
1/4 teaspoon ginger powder
1/2 teaspoon fennel
Salt (to taste)
Method
Combine all in a pot and cook until cranberries are soft. Slightly pulse it in a blender. Correct seasoning and refrigerate.
Ming Tsai, Chef and Cookware Designer for the SIMPLY MING Kitchen Collection
"Nothing says Thanksgiving more than a warm apple dessert. This tarte tatin is skillet cooked caramelized apples topped with pastry then inverted onto a plate," says Tsai. His version includes five-spice powder, which adds another dimension of flavor to the seasonal cinnamon-apple combination. This recipe is from Tsai's cookbook "Simply Ming in Your Kitchen."
Ming Tsai's Five-Spice Tarte Tatin (Serves 8)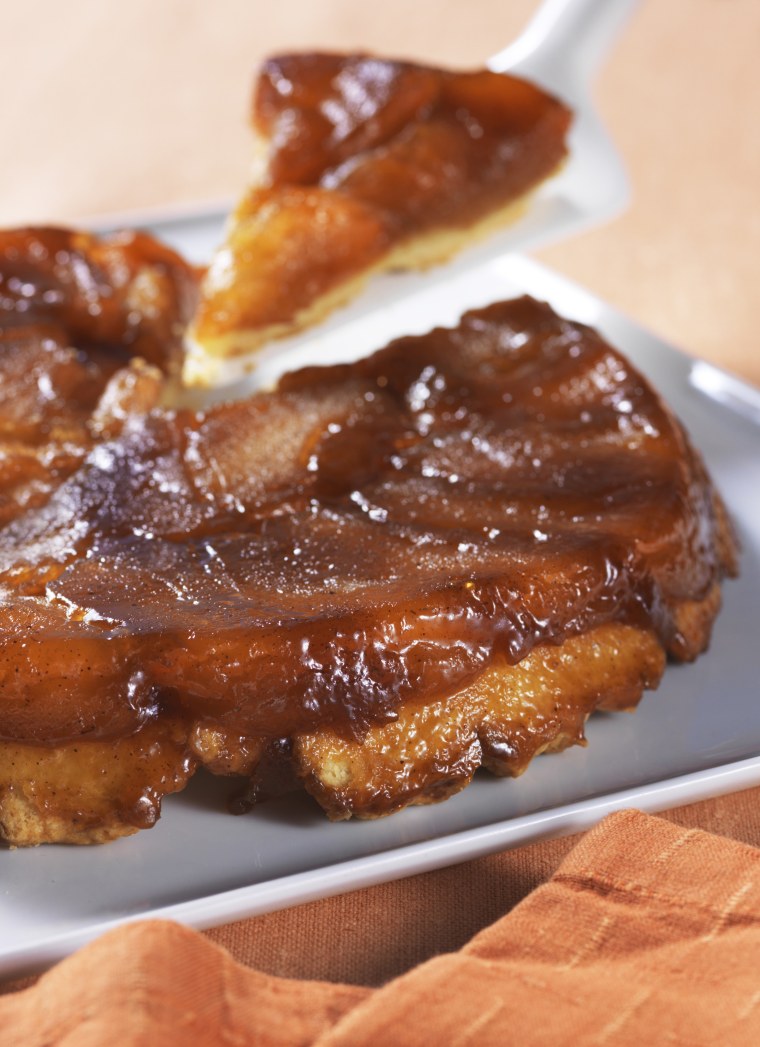 Ingredients
Crust
3 large egg yolks
2 1/2 cups all-purpose flour
2 tablespoons sugar
6 tablespoons (2 sticks) unsalted butter, cold, diced
Filling
6 Granny Smith apples, peeled, cored and quartered
1 1/2 cups sugar
Juice of 1 lemon
2 teaspoons five-spice powder
4 tablespoons (1/2 stick) unsalted butter
Method
Make the crust: In a small bowl, combine the egg yolks with 1/4 cup very cold water. In a food processor, combine the flour and sugar. Add the butter and pulse until the mixture resembles coarse meal, about 10 seconds.
With the processor running, add the egg yolk mixture in a slow, steady stream and process just until the dough holds together and is no longer crumbly.
Transfer the dough to a work surface and divide it in half. Make a ball of each half and flatten into discs. Wrap each disc separately in plastic wrap and refrigerate for 1 hour or up to a week. If not using the second dough within that time, wrap it in plastic then in foil, tuck into a resealable plastic bag, and freeze for up to 3 months for another use.
In a large bowl, combine the apples, 1/2 cup of the sugar, the five-spice powder and lemon juice. Toss and let sit for 30 minutes. Drain the apples, reserving 2 tablespoons of the juice.
Preheat the oven to 400° F. Melt the butter in a 10-inch cast-iron pan over medium-low heat. Add the remaining 1cup sugar and the reserved apple juice and cook, stirring constantly, until a light caramel-brown syrup forms, 15 to 20 minutes.
Working from the outside in, shingle the apples in the pan. Slide one apple slice to the side and baste the apples, and while keeping a watchful eye, cook until the caramel is dark amber, about 3 minutes. Cook for about another 10 minutes, until the apples are al dente.
Place one dough disc on a large sheet of parchment paper and roll it out into a circle, about 1/4 inch thick, that will fit the pan with about a 1/4-inch overhang. Top the apples with the dough, tucking the edges of the dough between the apples and the side of the pan. Bake for 10 minutes, rotate the pan, and bake until the crust is brown, about 10 minutes more.
Remove the tart from the oven and let rest for 20 minutes. Run a knife around the inside edge of the pan to loosen the tart. Top with a serving dish and being careful of the hot caramel, invert the pan and dish. The tart should drop onto the plate easily; if it doesn't, re-invert the pan and place it on the stove over medium high heat for 1 to 2 minutes to further melt the caramel and help the tart to release.
Cut into slices and serve hot, warm or at room temperature.
Jon Matsubara, Executive Chef/Director of Bloomingdale's Ala Moana Center in Honolulu, Hawaii
Jon Matsubara's salmon is brined and smoked with Bombay Sapphire East Gin, which is a take on a gin-smoked salmon. It's a lighter dish that's bound to be a nice counterpoint to some of the heavier Thanksgiving dishes. "I love the aromatic notes infused within the spirit including the two newly added Asian botanicals, Thai lemongrass and Vietnamese black peppercorn," says Matsubara. "The possibilities to work with such a unique and versatile flavor profile are endless."
Bombay Sapphire East Smoked Salmon with Japanese Pickled Plum and Nori Burrata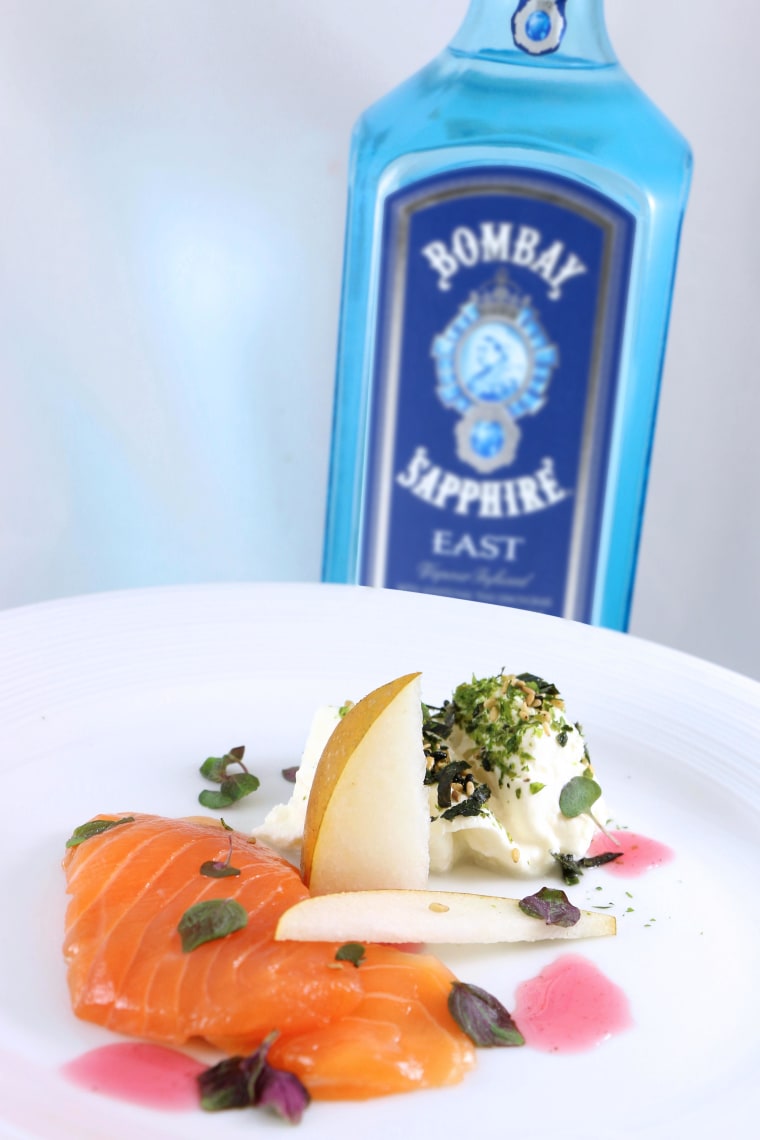 Ingredients
3 pound king salmon fillet boned with skin on
1 gallon water
1 cup salt
1 Tablespoon peppercorn
10 cloves garlic smashed
3 bay leaf
1 sprig of thyme
16 ounce Bombay Sapphire East gin
Method
Bring all ingredients to a simmer except Bombay East and cook for 10 minutes. When cooled down to room temperature, add Bombay East. Add salmon and marinate for 8 hours, then dry on cooling rack. Brush on Bombay East on salmon, coating every 30 minutes. Remove skin coat with cornstarch and deep fry until crispy, toss with ground bonito flakes. Smoke with Hawaiian kiawe wood (if available) for 20 minutes at 250 degrees or until soft. Cut and portion salmon and serve with pear and cheese.
Pickled Japanese plum vinaigrette
Ingredients
2 cup rice wine vinegar
1 3/4 cup sugar
1 cup ume boshi puree
Method
Mix all ingredients together. Slice Asian pear and add ume and shiso leaf.
Nori buratta
Ingredients
1 package nori sheets
1 pound burrata chese
Olive oil
Maldon sea salt
Method
Blend nori sheets in Vitamix till dust. Sprinkle on burrata slice and add olive oil and salt.
Jesus Delgado, Chef de Cuisine of Tanta in Chicago, Illinois
Chinese-Peruvian chef Jesus Delgado cooks up Chinese-influenced dishes, known in Peru as a "Chifa" style dish. This pavito al horno recipe was inspired by his grandmother, whom he would go to the market with in Lima to shop for ingredients. "This dish always reminds me of spending quality time with my grandmother during the holidays, so I am happy to share this tradition with our guests at Tanta," says Delgado.
Pavito al Horno
Turkey Leg (Serves 2)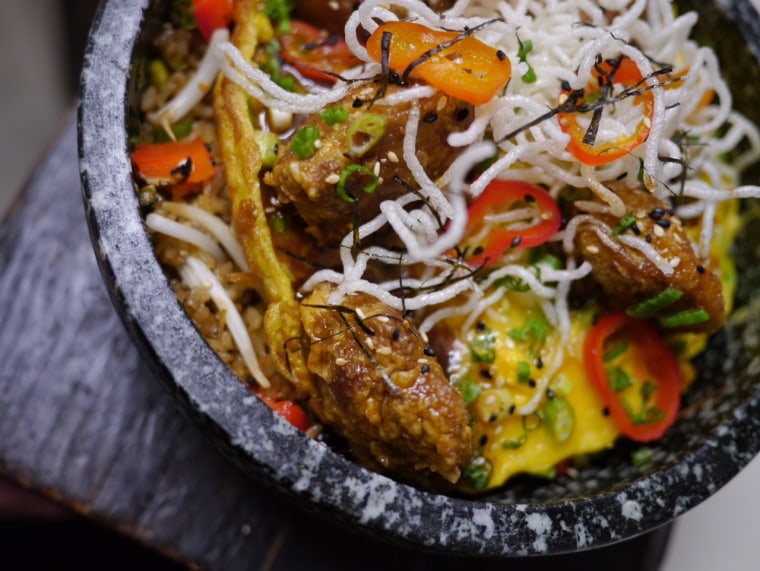 Ingredients
2 pounds turkey leg
Brine (3:10 salt to water ratio)
3.5 pounds duck fat
3 bay leaves
1 sprig of rosemary
1 Tablespoon peppercorn
1 head of garlic (peeled)
Method
Brine turkey leg (2 pounds) one full day in advanced in salt and water; brine consists of a 3:10 salt to water ratio.Remove turkey leg from brine. Select a roasting pan size according to the amount of turkey leg(s) being confit. Confit in duck fat, where the turkey leg should be fully immersed in duck fat. Incorporate three bay leafs, one sprig of rosemary, one tablespoon peppercorn, and one head garlic peeled in duck confit. Set oven temperature to 220 degrees, and bake for three hours. Remove from oven and let turkey leg cool to room temperature in the duck fat.Remove turkey leg once the duck fat has harden on top.Replace in a smaller roasting pan and place back in oven to brown at 350 degrees for 8-10 minutes.
Braden and Yasmin Wages of Malai in Dallas, Texas
"This pie has been a staple for us since we opened Malai. We used to serve pumpkin pie at Thanksgiving, but ended up replacing it with coconut," according to the husband and wife team of Braden and Yasmin Wages.. "We haven't looked back." The dessert is light and refreshing with just the right amount of sweetness and tangy tartness from the caramel.
Coconut Pie
Coconut Pie Crust
Ingredients
8 inch pie pan 3 cups coconut flakes
1/4 cup all-purpose flour
1/2 teaspoon salt 1 stickbutter, melted
Method
Preheat oven to 350 degrees. Mix coconut flakes and flour together. Add melted butter and salt, and mix well. Press into pie pan evenly. Cover pie rim with foil and bake at 350 degrees for 10 minutes. Remove foil and continue baking for 5 more minutes to brown the edge. Crust should be golden brown and crispy (dry).
Coconut Cream Pie Filling (2 Pies)
Ingredients
1 cup half & half 1 cup coconut milk
1/2 cup sugar
1/2 teaspoon salt
1 Tablespoon dark rum (optional)
5 egg yolks
1 teaspoon gelatin
Method
In a sauce pan over medium heat, combine half & half, coconut milk, sugar, salt and rum. Heat until it begins to simmer. Reduce heat to low. Add egg yolks, and mix well to temper (add egg yolks slowly while constantly stirring to avoid cooking eggs). Continue cooking mixture over low heat until it thickens to coat the back of a spoon. Mix in gelatin and stir until dissolved. Then immediately pour mixture into prepared coconut pie shell. And cool for 2 hours until cool throughout (it should be semi-firm).
Meringue Topping
Ingredients
Method
In a glass or stainless steel bowl, mix together egg whites and sugar. Heat over a double boiler, and stir constantly to dissolve sugar and to avoid cooking the eggs. Remove from heat and whip until glossy and stiff peaks occur. Spread on top of pie and caramelize top of meringue with a blow torch.
Tamarind Caramel Sauce
Ingredients
1/2 cup water
1 cup sugar
1 cup heavy cream
1/2 cup tamarind purée
Method
In a sauce pan, cook the water and sugar together on high heat until sugar caramelizes and turns golden brown. Reduce heat to low, and slowly pour in cream while stirring constantly to incorporate evenly. Turn heat off, and add in tamarind; mix well. Transfer to heat resistant container, and cool until ready to eat.
Once prepared, the pie can hold for 24-48hrs if kept cold. To serve, put chilled caramel sauce on plate first and place slice of pie on top so it saturates the crust while keeping the pie's layers clean and exposed.
Tory Miller, Chef of L'Etoile in Madison, Wisconsin
"Bokkeumbap is my favorite fried rice dish in the world. Kimchi, and egg and rice with oyster sauce and some kind of pork product is truly amazing," says Miller, who wanted to combine foie gras and kimchi. "Obviously, to me, these worlds were meant to come together in this one delicious dish."
Foie Gras Bokkeumbap (Serves 2)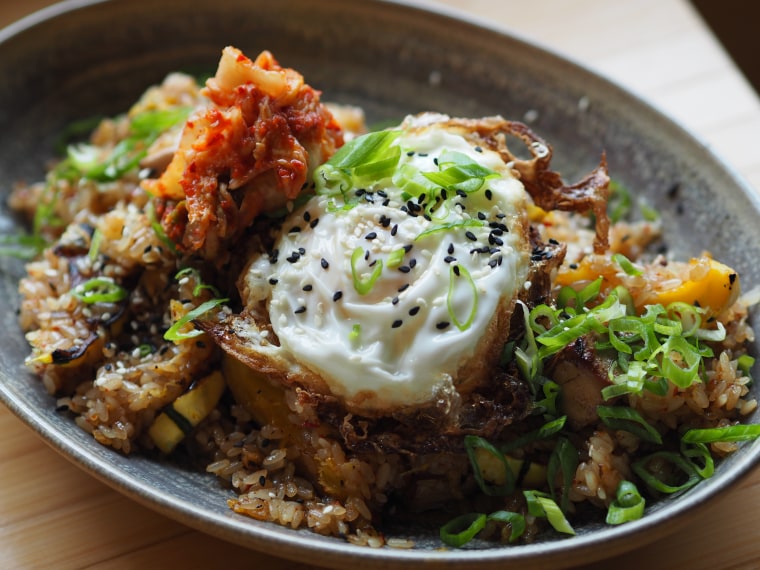 Ingredients
4 cups of cooked white rice (we use Rhee chun, Korean rice)
4 ounce, of foie gras diced
1 delicata squash washed, halved, seeded and sliced thinly
1 cup of chopped kimchi
1/2 teaspoon chopped ginger
1/2 teaspoon chopped garlic
2-3 Tablespoon oyster sauce (more to taste)
3 Tablespoon scallions sliced
2 eggs
1 Tablespoon sesame oil
1 cup coconut oil or vegetable oil
Method
Heat a wok on high heat. I've never made this in a non-stick pan, but I'm sure that would work in a pinch.
Add your foie gras and sear for about 30 seconds. Remove from pan and lower the heat. Add sesame oil, ginger and garlic. Stir fry for 20 seconds, return to high heat and add the squash and stir fry for 1-2 minutes. Add kimchi and cook for 20 seconds. Add rice and stir fry for 1 minute. Add oyster sauce and seared foie gras, stir to incorporate. Place into two bowls. Clean out the wok and add 1/2 cup of oil. Heat on high heat. Crack one egg and fry until the edges are brown and crispy. Top one bowl. Then repeat.Garnish with scallions, sesame seeds and ssamjang (optional).
Leah Cohen, Chef of Pig & Khao in New York City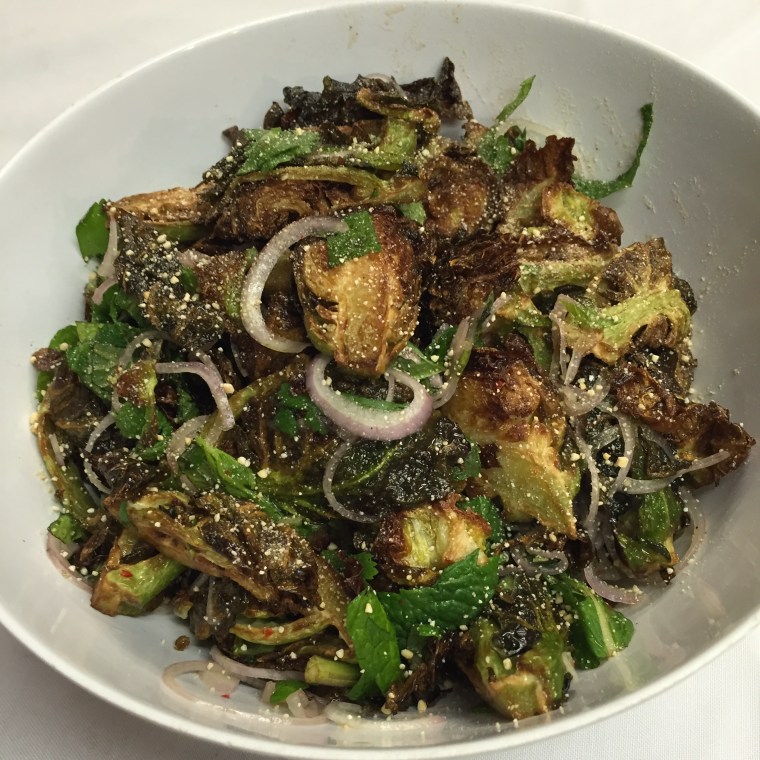 Brussels Sprouts Salad
Ingredients
2 shallots, sliced
1/4 cup mint leaves
1/4 cup cilantro leaves
1 pound Brussels sprouts (trimmed and quartered)
1/3 cup House Dressing (recipe below)
2-3 Tablespoon toasted rice powder
Salt (to taste)
Method
Fry the Brussels sprouts at 350 degrees until crispy but still retaining some of the green. Drain on paper towel and lightly season with salt. Combine all ingredients in a bowl, mix will and garnish with toasted rice powder.
House Dressing
Ingredients
22 grams fresh chiles, rough chopped
10 grams garlic
370 grams lime juice
205 grams fish sauce
112 grams sugar
325 gram water
Method
In a food processor, buzz chiles and garlic while adding some of the lime juice to help them process. The garlic and the chiles should be well pureed but so you can still see some of the seeds from the chilies. Transfer the mixture into a large bowl and mix everything together
Kathy Fang, Chef and Co-Owner of FANG in San Francisco, California
"We basically live on rice and no meal feels complete without rice normally," says Kathy Fang. "So this Western dish with a slight Asian twist works great for my family. It's pretty, festive and feels like comfort food they can relate too versus plain old mashed potatoes or sweet potato soufflé."
Coconut Scented Sweet Potato Jasmine Rice stuffed into Butternut Squash bowls (Serves 4-6)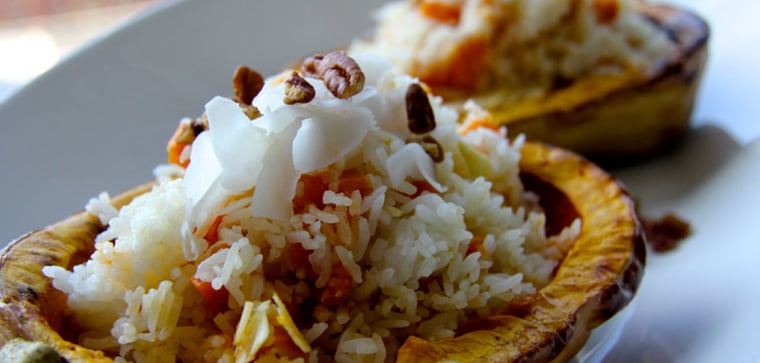 Ingredients
2 hollowed out butternut squash
2 cups dry jasmine rice
3.5 cups water
1/2 cup coconut milk
1 large sweet potato cut into small cubes
1/2 cup coconut chips
1 Tablespoon butter
Pecans for garnish
Method
Toast your coconut and sweet potato in butter. This will help bring out a nice fragrance to your rice. Once you've cooked the sweet potato and coconut chips in the pan for 2 minutes or until fragrant, pour it into the rice/water mixture. Stir to full incorporate. Cook in a rice cooker or cook stovetop style (bring to a boil, simmer for 30-40 minutes and then remove lid and fluff). Serve the rice in the butternut squash shells and garnish with some more coconut chips and pecans.