A new lawsuit in California accuses members of the San Gabriel Police Department (SGPD) of frequently using racial slurs and disparaging people of Asian descent — including once when officers joked that a colleague looked like a ninja while executing a search warrant.
Those allegations were raised in a discrimination suit filed last week in California Superior Court by five San Gabriel police officers, former and current, all of them of Asian descent.
The complaint claims that Allen Sam, Wei (Gilbert) Lee, Sunny Kim, Vy Van, and Nhat Huynh were subjected to a hostile work environment in which the department discriminated against and harassed them based on race and national origin.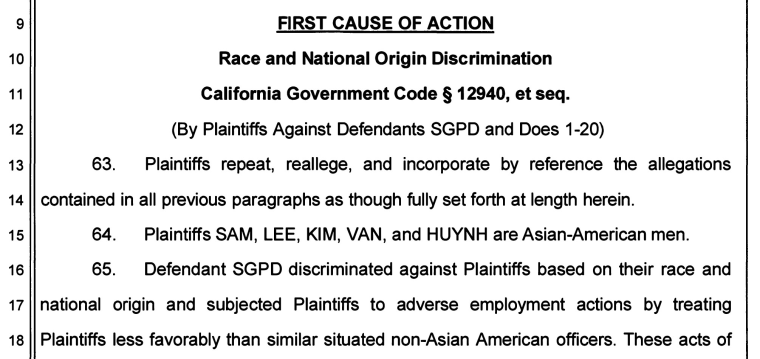 "Plaintiffs have been denied assignments, mentorship, and promotions granted instead to non-Asian officers with less education, law enforcement experience, and training than Plaintiffs," the lawsuit alleges. "At the same time, Plaintiffs have also faced greater scrutiny and harsher discipline than non-Asian officers."
Jonathan Fu, a spokesman for the City of San Gabriel, said in an email that they "were quite surprised" by the lawsuit.
"The department has sworn to protect and serve everyone in our community in a professional manner," Fu said in part. "We take that commitment very seriously, and those who deviate from it will be addressed accordingly."
San Gabriel, northeast of Los Angeles, is a city of approximately 40,400 with a large Asian-American population. According to Census estimates, around 3 in 5 residents are of Asian descent. But out of the department's roughly 50 full-time cops, only seven were Asian, the lawsuit alleges.
The complaint accuses the department's officers of using "mocking and exaggerated" Asian accents, invoking phrases like "ching chong ding" when speaking with those who filed the suit, and using racial slurs when referring to members of the Asian community.
"Nearly every time SGPD officers are called to the scene of a car accident, plaintiffs hear stereotypical comments from SGPD officers about 'their people' (referring to Asians) being poor drivers and causing accidents," the complaint states.
Colleagues also allegedly joked that Lee — who the lawsuit said came to the department in 2007 and is the last Asian-American officer hired by the department — resembled a ninja while wearing a mask and carrying out a search warrant.
The lawsuit claims such remarks are often made in front of San Gabriel Police Department management, some of whom "regularly participate in this harassing behavior."
The officers also allege they are treated differently than their non-Asian colleagues, who receive preferential treatment, face less scrutiny, and are disciplined more leniently than the plaintiffs, court papers said.
Sam, Lee, Kim, and Huynh accuse the department of passing them up on promotions each time they've applied and instead giving them to non-Asian officers with less experience and education, according to the lawsuit.
"Despite serving a predominantly Asian population, Defendant SGPD has not promoted an officer of Asian descent to sergeant since 2001," according to the complaint.
Lee and Kim also claim they were retaliated against and denied assignments because they reported discriminatory conduct, court documents said.
The lawsuit seeks economic and special damages, and attorney's fees and costs, among other things.
Follow NBC Asian America on Facebook, Twitter, Instagram and Tumblr.