It's been a slow move to the left for Asian-American voters, but a move that Republicans say Democrats shouldn't be so sure of.
"We're here to win the Asian vote in 2016 like we did in 2014," Ninio Fetalvo, the Republican National Committee's AAPI press secretary, told NBC News, referring to 2014 midterm exit poll numbers that showed 50% of Asian Americans voted for Republican candidates.
In baseline political math, the Asian-American vote makes up 3 percent of the national electorate and will increase to 4 percent by the 2016 election. By 2040, the number of Asian-American voters is expected to double, according to a recent report from the UCLA Center for the Study of Inequality and Asian Pacific American Institute for Congressional Studies (APAICS).
"We expect to continue the trend of getting [Asian-American Republicans] elected to local office."
The community can also be considered an untapped market, largely because half of Asian-American voters voters remain undeclared for either party, according to data provided for a 2014 voter survey by APIAVote and Asian Americans Advancing Justice | AAJC. Reaching out to the community now, experts say, may secure that vote for the future.
"You can translate your message using Google Voice translate, but if you're not culturally sensitive or engaging voters on what they want, you're missing more than half of the Asian-American vote. Either party needs to rise to the challenge, coordinate the Asian-American vote, and deliver on what Asian-Americans want," Elena Ong, co-author of the UCLA and APAICS report, told NBC News.
With Election Day 2016 one year away, can the Republican Party's midterm strategy affect the national election?
"[The GOP's] tactic is still to focus on local Asian-American candidates. That is a successful tactic, but I don't think it necessarily has an immediate translation to national," Janelle Wong, director of Asian American Studies at the University of Maryland, told NBC News. "For the GOP to make inroads into the Asian-American community, they'd have to change their priorities. But they've got to start somewhere, and supporting a local candidate is a place to start."
But Karthick Ramakrishnan, professor at the University of California, Riverside and founder of AAPI Data, tells NBC News that the GOP's problem is bigger than communication. "[The GOP's] strategy is primarily to make sure that Asian-Americans are getting the message. There hasn't been as much talk of changing the message," he said, adding that Asian-American voters are paying close attention to issues like taxes and the minimum wage — issues that Republicans may not be talking about to the community.
Part of the GOP losing the Asian-American vote is an ideological rift, Ramakrishnan said. "Many in the GOP think they can attract Asian Americans on socially conservative issues, or pushing an anti-tax, small government message," he said, though the "ideal" Republican voters in the Asian-American community—higher-income businesspeople—support progressive policies, like the Affordable Care Act and a larger role for government.
RELATED: Is the GOP Losing the Asian-American Vote?
"Looking at exit polls over the last 20 years, the GOP has lost the Asian-American vote in a very dramatic way," Ramakrishnan added. "Asian Americans go from about one-third voting for Bill Clinton in 1992 to over two-thirds by one estimate voting for Barack Obama in 2012. No other racial or ethnic group—from young voters to LGBT to women—no other group has this dramatic shift."
The national focus on the declining Asian-American vote for Republicans is not lost on the GOP. Shawn Steel, former chair of the California Republican Party, acknowledged that Republicans had been losing the Asian-American vote — until the 2014 election, he said, when Asian-Americans won many local and regional seats, even in battleground states like Virginia.
"We expect to continue the trend of getting [Asian-American Republicans] elected to local office," Steel told NBC News. "I can't overstate the importance of having representatives that look like and sound like the Asian-American community and speak their languages."
But despite local successes, conversations about the Asian-American vote on a national level have been overshadowed by what some see as missteps by candidates on the right. Last month, AAforjeb.com creator Zhonggang (Cliff) Li told NBC News he and fellow Jeb Bush supporters were "disappointed" at the former Florida governor's use of the controversial term "anchor babies" to refer to Asians.
Asian-American leaders have also criticized Republican candidate Donald Trump for mocking his Asian business partners, and Louisiana Gov. Bobby Jindal—the only Asian-American candidate running for president in either party—has seen little support from the Asian-American community.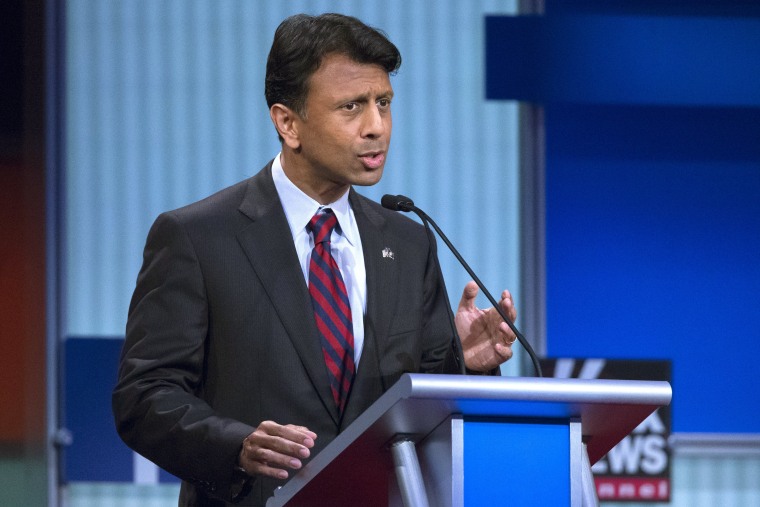 While the candidates continue to battle it out for the party's nomination, the RNC is distancing itself from individual controversies and focusing, instead, on outreach: over the summer, the RNC launched the Republican Leadership Initiative, which aims to win hearts and minds by training "Asian Pacific American grassroots community leaders across the country with the skills needed to work as professional field organizers and community engagers."
"Each candidate and his or her team are in charge of setting their own policy initiatives to win voters," the RNC's Fetalvo said. "The RNC's strong commitment to having a presence in Asian-American communities across the country will lay the groundwork for our Republican nominee, unlike the Democrat National Committee who continues to take our Asian American communities for granted."
RELATED: Asian-American Voters Express Frustration Over Democratic Debate on Twitter
That contrast between both parties has been reflected in the continuing debates over issues that range from the economy to health care to affirmative action, which research from the APIAVote and AAAJ voter survey and from AAPI Data show are top concerns for Asian-American voters.
Steel agreed that affirmative action is one of the most important issues facing Asian Americans — an issue that has been brought up on the campaign trail this year between Bush and Democratic candidate Hillary Clinton, after Clinton singled out Bush's record in Florida on ending affirmative action in state college admissions. A now-dismissed lawsuit filed by a coalition of more than 60 Asian-American groups against Harvard University over alleged "discriminatory" admissions practices has brought the issue to the forefront of many in the Asian-American community.
"Either party needs to rise to the challenge, coordinate the Asian-American vote, and deliver on what Asian-Americans want."
"It's the classic wedge between liberal elites against Asian Americans," Steel said. "We had screaming, emotionally angry AP parents — because those parents are slaving and working to death, and then their kids are being discriminated against. The Republicans are exactly on right side of the new civil rights issue. There's no way that [Hillary Clinton] can be on Asian parents' side. Democrats will say anything to placate their constituencies but risk dividing their base. But Republicans are taking [a] colorblind position — no matter the race."
For Steel, getting the Asian-American community back in the GOP fold is also an issue of securing an effective spokesperson for the party to show that Republican values coincide with general Asian-American values.
"If we can break that down into education, financials, security, and healthy family issues, we'll be well down the path of getting the type of numbers that Ronald Reagan used to get," he said.
According to the latest national poll of Republican primary voters, retired neurosurgeon Ben Carson is leading the field with 26 percent of GOP voters, with former frontrunner Donald Trump at 22 percent.
NBC News' Traci G. Lee contributed to this report.