Standing in front of the U.S. Supreme Court Wednesday, Asian-American elected and community leaders called on Senate Republicans to confirm Judge Merrick Garland to the U.S. Supreme Court as well as seven Asian-American and Pacific Islander judicial nominees who are awaiting confirmation hearings.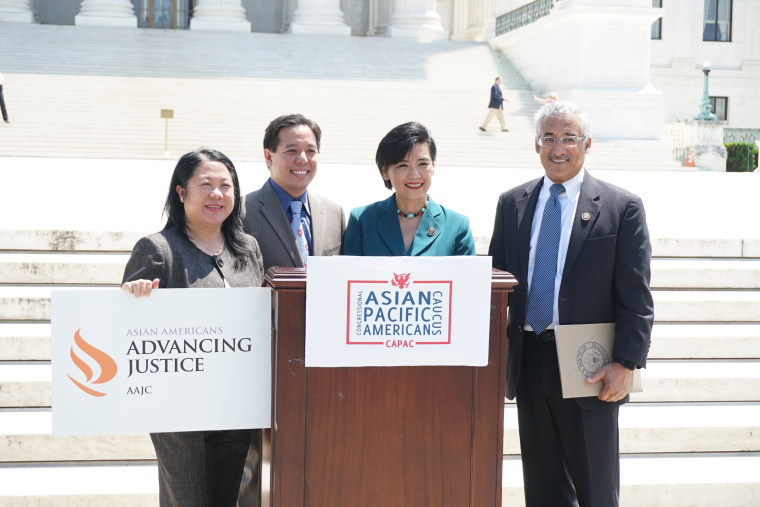 "Beyond refusing hearings on the president's Supreme Court nominee, Congressional Republicans have obstructed the functioning of our judicial system on other levels," Rep. Judy Chu (D-CA) said at the press conference. "Todd Kim, the current solicitor general for the District of Columbia, has been waiting for Republicans to hold a hearing for his nomination to the DC Court of Appeals for over two years, and six other Asian Pacific Americans — Lucy Koh, Jennifer Choe Groves, Karen Gren Scholer, Florence Pan, Regina Rodriguez, and Frances Marie Tydingco-Gatewood — are still waiting for Republicans to schedule a hearing or vote on their nominations to the federal bench."
RELATED: Editorial: President Obama, Nominate the First Asian American Supreme Court Justice
"By delaying this process, Republicans are preventing Asian Pacific Americans from serving on the highest courts of this country, and by doing so, they are standing in the way of these qualified Asian Pacific Americans from having a future shot at being selected for our first Asian Pacific-American Supreme Court Justice," Chu said.
With Asian Americans Advancing Justice | AAJC (AAAJ-AAJC) leading a week of action, 72 organizations across the country spent the day calling on the Senate Judiciary Committee and Senate Judiciary Committee Chair Sen. Chuck Grassley to act, according to AAAJ-AAJC executive director Mee Moua.
"The vacancy at the Supreme Court has a direct and dramatic impact on the Asian American Pacific Islander community," Moua said at the press conference. "Issues considered by the Supreme Court — including immigration, affirmative action, and reproductive rights — are critical to the daily lives of AAPIs. The Supreme Court vacancy poses serious concerns to AAPIs as these issues remain unresolved. And if sent back to the lower courts, will have devastating results from the four-four split."
"Our communities deserve a full court to hear issues critical to our lives," Moua said.
Sens. Chuck Grassley and Mitch McConnell have not responded to an NBC News request for comment.
Follow NBC Asian America on Facebook, Twitter, Instagram, and Tumblr.