When Alice Y. Hom discovered that less than one percent of foundation grants went toward Asian-American and Pacific Islanders (AAPI) organizations focused on lesbian, gay, bisexual, and transgender (LGBT) issues in 2009 while working as a consultant for Asian Americans and Pacific Islanders in Philanthropy (AAPIP), she and her boss, Peggy Saika, knew it wasn't nearly enough.
"When I went to them, I found out that the number for AAPIs was about $648,000, and I went back to Peggy and showed her how much money it was," Hom told NBC News. "We both said '$648,000? That's outrageous.' That is so low. We have to do something about it."
RELATED: Asian Women Giving Circle: Sisterhood, Service, and the Game-Changing 'Geh'
AAPIP, a national member organization whose mission is to increase charitable investments for underserved AAPI communities, has worked to boost financial resources for the AAPI LGBT organizations by creating a network of giving circles, philanthropy groups where individuals donate their time and money to a pooled charitable fund.
Hom was able to obtain the foundation data through AAPIP's sister organization, Funders for LGBTQ Issues, who release a report each year breaking down how much money goes to the LGBT community.
With the data, Hom and Saika created the Queer Justice Fund (QJF) through AAPIP to help increase funding as well as raise awareness and support for LGBTQ groups. Hom said it was ultimately through QJF and a grant from the Arcus Foundation that she and the rest of AAPIP were able push the work on giving circles forward.
"We knew foundations weren't going to be the answer," Hom said. "That is AAPIP's long-term goal and we're not going to give up just because we're in a for-profit world. But we also know that's going to take a long time and in the meantime our communities are in need. That's why AAPIP had this other strategy of having giving circles to harness community philanthropy. People come together to have a bake sale or a fundraiser, and they donate to nonprofits. That's how organizations have already been supporting themselves."
In June, AAPIP hosted an event in New York to celebrate the end of their five-year National Giving Circle Campaign. Their goal was to grow 50 giving circles, the group said. They ended up with 51. According to the organization, over 2,500 individuals have donated over $2.7 million to more than 500 organizations across the United States since 2005.
"Whenever you tell a funder that, they are amazed," Hom said. "A key part of it, too, is AAPIP was able to provide matching grants for that. Whatever some giving circles have raised, AAPIP had to match it at a 50 percent level."
Poonam Kapoor, a member of the Red Envelope Giving Circle founded in 2012 in the San Francisco Bay Area, said she started out with the group as a donor, but became more involved and eventually became a member.
"We're really just a group of friends," Kapoor told NBC News. "We call ourselves the Queer Lucky Ducks and we range from age seven to 70. We actually have various donors of different levels so the organization is well over 12, but we have 12 who are active and determine where our pool of money is distributed."
She said Red Envelope awards five to six grantees each year and has given $10,000 to $20,000 overall since 2012.
"It's phenomenal," Kapoor said. "A lot of these projects are individuals who don't have a formal organizational budget backing them up, but they are doing just incredible work so, really, our job is super easy. Our job is to pool our money and try to get some matching funds and give it away."
Kapoor said the group does not have restrictions when it comes to the topics of their grantees' projects.
"We can give it to politics, pop culture, education, and for us it allows anyone to come to us and ask for support," Kapoor said. "It's our group of seven founders who are the mavericks of our community and they are seasoned activists themselves and wanted to build this ongoing legacy of giving back to our community."
The giving circle also hosts an awards ceremony each year where they recognize the current year's grantees and invite former grantees to attend as well as donors and members, Kapoor said.
"It becomes a larger community of those who care about each other, who support and help each other and that creates a stronger movement," she said. "We're not here to do anything less than build a movement."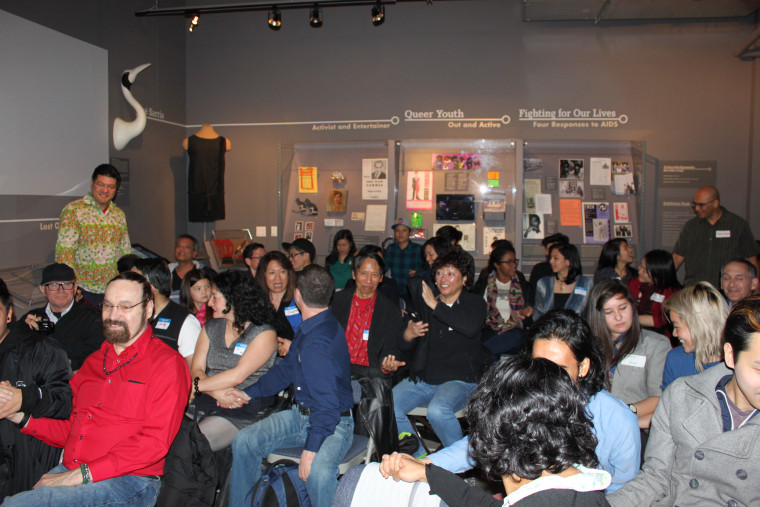 Paul Ocampo, the development manager of Asian Americans Advancing Justice - Asian Law Caucus and co-founder of the Lacuna Giving Circle, which is also located in the San Francisco Bay Area, said he feels that working for a non-profit organization has helped him understand the gaps in funding.
"I realized there had to be a bigger movement in philanthropy," Ocampo told NBC News. "Something that was more grassroots and a little more driven by people like us — people who work in the communities."
The name of their giving circle, lacuna, comes from the Latin word for "gap."
RELATED: 'Family Is Still Family': Bilingual PSAs Bring Support, Community to LGBT Families
"It actually has many meanings," Ocampo said. "Legally, it means a lack of a law adjudicating situation. In music, it means a gap in silence, and of course, in literature, it's a gap in a manuscript, so we thought it was perfect to name the circle the very problem we are trying to address."
Through the support of AAPIP and the Tides Foundation, they constructed a model where they would bringing members who are committed to social justice and understand what the needs are.
"With our expertise, with our background, with our experience, we use that to leverage other support from our friends, family, and we fundraise," Ocampo said. "We want to let people know there are smaller organizations who need funding to uplift their work."
Each year, Lacuna Giving Circle has given out $2,000 to $3,000, they said. Along with doing philanthropy work, they lend their expertise to the community.
Recently, Ocampo moderated an event, Lacuna: Writing from the Gaps, which featured Viet Thanh Nguyen, the Pulitzer prize-winning author of "The Sympathizer."
Ocampo said they have discovered that the groups they support reflect the deep, neglected needs of the community. One of their grantees awarded last year was the Eastside Arts Alliance.
"They bridge many communities in Oakland, and the thought behind that is that we wanted to support a movement for Black Lives Matter," Ocampo said. "But we also wanted something that bridged other communities, especially the AAPI community, to that movement, and they did that really well."
While Ocampo thinks that they have accomplished a lot with their giving circle, he also acknowledges the challenges faced in philanthropy work.
"Getting others to become engaged as members to a giving circle in this very, very busy world — it seems we're easily distracted and our attention is pulled away from the needs of the community," Ocampo said. "I think that continues to be a challenge, but hopefully we're providing a unique way to make a bigger impact."
"I realized there had to be a bigger movement in philanthropy. Something that was more grassroots and a little more driven by people like us — people who work in the communities."
Non-LGBT giving circles have also allied to give support to the LGBT community.
Elaine Abelaye-Mateo, co-founder and co-chair of APIs RISE, located in Sacramento, California, said the group started raising awareness about the AAPI LGBT community after attending AAPIP's National Giving Convening in 2014, which was led by Hom and where she shared the data she collected from Funders of LGBTQ.
"Myself and a few APIs RISE members looked at each other and said that there has to be a way to bringing this data and information to Sacramento," Abelaye-Mateo said. "Because there is no space where people are having these kinds of conversations and talking about the gaps in this population."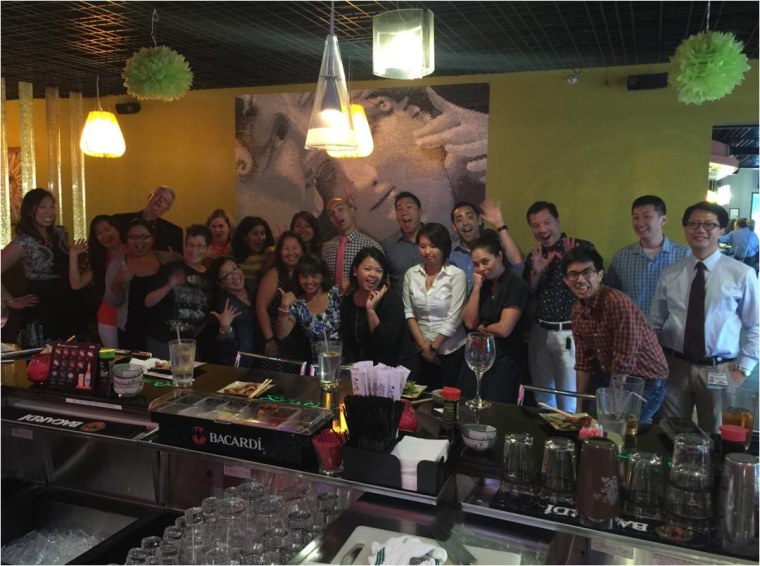 From there, APIs RISE hosted an LGBTQ API Sushi Summit with 30 to 40 people to discuss ways they could better serve the community. Later that year, the group hosted two panels that featured members of the AAPI LGBT community talking about their experiences.
Around the same time, Abelaye-Mateo said a LGBT-serving organization hosted an event that some said was culturally appropriative. As a result, API Queer Sacramento formed.
"Essentially, we were the catalyst for that organization to emerge and we continue to provide support, resources, and mentorship," Abelaye-Mateo said. "Since the unfortunate event of cultural appropriation, we were able to build bridges with that mainstream LGBTQ center and the success has been so great that they recently partnered with the newly formed queer organization, and all of this was birthed from this data Alice shared from the convening."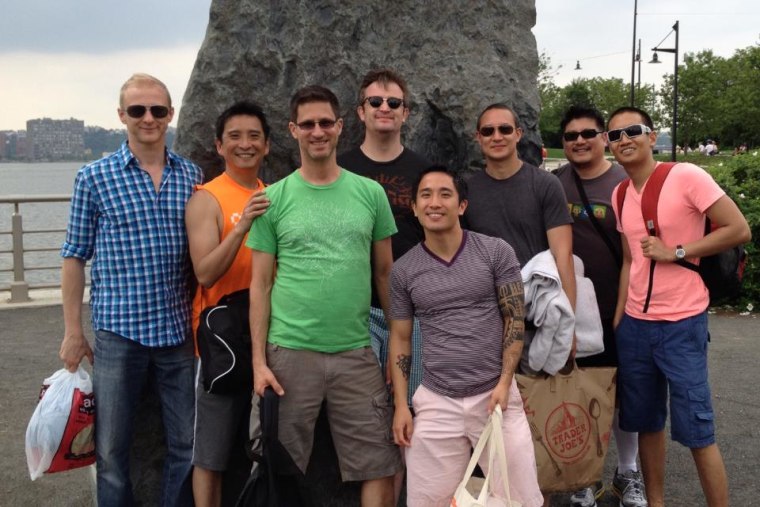 On the other side of the country, giving circles in New York are also doing work to raise funds for AAPI LGBT organizations in their community.
Frank Liu, co-founder of The Dinner Guys, said the group initially started as a group of 10 gay men and friends who got together to eat out for dinner once a month in New York City.
The idea of turning into a giving circle didn't even cross Liu's mind until he met with Noelle Ito, the vice president of programs at AAPIP.
RELATED: Open Letter from Moms Stress LGBT Support Following Orlando Massacre
At the time, Ito told Liu there had been 15 giving circles and that the movement was starting to take off. Ito also shared Hom's data with him. He said he was intrigued to the idea of giving circles since its concept is similar to that of traditions in countries in Asia.
"A lot of the women in small villages would save small amounts of money and when someone in their village or family has special needs or if there are any emergency situations, they can actually help each other by pooling the money together," Liu told NBC News. "For LGBTQ communities, especially the Asian community, it's such a subset of the Asian community, that so much of the needs for that community works so well."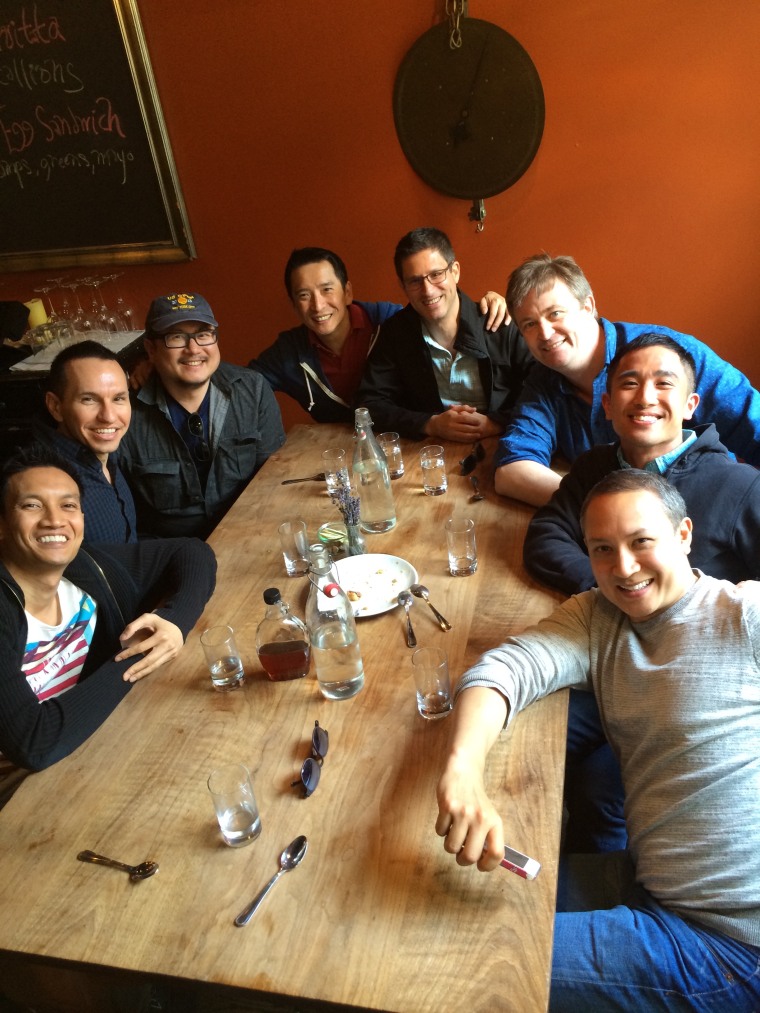 Liu brought the idea up to the other members of the group.
"A lot of other giving circles build their group from the ground up, but we already have ten people with similar backings," Liu said. "It was a very easy sell to the guys to say 'Hey, let's spend less money on dinner, which we can do at people's homes and we can have picnics and save the money from eating out as a foundation for our pool of money, and they just loved the idea."
Since they started as a giving circle, Liu said The Dinner Guys have raised $12,000 in funds annually. He said there are two types of organizations that their giving circle supports.
"One are the few grassroots organizations," Liu said. "But we also believe there are needs of our community that you can partner with existing organizations that are experts in their field, but they are lacking in their services that are provided to the AAPI community, but if we can fund them to do outreach and raise awareness on targeting providing service for the AAPI community that is really important as well."
Liu said he has been amazed by the growth of the giving circle movement, and that it is important that it continue through self-awareness of those in the community.
"The needs of the community are still there, but I think its changing people's perception of their role in their community," he added. "Just because we don't have millions of dollars — with every thousands or millions of dollars we are able to pool together, we can make a greater difference together than as separate individuals."
Follow NBC Asian America on Facebook, Twitter, Instagram, and Tumblr.