Last January, chapter members of the National Asian Peace Officers' Association (NAPOA) attended the funeral of New York Police Department (NYPD) Detective Wenjian Liu, who was gunned down with his partner, Detective Rafael Ramos, by a man with a grudge against police.
Last week, some made the trek to Dallas, Texas, for funerals and memorial services to pay their respects to the five officers shot to death by Micah Johnson, a 25-year-old Army reservist with a similar grudge who had said he wanted to kill "white officers." Police took out Johnson in a standoff by detonating a bomb delivered by a robot.
"The toughest thing is, a) feeling for the officers and their families, and b) knowing that it's very eye-awakening, knowing that that could have been us," Chicago Police Department Sgt. Norman Kwong, NAPOA's second vice president, told NBC News.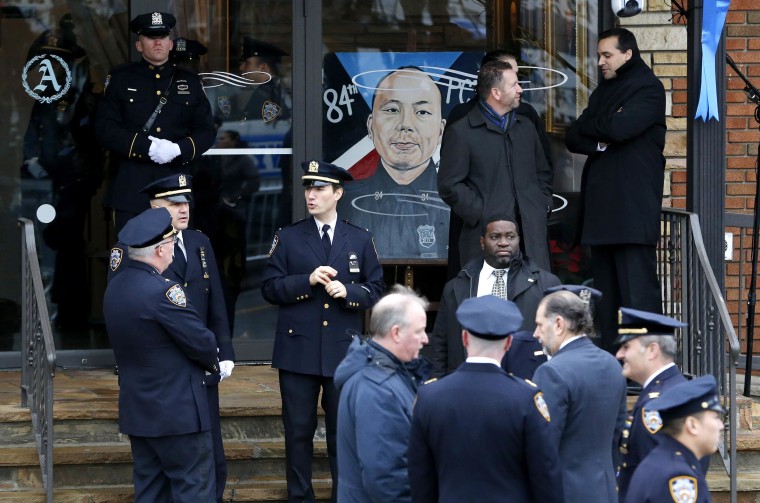 The deaths of the five officers and wounding of seven others in Dallas capped several days of nationwide protests over the recent fatal police shootings of two black men: 37-year-old Alton Sterling in Baton Rouge, Louisiana, and 32-year-old Philando Castile in Falcon Heights, Minnesota.
On July 5, Sterling was shot multiple times in a parking lot during a confrontation recorded on cellphone video with officers Blane Salamoni, a four-year veteran, and Howie Lake II, a three-year veteran. Police responded to a call after midnight involving a black male in a red shirt selling CDs outside a convenience store.
The caller claimed Sterling was acting threateningly with a gun, according to police, who said Sterling was armed.
RELATED: Widows of Slain NYPD Cops Raise Money for Families of Fallen Dallas Officers
A day later, St. Anthony Police Department officer Jeronimo Yanez, a four-year veteran, fatally shot Castile during a routine traffic stop. Diamond Reynolds, Castile's finance, who was with him at the time, livestreamed the immediate aftermath of the shooting on Facebook and has said Castile was reaching for his ID after informing the officer that he had a firearm he was licensed to carry.
Yanez's attorney said that "the incident has nothing to do with race. It had to do with the presence of a gun in the car."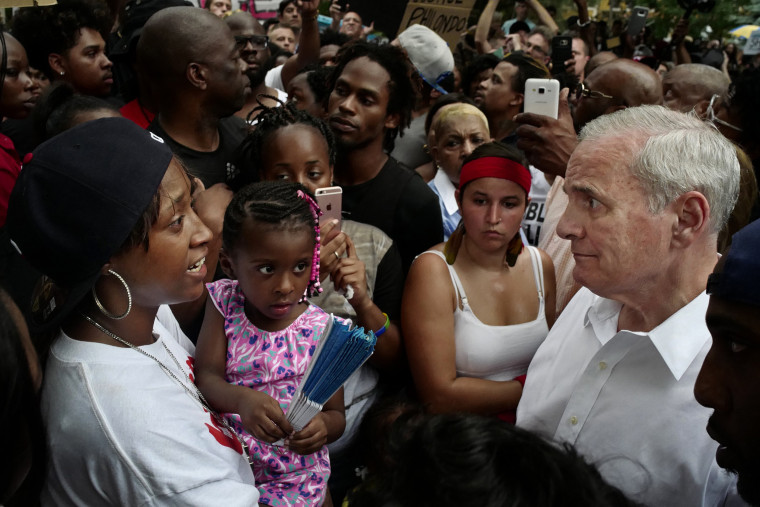 The officers involved in both shootings were placed on administrative leave. Meanwhile, the U.S. Justice Department confirmed last week that it would lead a civil rights investigation into Sterling's death, while Minnesota Gov. Mark Dayton, a Democrat, said he believed Castile's race was a factor in that incident.
Kwong, whose association represents more than 3,000 Asian-American and Pacific Islander law enforcement officers nationwide, said he believes there's often a rush to judgment against police before all the facts are in.
"I would say, 99 percent of policemen, when they hear about a wrongdoing, an officer who does wrong, we are the first to want to crucify him because of the fact that they are bringing discredit to us and the department," he said. "However, when an officer is doing their job and sometimes, unfortunately, the footage doesn't show everything, trust our justice system."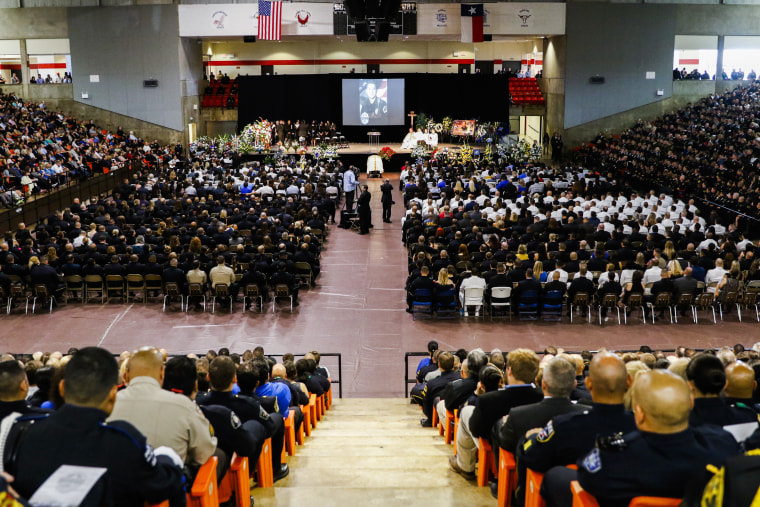 In the nearly two decades he's been on the police force in Chicago, Kwong said he believes relations between the public and law enforcement have gotten worse.
"I feel there are certain, I want to say, chain of events (police-related shootings) that got the ball rolling on a lot of things, and unfortunately I don't believe there's any turning back at this point," Kwong said.
RELATED: Former NYPD Cop Peter Liang's Guilty Verdict Leaves a Community Divided
Among those calling for accountability in police incidents resulting in the deaths of black men is the group Black Lives Matter, a movement begun in 2012 after George Zimmerman, a civilian neighborhood watch volunteer, was acquitted in the fatal shooting of 17-year-old Trayvon Martin, who was visiting his father in a Florida gated community.
Over the last four years, Black Lives Matter protests have spread throughout the country, following the deaths of other black men at the hands of police. Those include the fatal shooting of Michael Brown in Ferguson, Missouri; the alleged chokehold of Eric Garner in Staten Island, New York; and the accidental fatal shooting of Akai Gurley by former rookie NYPD Officer Peter Liang in Brooklyn, New York.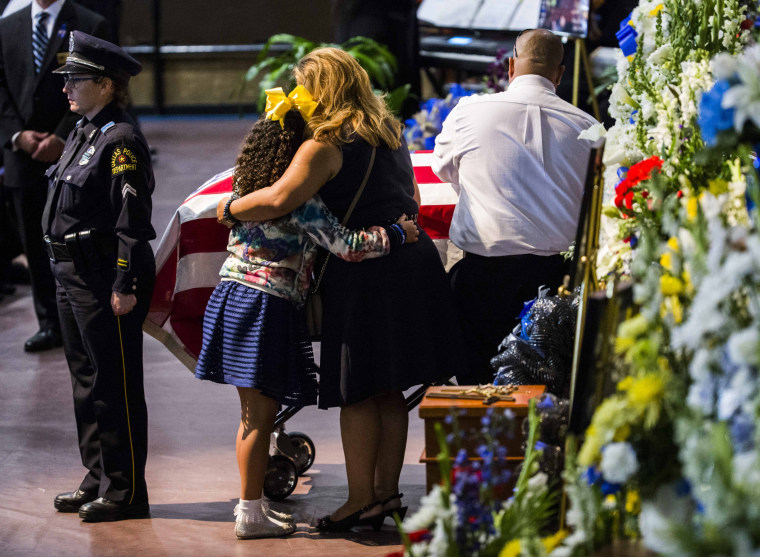 While Black Lives Matter has met resistance from some who say the name implies that other lives do not matter, some Asian Americans have lent support to the movement. Last week, some crowdsourced an open letter in the wake of the Dallas shootings, explaining in various Asian languages the importance of solidarity with blacks and other communities of color.
The letter seeks to start a conversation within the Asian community, particularly between immigrant parents and their children, about "anti-blackness and police violence."
RELATED: Asian Americans Crowdsource Open Letter to Families: 'Black Lives Matter To Us, Too'
But Kwong, who is Chinese American, said "it's hard to empathize at times" with Black Lives Matter "because of my profession."
"Everyone has a right to voice their opinion, everyone has a right to express their displeasure," said the 46-year-old, who is married with three children. "However, when it takes a turn for the worst, where crimes are being committed, people are getting hurt, I know it's a small percentage, but that small percentage sometimes winds up inciting people."
Kwong continued: "That energy needs to be redirected towards helping us, being our eyes and ears, patrolling their neighborhoods, being there when we're not, our community watches, doing smoke outs, cook outs together, finding ways where we can interact together."
Kwong also said he would like to see police departments bring back beat officers, who are assigned to patrol a few square blocks of a community and, as they do, get to know the residents living there.
"I would say, 99 percent of policemen, when they hear about a wrongdoing, an officer who does wrong, we are the first to want to crucify him because of the fact that they are bringing discredit to us and the department."
"That's something that I feel needs to be readjusted and re-energized," he said. "The citizens are our eyes and ears, and when no one is stepping up to help and give us information and share information, we're already at a disadvantage."
As the Dallas Police Department and Dallas Area Rapid Transit Police together lay to rest five of their own gunned down while assigned to a peaceful protest over recent police shootings of black men, Kwong said both the public and police need to come together to change things for the better.
"In this nation, people are very quick to point fingers without pointing fingers at themselves," he said.
"Parents have to be better parents, teachers have to teach, and we definitely have to really work on building bridges and breaking down walls," Kwong added. "And people need to realize that people are human — as are police."
Follow NBC Asian America on Facebook, Twitter, Instagram, and Tumblr.