Asian-American voter turnout provided Hillary Clinton the margin of victory over Sen. Bernie Sanders at Saturday's Democratic caucus in Nevada, Asian-American organizers for Hillary Clinton told NBC News.
"We had volunteers from California, DC, New York, and Virginia to get voters to caucus," Vida Benavides, an Asian American and Pacific Leadership Council member for Clinton, told NBC News.
Benavides called it "Outreach 101."
Just 10 days earlier, Rozita Lee, a grassroots political leader and a former member of the White House Commission on Asian American and Pacific Islanders, said she had hardly noticed an effort to get out the vote. But by the early Saturday, she was noticing the voters at her caucus site.
"Oh my gosh, it was phenomenal, we had hundreds of people, it was unexpected," Lee told NBC News.
Lee's caucus site at the Orr Middle School in Las Vegas housed several precincts. She said her site was so crowded that people were lined up for more than an hour. "But they all got in," she said. "Otherwise there would have been a riot."
The wait was longer than the actual caucus voting, which took just 20 minutes, she said. When it was over, Lee said she was tabbed as one of six delegates for precinct 5587's top candidate Clinton, who received 47 votes to 26 votes for Sanders, who picked up 4 delegates.
RELATED: For Asian-American Organizers, All Eyes on Nevada Ahead of Caucuses
The 64 percent to 35 percent edge to Clinton in Lee's Clark County precinct was indicative of its mix of mostly older, mature voters. But there were some young voters mixed in.
"There were a lot of Sanders T-shirts among the young in the crowd," Lee said.
According to NBC News exit polling, Asians made up 4 percent of Saturday's caucus-goers.
For the 2016 campaign, Nevada was considered a curtain raiser for Asian American and Pacific Islander voters. In the diverse state's most populated area, Las Vegas' Clark County, more than 115,000 AAPIs out of the 191,740 population are of voting age, according to AAPI Data.
RELATED: New Super PAC Launches, Aims to Increase Asian-American Votes
Census data puts Nevada's Asian electorate at 9.6 percent of the state and Pacific Islander at 1 percent — a significant number in Nevada where the Hispanic electorate is at 24 percent and African Americans are at 8.7 percent.
Of the Asian-American population, the Filipino population, at more than 150,000, is the largest — almost four times larger than Chinese Americans.
Besides the last minute phone banking and ethnic media blitz, Lee credited mock caucus trainings by both parties and non-partisan groups with helping familiarize many Asian Americans who were caucusing for the very first time.
"There were so many AAPI who had no clue what a caucus was," Lee said. But she added that most voters, even the young, seemed to just want to cast their vote and go about their Saturday business. "I frankly did not expect to see the numbers, but said, 'Hooray, people are participating!'""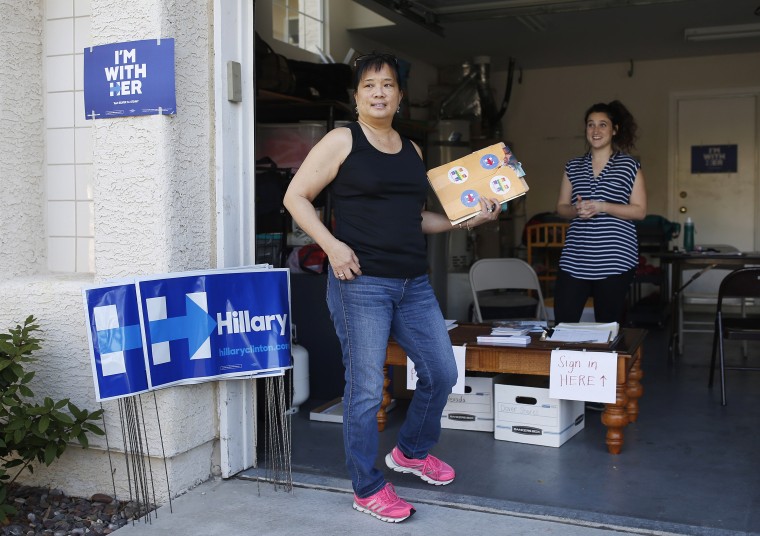 It was more subdued to in the southwest part of town, where Vida Chan Lin, a San Francisco transplant was participating in caucuses at Bonanza High School.
Lin, who also helped with APIAVote's mock caucus training, told NBC News she noticed a more moderate turnout there, which she estimated at around 300.
"The trainings made people willing to try," Lin said. "But some were wondering why the Democrats' process is different than the Republicans."
RELATED: Asian Americans Turn Out For Iowa Caucus
The Democrats take slightly more time in the count and share more information from the candidates. But both groups tell participants to allot four hours for the process, which can turn off voters.
"We'll see the feedback if people want to do it again," said Lee, who also caucused in 2008.
Meanwhile, Republicans are hoping their pre-caucus efforts will bring Asian Americans to the caucuses on Tuesday. Some long time Nevada voters, like Paul Wallace, who is married to an Asian American, are excited about attending Tuesday's event.
"We've always voted, but we've never caucused. It's going to be new," Wallace, 81 and a retiree, told NBC News.
Wallace said he's been following the campaigns and considers national security the biggest issue in the election. He added that he was interested in candidates like Marco Rubio and John Kasich, but not Ted Cruz, who has been seen as a frontrunner following his Iowa caucus win. "I'm sure he's a good man, I just don't know if he can win," Wallace said. "Rubio is our favorite."
Of front-runner Donald Trump, Wallace said he is both puzzled and concerned. "I'm afraid of him to tell you the truth," Wallace said."I just don't know where all his support is coming from. He'll say anything and his support goes higher."
Follow NBC Asian America on Facebook, Twitter, Instagram, and Tumblr.