PHILADELPHIA – U.S. Rep. Judy Chu (D-CA) addressed the Democratic National Convention Wednesday evening, telling delegates and attendees that America needs a president who rejects hateful rhetoric and embraces diversity as the country's greatest strength.
"That's why we've got to elect Hillary Clinton as our next president of the United States," Chu, chair of the Congressional Asian Pacific American Caucus (CAPAC), told the crowd to applause.
Before Chu and eight other CAPAC members spoke in front of the 57 delegations gathered at the Wells Fargo Center, a short video narrated by former Transportation Secretary Norman Mineta was played, showcasing the struggles Asian Americans and Pacific Islanders (AAPIs) have faced throughout U.S. history, as well as the triumphs they've achieved.
Chu also paid tribute to U.S. Rep. Mark Takai (D-HI), who died last week from pancreatic cancer at the age of 49.
"Mark truly had the aloha spirit and was deeply committed to advancing the priorities of the people of Hawaii and our veterans," Chu said, prompting several members of Hawaii's delegation to stand up and clap.
On the third day of the convention, Chu, the first Chinese-American woman elected to Congress, made the case for a Clinton presidency, saying Clinton is the one who understands best how to bring about reform on immigration, education, and voting rights.
Clinton is expected to formally accept the party's nomination on Thursday.
RELATED: Dueling Conventions Show Contrast on Race and Diversity
"So many families have been kept apart for decades by an incredibly long family visa backlog," Chu said. "Hillary will fight to clear that backlog so that millions of American families can finally be reunited with their loved ones."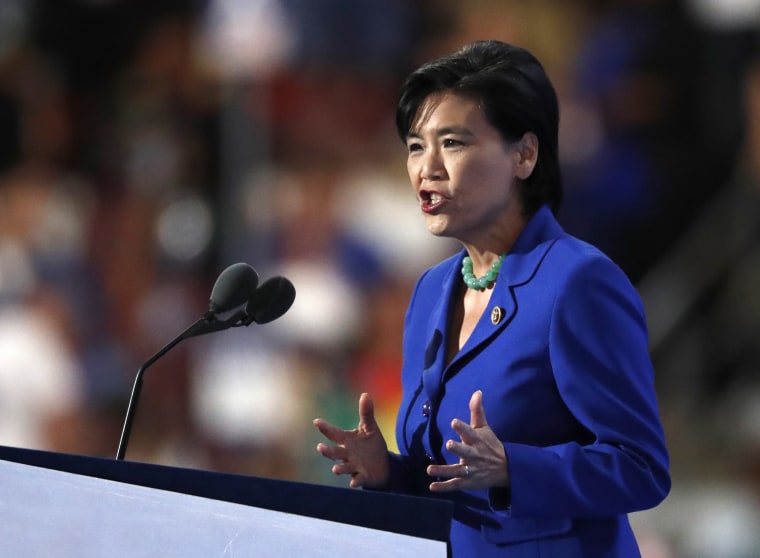 Echoing a theme from Tuesday night, CAPAC members also noted that many of themselves were firsts — first Asian-American woman elected to the Senate, first Filipino-American voting member of Congress, first openly gay person of color elected to Congress.
"As a proud 'gaysian,' I support Hillary Clinton because she is a strong champion for LGBT rights," U.S. Rep. Mark Takano (D-CA), one of the CAPAC members on stage, said to thunderous applause.
Both AAPI Clinton and Sanders delegates praised the message delivered by CAPAC speakers.
"This country was built by immigrants," Suchada (Sue) Langley, a Virginia Clinton delegate who emigrated from Thailand, told NBC News. "Take someone like me from what used to be called a developing country. Right now, I'm living the American dream."
For Los Angeles Councilman David E. Ryu — a Clinton delegate, a whip captain, and a Korean-American immigrant — many of the issues Chu raised in her speech were personal.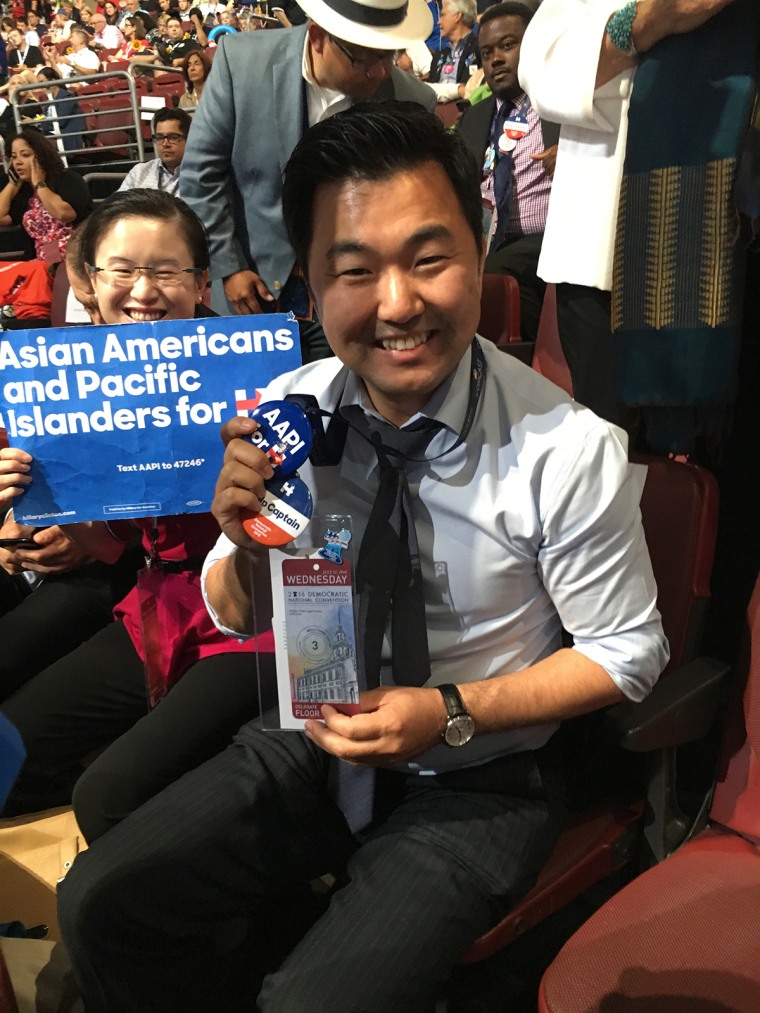 "The world is watching us, and we want someone who will bring us together," Ryu told NBC News. "It's about unity. It's not about division and building walls."
RELATED: Clinton Campaign Aims to Woo Sanders Voters, Millennials
Hawaii State Rep. Joy A. San Buenaventura, a Sanders delegate, also agreed with Chu's overall message.
"I'm a Bernie supporter, but compared to Trump, we need somebody who listens to us," San Buenaventura told NBC News. "I would trust [Clinton] on education reform more than I would trust Trump."
San Buenaventura also said she and the Hawaii delegation were heartbroken over Takai's death. Takai, she recalled, traveled thousands of miles each week, making the trek back and forth between Washington, D.C. and Hawaii, just to see his children.
RELATED: 'I Will Miss Him Terribly': Rep. Mark Takai Remembered at DNC
"Mark was a wonderful man," she said. "He really symbolizes the best in all of us."
Follow NBC Asian America on Facebook, Twitter, Instagram, and Tumblr.