CLEVELAND — Many Asian-American and Pacific Islander (AAPI) Republicans and delegates at the Republican National Convention appeared to be uniting in support of presidential candidate Donald Trump as the real-estate mogul received the GOP's official nomination Tuesday evening.
Cutting taxes, strengthening the national defense, and creating jobs were among the reasons AAPI Republicans said they were rallying behind Trump, though some had supported other GOP candidates in the past.
"It's as simple as ABC — anybody but Clinton," Maryland delegate Dwight Patel, an Indian American, told NBC News. "Never, ever Hillary."
Before Trump, Patel said he had supported Gov. Scott Walker of Wisconsin, Sen. Marco Rubio of Florida, and Sen. Ted Cruz of Texas. But the choice to get behind the billionaire candidate was a clear one, he said.
"Hillary is going to be a continuation of the failed policies of the Obama-Biden policies of the last eight years," Patel said.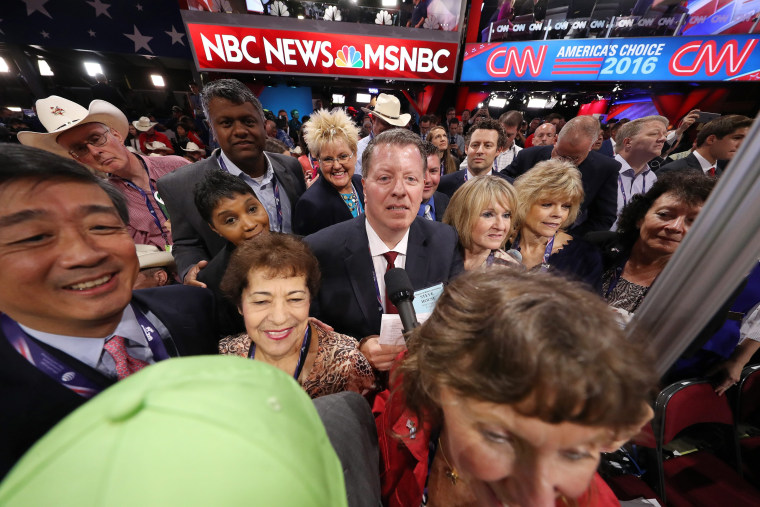 For Peichi Shinn, a delegate from Texas donning a "Make America Great Again" baseball cap, a Trump presidency, she said, would lower the cost of healthcare and ensure a safer country.
Trump's platform calls for repealing the Affordable Care Act, popularly known as Obamacare, and changing the law preventing the sale of health insurance across state lines, a move that proponents say would eliminate the bureaucracy of state insurance regulations and decrease administrative costs.
"If you want to pay more [for] healthcare and higher deductibles, vote for Hillary," Shinn, who was born in Taiwan, told NBC News. "If you want to have less money in your pocket and you don't want a safe country, then she's your choice."
While Colorado Republican national committeeman George Leing gave his delegate vote Tuesday night to Sen. Ted Cruz of Texas, who won the GOP caucus in his state, he told NBC News that he supports Trump and that "we need to win in November."
Support for Trump also seemed to be crystallizing among other non-delegate AAPI Republicans who were at the Quicken Loans Arena on the second day of the convention, which included an opening Sikh prayer from incoming California national committeewoman Harmeet Dhillon and a closing benediction from American Muslims for Trump founder Sajid Tarar.
Other speakers included New Jersey Gov. Chris Christie, former GOP candidate Ben Carson and Trump's daughter, Tiffany Trump.
National Committee of Asian American Republicans (NCAAR) executive director Cliff Li originally backed Florida Gov. Jeb Bush, but like Patel, the Maryland delegate, his choice comes down to "anybody but Clinton."
"To me, it's very important to defeat Hillary Clinton," Li, whose recently formed group sent 14 members to the convention, told NBC News. "If not, it will just continue eight years of failed policy."
RELATED: Is the GOP Losing the Asian-American Vote?
Jingjing Clemence, a Chinese-American NCAAR member, told NBC News that "in Texas, to me, frankly, he [Trump] was not our first or second nominee," though now she's behind him for the same reasons other AAPI Republicans have noted. Asked about Trump's mock accents of Asians in the past, Clemence did acknowledge that those jabs sometimes hurt.
Trump supporter Sue Googe, a Chinese American running for Congress in North Carolina, proudly displayed a photo on her smartphone showing the party's nominee using her back to sign a piece of paper when the two once met at an event.
A former software engineer born in China, Googe told NBC News she's been inspired to run for office this year and wants to do something good for the country.
"I think this is my time," Googe, who won the 4th Congressional District primary in June, said. "I feel I owe this country a great deal of debt."
Follow NBC Asian America on Facebook, Twitter, Instagram, and Tumblr.
RELATED