For Asian-American scientists accused by the U.S. government of spying, Wednesday was a day of mixed signals.
For Dr. Xiaoxing Xi, the former chair of the Temple University physics department, accused of criminal wire fraud and sharing sensitive information with China, there was a reprieve for now.
But at the National Weather Service, Sherry Chen's world went upside down--again.
Chen, a naturalized American and a National Weather Service hydrologist who was facing 25 years in prison and $1 million in fines for spy allegations--only to have the charges dropped by federal prosecutors-- once again finds herself under scrutiny. This time, Chen's employer, who had placed her on administrative leave with pay and benefits since the summer, has proposed to terminate her from federal employment.
In a letter signed by Laura Furgione, Deputy Director of the National Weather Service and dated Sept. 4, 2015, Chen was informed of her proposed removal for "Conduct demonstrating untrustworthiness; Misrepresentation; Misuse of a Federal Database; and Lack of Candor."
The letter, obtained by NBC News by sources close to the story, gave Chen, whose given name is Xiafen, 30 days notice and allowed her to remain on paid administrative leave for now.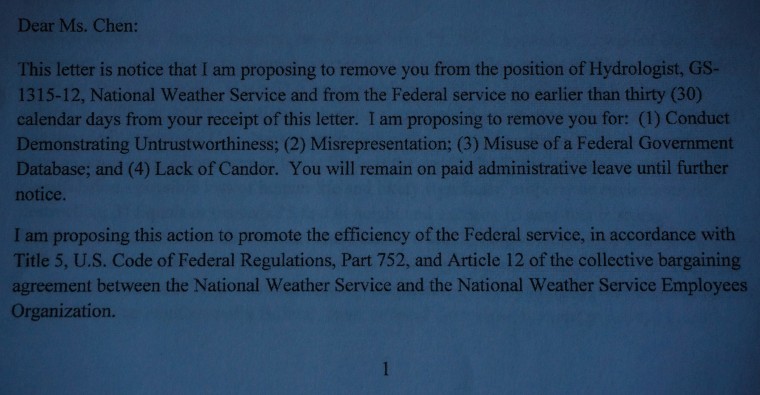 "Indeed, your conduct is serious and cannot be tolerated," wrote Furgione, who said she was concerned about Chen's access to restricted information "important to national security and can be used against the United States to compromise its dam and reservoir systems."
Furgione told NBC News on Wednesday she had "no comment at this time."
Chen, 59, a resident of Wilmington, Ohio, saw her life change when charges of spying connected to the sharing of a password to a high security data base were first alleged in October 2014. She plead not guilty to multiple counts in February.
But by March of 2015, the charges were dropped in a quick about face. "We are exercising our prosecutorial discretion," a spokesperson for the U.S. attorney told the media at the time.
"If the suspicion continues to grow, where there are doubts about the loyalty and patriotism of Asian Americans, we're right back to California of the 1940s."
But if the pressure now continues from Chen's employer at the National Oceanic and Atmospheric Administration's National Weather Service, the Department of Justice is sending a different message to Xiaoxing Xi.
Late Wednesday, sources close to the case said charges against Xi, 47, were being dropped by the Department of Justice.
Several messages to the Department of Justice asking for confirmation were not returned.
The former chair of Temple University's physics was accused of criminal wire fraud and sharing sensitive information with China. He plead not guilty in June.
The dropping of charges does not mean no future charges could be brought, leaving Xi left waiting, much like Chen has been, said Nelson Dong, a lawyer and a member of the Committee of 100, a Chinese advocacy organization.
Dong was one of three lawyers to draft a letter sent to the Department of Justice, and written in conjunction with more than a half-dozen Asian American community groups, including the National Council of Chinese Americans (NCCA)and Asian Americans Advancing Justice (AAJC), alarmed by what they believe is a pattern of targeting ethnic Chinese in America.
"There is righteous concern over racial profiling. If the suspicion continues to grow, where there are doubts about the loyalty and patriotism of Asian Americans, we're right back to California of the 1940s," Dong told NBC News, referring to the hysteria in the U.S. that resulted in the incarceration of thousands of Japanese Americans in camps during World War II.
Dong said there is a way to do any necessary investigations in a thoughtful and sensitive way that doesn't destroy individuals' lives.
The letter to the Department of Justice follows a similar letter sent to the DOJ in May signed by more than 20 members of Congress. Written by Rep. Ted Lieu (D-CA), it called on the DOJ to investigate after spying allegations were made against Chen of the National Weather Service:
"No federal employee-or any American-should be viewed by our government as more suspicious because of the individual's race. Not only would such targeting be unconstitutional, it has led to shameful chapters in our nation's history. Our government has targeted Asian Pacific Americans in the past, from the yellow peril hysteria that led to the Chinese Exclusion Act, to the forced internment of over a hundred thousand Americans who happened to be of Japanese descent, to the solitary confinement of Wen Ho Lee."
A spokesperson from the office of Rep.Lieu said the Department of Justice responded to its letter with a denial that racial profiling was taking place in the case of Sherry Chen.