This fall, students at Northwestern University's Weinberg College of Arts and Sciences will be able to declare Asian-American studies as a major for the first time.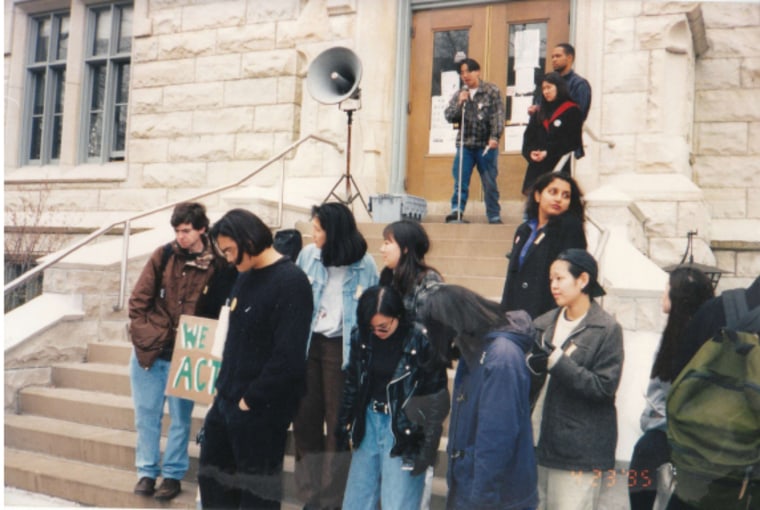 "The passing of Northwestern's proposal for a major in Asian American Studies, it is the result of over two decades of student activism, faculty advocacy, and alumni involvement," Asian American Studies department chair Shalini Shankar told NBC News. "In Spring 2015, we commemorated the 20th anniversary of the student hunger strikes that eventually lead to the establishment of our program. This created a groundswell of momentum that encouraged us to reintroduce the proposal for a major."
RELATED: Asian Americans Struggle to 'See Themselves' in College Courses
The Asian-American studies program at Northwestern University was created after student activism and protests, including a 23-day hunger strike launched April 12, 1995. Students at other universities — including Harvard, Yale, and Brandeis — are currently urging university administrators to create Asian-American and Pacific Islander Studies programs.
"Personally, Asian American Studies has allowed me to better connect to my academic work through interdisciplinary research and practice," Kevin Luong, a Northwestern student who helped start a petition and gather letters of support from alumni and community organizations, told NBC News. "As such, I hope that other higher education institutions will take note of the importance of ethnic studies as we witness the erosion of multiple programs nationwide. Departments and programs like the AASP at Northwestern bolster the voices of the marginalized both inside and out of the university setting."
RELATED: Editorial: It's Time to Step Up for Asian American Studies
Shankar told NBC News that the proposal was passed nearly unanimously, with one abstention and no objections, and that students are already submitting major declaration forms.
"We see this as an unqualified victory and hope that it serves to motivate other Asian American Studies units engaged in similar kinds of programmatic building," Shankar said.
Follow NBC Asian America on Facebook, Twitter, Instagram, and Tumblr.