Asian American groups are calling on NBC to part ways with Jay Leno, a guest judge on the reality show "America's Got Talent," for racially insensitive jokes he allegedly made about the community, saying the comedian's "tired stereotypes" are offensive.
The request comes as the network has launched an investigation into allegations of a "toxic" work environment on the show's set.
During the April taping of the episode in which he was a guest judge, Leno reportedly commented on a painting depicting pets belonging to the show's executive producer, Simon Cowell. Leno joked that the animals resembled items "on the menu at a Korean restaurant," according to a report in Variety, which also detailed several other alleged controversies related to the show.
While Leno's alleged racial joke did not make it to air, Asian American organizations, including Asian Americans Advancing Justice/AAJC and the Media Action Network for Asian Americans, have demanded that the network take action.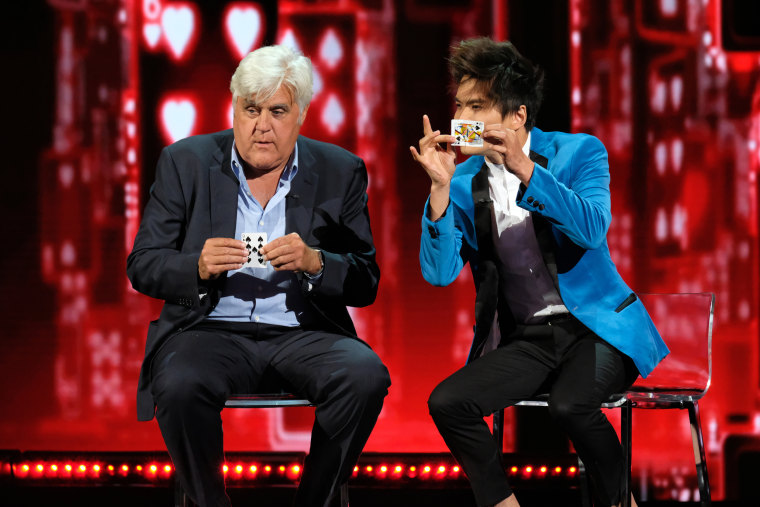 "We understand that humor often can be used to try to connect, open doors or defuse a situation," Jiny Kim, vice president of policy and programs for Asian Americans Advancing Justice/AAJC, told NBC News. "Unfortunately, Leno's attempt at humor serves no purpose and plays on stereotypes that are hurtful and close doors on understanding our diverse community."
NBC and Leno, whose show "Jay Leno's Garage" airs on CNBC (which is owned by NBCUniversal, the parent company of NBC News), declined to comment.
According to Variety, fellow judge Gabrielle Union had called on producers to report Leno's joke to the network's human resources department. However, Variety quoted "insiders" as saying the issue was taken to an executive on the set but not to human resources. Union's contract was not renewed after the season.
The Asian American groups said Leno has made the racial group the subject of jokes in the past. In 2002, when he was host of NBC's "The Tonight Show," he did a bit on Kim Dong-sung, a South Korean Olympic short-track skater who had been disqualified in the 1,500-meter speedskating final. In his monologue, Leno remarked that Kim "was so mad he went home and kicked the dog, and then ate him."
"Jay Leno has repeatedly used this tired stereotype throughout his career — it was offensive 17 years ago, and it's still offensive today," Jiny Kim added. "This behavior must stop."
Download the NBC News app for breaking news
The Council of Korean Americans, another group that demanded that NBC sever ties with Leno, said in a statement that Leno's jokes "are offensive and propagate false perceptions of Asian Americans as suspicious, uncivilized foreigners engaging in repugnant practices."
Abraham Kim, executive director of the organization, said that while some may brush off Leno's remarks as harmless humor, the jokes aren't innocuous, especially taking into account the little coverage that Korean Americans get in the media.
"The problem is that Korean Americans, who are not well-represented in the media and entertainment, are being disparaged and misrepresented by these comments made by public figures like Jay Leno," he said. "Mr. Leno continues to repeat these comments in different settings."