When Sung Tse's younger son came out to her as transgender in 2015, he did so by explaining the gender binary — and that he identified more toward the male side. Tse didn't completely understand what her son was telling her, she told NBC News, but she told him he was loved and nothing would change.
Tse later turned to her son's pediatrician, who recommended Transforming Family — a support group at Children's Hospital Los Angeles for families with gender diverse children. It was there that Tse first learned of PFLAG, and she attended her first meeting at PFLAG's chapter in Pasadena, California.
"I had no idea that there were other kids like him," Tse said of her first few meetings with PFLAG.
Today, Tse is the co-president of the Asian Pacific Islander Chapter of PFLAG San Gabriel Valley, a support group meant for LGBTQ Asian Americans and Pacific Islanders, their parents, families and friends.
"I am an active member of PFLAG because it was one of the first available resources that helped me understand and love my child better," Tse said.
Tse also found strength in her own history as a Korean American immigrant, and her firsthand experience of being considered an "other" at different times throughout her life.
But for many LGBTQ Asian Americans and Pacific Islanders and their families, navigating the intersection between the two identities can become a balancing act between finding strength in their lived experiences and family tradition and managing the burdens that can arise from an emphasis on putting family above the individual.
As both a gay man and the parent of an LGBTQ child, Lance Chen-Hayes knows the experience from both perspectives. He said it is important for parents to recognize the expectations they may have placed on their children, and the loss they may feel when a child comes out as LGBTQ.
"Having an LGBT child, it's like a part of your picture is shattered," said Chen-Hayes, who volunteers with PFLAG NYC. "It's important to acknowledge that and grieve properly and go through the process and know that you love your child unconditionally."
A study released last month by the HRC Foundation in partnership with the University of Connecticut found that Asian American and Pacific Islander LGBTQ youth are at a heightened risk for discrimination at home and in school.
The study, which analyzed responses from almost 1,200 young people across the United States, found that only 19 percent of Asian American and Pacific Islander LGBTQ youth said they could "definitely" be themselves at home, while only 29 percent said they could "definitely" be themselves at school.
Glenn Magpantay, the executive director of The National Queer Asian Pacific Islander Alliance (NQAPIA), said coming out to parents can be particularly difficult for some LGBTQ Asian Americans and Pacific Islanders.
"It's not because we're fearful of them. But, for Asians, our parents have sacrificed greatly to give us a better life," Magpantay said, adding that many times it is the fear of disrespecting their parents that prevents LGBTQ Asian Americans and Pacific Islanders from coming out to them.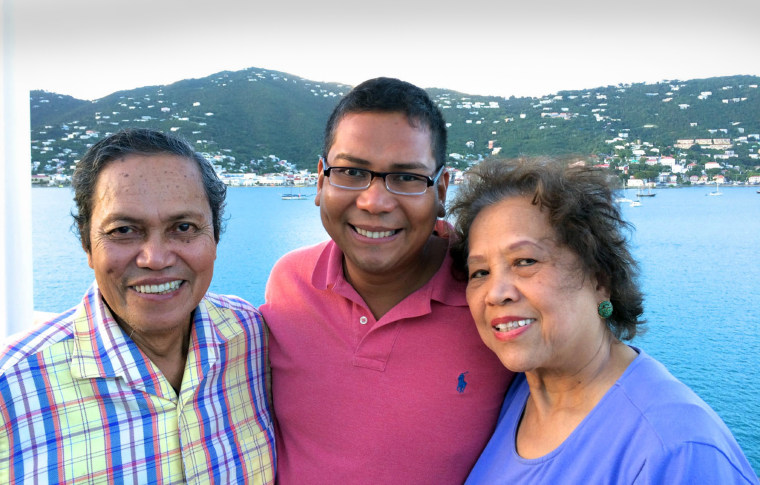 Magpantay, who is Filipino American, stressed that the Asian American and Pacific Islander community in the United States is extremely diverse and his group offers outreach material in 25 different Asian and Pacific languages. But he also said that within this diversity there are some common threads.
"Respect for our elders, recognizing our ancestors as the ones who brought us here, the family unit, education, marriage, the importance of grandchildren — I won't say that other communities don't have those same values, but they're particularly powerful amongst Asian Americans," Magpantay said.
Hieu Nguyen, founder of Viet Rainbow of Orange County, agreed and said he knows many Vietnamese Americans who have lived with their partners for more than 20 years and have yet to come out to their parents in his own communities.
"I think many times, family honor and protecting the family takes precedence over one's individual stories and identities," Nguyen said. "And so you do see with a lot of Asian Americans … their cultural identity is more dominant than their queer identity."
For Nguyen, the need to actively embrace both aspects of his identity has fueled his work as an organizer and an advocate.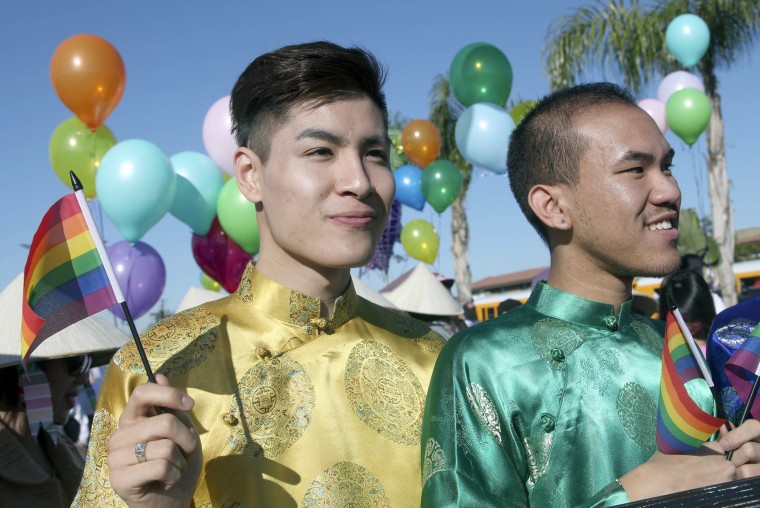 Nguyen was part of a campaign in 2013 to fight for the right of a coalition of Vietnamese LGBTQ groups to march in the Tet Parade — a celebration of the Lunar New Year held for more than 30 years in Westminster, California.
After being told by parade organizers their participation would be at odds with Vietnamese culture, and then being subsequently excluded from the 2013 parade, Nguyen and other advocates were able to make a return to the parade the following year after gaining support from local leaders and putting pressure on parade sponsors.
"First and foremost, we worked on what our story was, and our story was that we are Vietnamese American and we are LGBTQ and we want to represent both identities," Nguyen said.
For many LGBTQ Asian Americans and Pacific Islanders, finding this intersection in their two identities has been a source of strength and an inspiration for their work and creative endeavors.
Kit Yan and Melissa Li debuted their musical "Interstate" last year at the New York Musical Festival and are planning another production at the Mixed Blood Theatre in Minneapolis next spring.
Described as "an Asian American pop-rock poetry musical about Dash, a transgender spoken word performer, and his best friend Adrian, a lesbian singer-songwriter," the musical is semi-autobiographical and has won several awards during its run.
Although both Yan and Li have said they have at times felt pressure from their families to hide their queerness, they believe at heart they are writers who have a responsibility to tell their stories honestly through a celebration of their lives, struggles and truths.
Prumsodun Ok has been telling his own story through dance, carving a space for himself in the world of Khmer classical dance. In 2015, Ok moved to Cambodia where he formed Prumsodun Ok & NATYARASA, Cambodia's first all-male, gay-identified dance company.
Growing up in Long Beach, California, Ok said he didn't always see himself reflected within the larger Asian American and Pacific Islander community.
"The narratives that are portrayed are often those of Chinese, Japanese, and Korean Americans, and these communities have been established in the United States much longer than the Khmer American," Ok said.
As a result, he often felt like a minority within a minority and turned to dance as a way of feeling more visible. Today, he is one of the most prominent Khmer dancers in the world, giving a TED Talk on Khmer classical dance in 2017 and preparing to be the keynote speaker at the upcoming Dance/USA Annual Conference in Cleveland.
"No one would have imagined 16 years ago, when I began my training as the only boy in class, struggling with my sexuality, that I would become the new face of Khmer dance," Ok said.
Ultimately, it is this visibility that many LGBTQ Asian Americans and Pacific Islanders and their families are working toward.
"When I see Filipino moms, Taiwanese moms, Indian moms who have the same story as my kid coming out and I see their struggle, I see my story," said Loan Nguyen, who is on the steering committee of API Rainbow Parents in New York City and also works within the Safe Schools Program. "I no longer feel alone or ashamed or embarrassed. I feel empowered. I feel excited."
Follow NBC Asian America on Facebook, Twitter, Instagram and Tumblr.