A discrimination complaint lodged against Harvard's admissions process in 2015 by Asian-American groups could get a fresh look by the Department of Justice — setting the stage for renewed debate on the constitutionality of affirmative action.
The Justice Department said Wednesday that it issued a job posting in its Civil Rights Division for "volunteers" to investigate the complaint, filed by a coalition of 64 Asian-American associations, that was left unresolved from the Obama administration.
DOJ spokeswoman Sarah Isgur Flores' clarification came after The New York Times and The Washington Post published stories Tuesday that said the department is planning a new project to investigate universities' admissions that may discriminate against white applicants.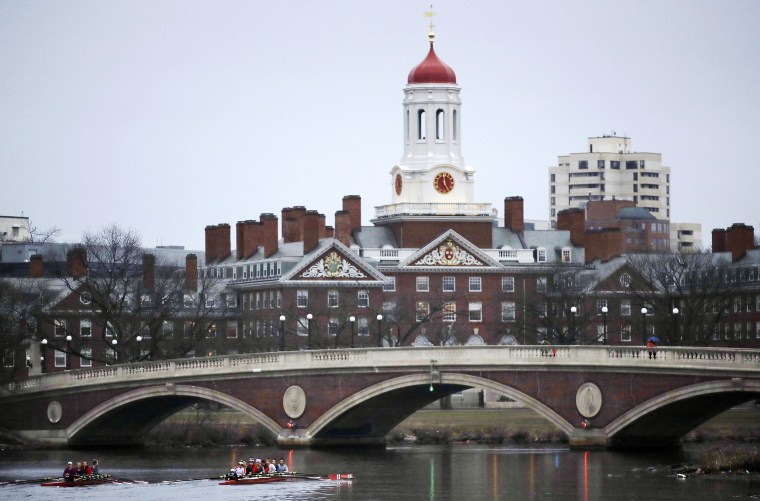 Flores didn't specify whether the department is moving forward on the 2015 complaint, but the detail that it is still willing to pursue it at all was heralded Thursday by some Asian-American groups as a welcomed surprise.
"Today, we are very encouraged that the Trump Administration will start looking into this issue, providing Asian-American students with equal protection under the laws," the Asian-American Coalition for Education, which filed the Harvard complaint, said in a statement.
The coalition's president, Yukong Zhao, added that Asian-Americans deserve to have the matter heard by the Justice Department.
Last year, his son, Hubert, filed a complaint with the U.S. Department of Education claiming that despite having a 5.3 GPA, high PSAT and SAT scores, and other sterling credentials, he was unfairly rejected from Cornell and Columbia universities, The Cornell Daily Sun reported.
Related: Students File to Join Harvard Lawsuit to Defend Race-Conscious Admissions
"We expect that the U.S. Departments of Justice and Education will take concrete actions to help restore the spirit of (the) American Dream: reward individual efforts and merits, and treat all individuals equally," said Zhao, who is also a Chinese-American author from Florida.
His coalition's 2015 complaint was dismissed by the Department of Education that same year because of a similar lawsuit that had already been filed in federal court. The coalition had been hoping the DOJ would still take it up.
Meanwhile, the other lawsuit — involving former stock broker Edward Blum, who runs the group Students for Fair Admissions — also alleged that Harvard's admissions policies are discriminatory against Asian-Americans. His suit remains in the discovery process.
It says the evidence of discrimination can be seen, in part, in the numbers: A 2009 Princeton study found that Asian-Americans need an SAT score 140 points higher than whites to get into a top private college. But compared to Hispanics, they need to score 270 points higher and compared to blacks, 450 points higher.
The suit also says that while Asian-American enrollment hovers around 14 to 18 percent at Ivy League institutions, it's much higher at state schools in California where racial preferences and other attributes have been banned from admissions consideration since 1996.
Related: Asian American Race-Based Complaint Against Harvard Dismissed
But other studies have looked at the difficulties minorities have for getting accepted into certain colleges: A 2013 University of Washington study noted a 23 percentage point drop in minority admissions at public research universities where affirmative action is banned, compared to 1 percent in states without bans.
Proponents of race-based admissions point to Harvard's latest student body data that shows the class of 2021 is more than 22 percent Asian-American — higher than the nearly 15 percent of African-Americans, nearly 12 percent of Latinos and 2.5 percent of Native Americans or Pacific Islanders.
Harvard spokeswoman Rachael Dane said the school — which has a 6 percent acceptance rate, making it one of the hardest colleges to get into — prides itself on attracting a diverse class.
"Harvard's admissions process considers each applicant as a whole person, and we review many factors, consistent with the legal standards established by the U.S. Supreme Court," she said.
The Supreme Court last year upheld the affirmative action policy at the University of Texas Austin after a white student sued the school for racial discrimination in the admissions process.
Prominent Asian-American groups lauded that ruling, saying that while Asian-American students may feel jilted for not being accepted to elite schools despite having the grades, the idea of affirmative action for race is necessary for fostering a level-playing field and bridging disparities in higher education.