Asian Americans appear to currently favor Joe Biden and Elizabeth Warren when it comes to the Democratic presidential candidates, according to a recent informal survey by the Asian American Legal Defense and Education Fund. Andrew Yang, who's Taiwanese American, still lags behind.
The group released the nonscientific survey of 500 voters last week after Tuesday's general election. Attorneys, law students and volunteers for the AALDEF spoke with the voters across Virginia, Texas and Pennsylvania. Jerry Vattamala, the organization's Democracy Program director, told NBC News that both Biden and Warren performed best among Democrats because they have platforms that tap into the community's priorities.
"The top issues for Asian American voters typically include health care and education, among other issues, and these two candidates are focused on those issues," he said.
While health care consistently ranks as a top issue for voters, education does not always lead as a priority issue for the larger constituency.
Vattamala explained that Asian Americans were "strongly in favor" of the Obama administration, which has helped Biden, the former vice president, to pull ahead with some voters. As for Warren, the Asian Americans appreciate that the candidate "presents her ideas with detailed explanations," he said.
Despite Yang's ethnic background, Vattamala said he isn't certain the hopeful has done enough to reach out to the community, which may account for its hesitation to throw its weight behind him. In Virginia, where Asian Americans voted overwhelmingly Democratic, President Donald Trump still ranked better than Yang, based on the survey. Vattamala noted that Yang has had to fight an uphill battle, but considering he had little name recognition prior to the race, the candidate isn't performing so poorly.
"Biden and Warren were much better known candidates — however, Yang appears to be third in some states, and at a higher rate (8 or 9 percent) with Asian Americans than he polls with mainstream polling data," he wrote.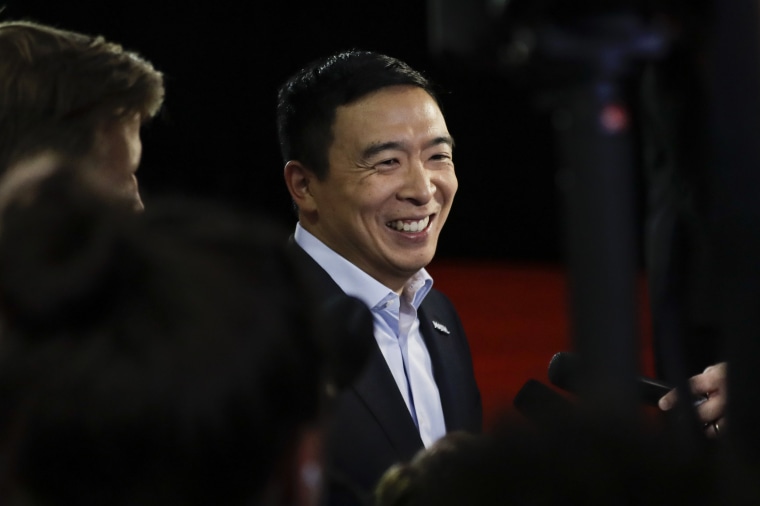 According to the results across the three states, voters showed varied support for candidates if they were to choose a president at this time. In Houston, Trump emerged the front-runner with 38 percent of the Asian American vote. Biden came in second with 15 percent and Warren closely followed with 12 percent of the vote.
In Philadelphia, front-runner Biden earned 24 percent of votes while Warren followed with 19 percent, according to the AALDEF's survey. Yang came in third at 14 percent and Trump trailed considerably, nabbing 10 percent of votes.
While Trump outperformed Yang in Virginia, the president came in fourth, behind Democratic candidate Bernie Sanders, who received 15 percent of the vote, as well as Warren, who garnered 20 percent, and Biden, who earned 26 percent.
Vattamala explained that though Asian Americans, as a group, lean left, Trump likely drew more support in Houston since a significant portion of survey respondents were Vietnamese, the "most conservative" subgroup of Asian Americans. He noted that because a sizable population of Vietnamese Americans came to the U.S. as refugees following the Vietnam War, many are staunchly anti-communist and "believed that Republicans were more aggressively anti-communist."
He added that religion also plays a role in the group's support for Trump with some, particularly Catholics, focused on issues of abortion and gay marriage.
In all three states, a large portion of voters the group spoke with were not enrolled in either the Democratic or the Republican parties. In Texas and Virginia, more than a third of respondents were unaffiliated, and in Pennsylvania, more than a quarter of voters surveyed reported the same thing. Vattamala suspects that many Asian Americans vote on specific issues like health care, education and immigration, casting votes for the candidate congruous with their needs and concerns, rather than remaining with one party.
While groups like Chinese Americans are more likely to be unaffiliated, Vattamala mentioned that certain ethnic groups, much like Vietnamese Americans, have stayed staunchly loyal to specific parties. For example, South Asian Americans are typically enrolled as Democrats.
When looking at specific issues, Asian Americans across the three states were in favor of stricter gun control. Though those in Pennsylvania and Virginia overwhelmingly support the U.S. House of Representatives' impeachment inquiry of Trump, Asian Americans surveyed in Texas are split with 41 percent in favor and another 41 percent opposed.
Follow NBC Asian America on Facebook, Twitter, Instagram and Tumblr.