A former Obama staffer. A community board member married to New York's first Korean-American state assemblyman. A Manhattan Chinatown community activist turned council member.
As New Yorkers head to the polls for the Sept. 12 primary election, Asian Americans, including two incumbents, are among the candidates battling for seats in some of the city's 51 council districts.
Currently, the New York City Council has just two Asian-American members: Margaret Chin of Manhattan and Peter Koo of Queens.
Both of Chinese descent and both Democrats, Chin and Koo were each elected in 2009 to represent districts that encompass neighborhoods with sizeable Asian populations. Both face challenges this year.
People of Asian descent account for around 13 percent of the Big Apple's total population, according to the U.S. Census.
The New York City Council is currently made up of 47 Democrats and three Republicans. Winners of the Democratic primary in many council districts typically win the general election in November.
In Manhattan's 2nd Council District, which covers an eastern section of Lower Manhattan, Korean-American Ronnie Cho is one of six Democrats duking it out to replace council member Rosie Mendez, a Democrat who cannot run again because of term limits.
Cho, who served as former President Barack Obama's associate director of public engagement, told NBC News he's feeling good about a victory Tuesday after surviving efforts to invalidate signatures that put him on the ballot.
"I'm happy to say we've overcome all of those hurdles, and I think we are in a good position to pull this thing off," he said.
Cho brings the starpower of the former Obama administration to an otherwise local race. He has earned an endorsement from former U.S. Education Secretary Arne Duncan and secured help raising funds from former Obama adviser David Axelrod, according to his campaign website.
Actors Kal Penn and John Cho, who is unrelated, tweeted their support of Ronnie Cho in March, and Penn has hosted fundraisers for the city council candidate.
Affordable rent, great public schools, and immigration and diversity are Cho's top three issues, according to his voter guide profile on the New York City Campaign Finance Board website.
The council seat covers the Manhattan neighborhoods of the East Village, Gramercy Park, Kips Bay, Lower East Side, Murray Hill, and Rose Hill.
Around 15 percent of the district is Asian and Pacific Islander, 56 percent white, 20 percent Hispanic, and 6 percent black, according to 2010 Census data analyzed by New York City. The rest identified as two or more races or as other, both non-Hispanic.
Cho, who moved to Manhattan in 2014, said being a relative newcomer to Council District 2 is an advantage since it gives him a fresh perspective.
"I'll admit, initially it was something that I know we needed to overcome and just to make sure that folks knew where my heart is, and that this is my neighborhood, this is my home," he said.
Worried about overall low turnout in Tuesday's primary, Cho said he plans to deploy a "dream team of former Obama campaign aides" to help get out the vote, though he declined to get into specifics.
"I think there'll be some well-known people supporting our campaign publically that will cause a big buzz," he said. "We'll draw attention to a campaign and to an election that definitely needs some better marketing."
Cho, who opted out of the city's matching fund program — which contributes $6 for every $1 a candidate raises if they agree to certain fundraising and spending restrictions — took in $198,752 privately but spent $222,498, campaign finance records show.
Democratic challenger Carlina Rivera, who was Mendez's legislative director, appeared to rack up the most endorsements from New York labor unions, political organizations, Democratic clubs, and public officials, according to a tally from the Gotham Gazette, a local online publication.
Veteran political consultant George Arzt told NBC News that Rivera was expected to have the edge, but that Cho still "stands a chance."
Meanwhile, across town in the borough of Queens, the gloves have come off in one council race between two Chinese-American candidates: Koo, a Republican-turned-Democrat two-term incumbent, and Alison Tan, a former managing director of a real estate financing company and the wife of New York's first Korean-American state assemblyman, Democrat Ron Kim.
The 20th Council District — where more than 3 in 5 residents is Asian, according to the New York City — covers the neighborhoods of Murray Hill, Queensboro Hill, and downtown Flushing.
Kim had earlier endorsed Koo before Tan signaled her intention to run for the seat once held by former city Comptroller John Liu, a Democrat and first Asian American ever elected to the New York City Council.
Kim has since thrown his support behind his wife, Tan told NBC News.
Since announcing her bid in May, Tan and Koo, a former pharmacist who emigrated from Hong Kong in 1971, have increasingly traded barbs in what some political observers have said has devolved into a "nasty race."
Among other things, Tan has accused Koo of supporting racial and ethnic profiling, of voting against a bill that became law to protect women from potentially deceptive practices at pregnancy centers, and of failing his district on quality of life issues, according to news releases from her campaign.
A community board member and mother of two, Tan said she decided to run after pushing her baby stroller down a street in downtown Flushing one afternoon when a strong gust of wind blew a piece of garbage in her daughter's face.
"I didn't want to be complacent anymore for an environment that was just so lacking in sanitation," Tan said.
In an interview with NBC News, Koo said all of Tan's accusations were false. He said he doesn't support racial profiling, adding he doesn't "want to take away all the tools [the police] have when they enforce the law." Koo also said he's always supported a woman's right to choose and that Flushing has become much cleaner during his time as councilman.
"You can ask anyone walking in downtown Flushing," he said. "They will testify to that."
In a video on the New York City Campaign Finance Board website, Koo said he's worked to create affordable housing, deliver funding to public schools, and increase pedestrian safety and widen sidewalks in Flushing while in office.
Both candidates have picked up endorsements from elected officials and organizations.
Tan's backers include Democratic state Assemblywoman Yuh-Line Niou — a former Kim staffer — the Correction Officers' Benevolent Association, and the National Organization for Women New York City.
"You have to always give the edge to an incumbent, but it's a fierce fight."
Koo's include New York Democratic Gov. Andrew Cuomo, the United Federation of Teachers, and the NYC Patrolmen's Benevolent Association.
Campaign finance filings showed that Koo had received $413,889 in private funds, while Tan had taken in a combined $200,556 in both private and public funding. (Koo, unlike Tan, did not participate in the city's matching fund program.)
Arzt called the race for Council District 20 a "tough, brass-knuckle campaign."
"You have to always give the edge to an incumbent, but it's a fierce fight," he added.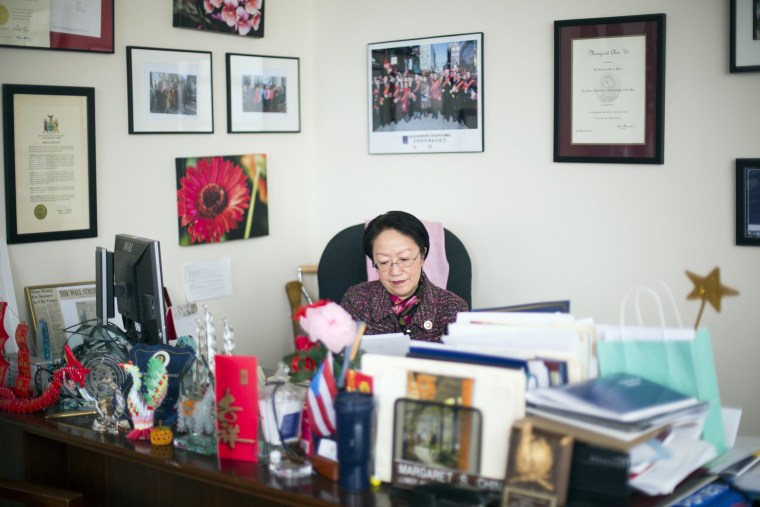 Back in Manhattan, Councilwoman Margaret Chin is fending off challenges from three candidates in the 1st Council District's Democratic primary. Like Koo, Chin has already been elected twice to her Lower Manhattan seat, which includes Chinatown.
New York City elected officeholders are limited to serving just two consecutive four-year terms, but the City Council in 2008 passed legislation to permit a third term, a move that paved a way for former Mayor Michael Bloomberg to remain in office for 12 years.
RELATED: 'I'm Not Afraid to Speak Out': How Margaret Chin Found Her Voice
Having first been elected in 2009, the same year Bloomberg won the mayoralty a third time, some council members like Chin and Koo are permitted to run once more this year.
New Yorkers subsequently voted to restore the original consecutive two-term law.
Among Chin's proudest accomplishments she cited were bringing affordable housing to Essex Crossing, a mixed-use development on Lower East Side land that sat mostly vacant since 1967, and passing legislation to protect tenants from unscrupulous landlords, the council member told NBC News.
"My record just stands for itself," Chin said.
An immigrant raised in Manhattan's Chinatown, Chin unsuccessfully ran for City Council three times before eking out a win in the 2009 Democratic primary. After easily capturing the November general election that year, Chin became the first Asian-American woman elected to the New York City Council.
Census data from 2010 show that around 36 percent of the Chin's district is Asian and Pacific Islander, 45 percent white, 12 percent Hispanic, and 4 percent black. The remainder identified as two or more races or as other, both non-Hispanic.
While praised by some constituents as an effective navigator of municipal government bureaucracy, Chin also drew flak from some Chinese Americans for supporting the indictment of former NYPD Officer Peter Liang, she recalled in an interview with NBC News back in 2015.
A jury last year convicted Liang of second-degree manslaughter, a charge later reduced by a judge to criminally negligent homicide, in the 2014 accidental shooting death of Akai Gurley, who was unarmed.
Liang's indictment, conviction, and sentence of no jail time stirred debate in the Asian-American community. Some believed the Chinese-American officer was unfairly prosecuted, while others criticized the punishment he received as too light.
Chin said she stands by her decision to back an indictment against Liang, though added as a mother that she felt the verdict was too harsh.
"I met with [Liang's] mother and community leaders and I worked with them to ask for leniency," Chin said.
She and 13 other council members also cosigned a letter for leniency they sent to the judge, according to Chin.
"I am glad that Peter was able to return to his family," she said.
Arzt predicted that Chin, who received $222,279 in private and public funds, would win the primary.
In addition to those three races, candidates of Asian descent are participating in other primaries as well.
Among them is Nancy Tong, a community relations director who works at an assemblyman's office, according to the New York City Campaign Finance Board. She is facing a crowded field in the Democratic primary for an open seat in Brooklyn's 43rd Council District.
Tong will square off against four other Democratic challengers, while four Republicans will do the same in their own primary.
Council District 43, in Brooklyn's southwest corner, covers a number of diverse neighborhoods, including some with sizeable and growing Asian and Arab populations, city data show.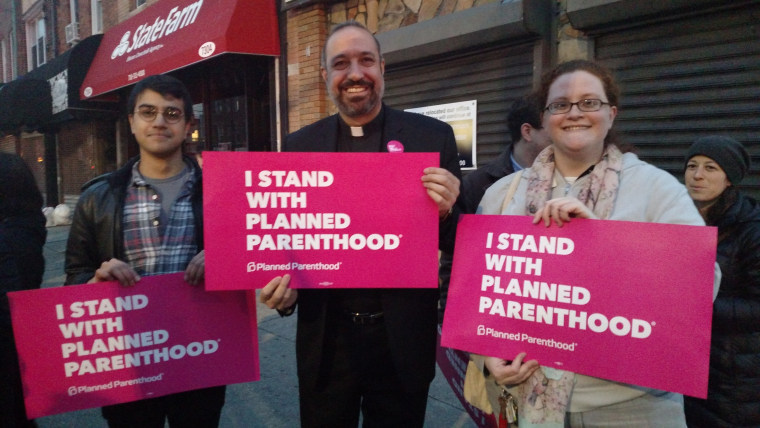 Also eying that seat is Democrat Rev. Khader El-Yateem, who told NBC News earlier this year he could become the first Arab American and Palestinian to serve in New York's City Council if he wins the September primary and general election in November.
In the nearby 38th District, first-generation Chinese American and real estate attorney Chris Miao is among four Democrats challenging incumbent Carlos Menchaca, according to the New York City Campaign Finance Board. Menchaca was elected to the City Council in 2013.
Also listed as candidates in the campaign finance board's voter guide are Helal A. Sheikh, a public school teacher running for Council District 32 in Queens; and Mohammad T. Rahman, a retiree and former NYC Department of Social Services case manager making a bid for the 24th council district in Queens.
In addition to City Council, New Yorkers will cast primary ballots Tuesday for mayor and public advocate, among other positions.
Polls open at 6 a.m. and close at 9 p.m.
Follow NBC Asian America on Facebook, Twitter, Instagram and Tumblr.