For this year's holiday season, NBC Asian America asked chefs and food lovers for their takes on holiday dinner favorites.
From green beans and stuffing with Chinese sausage to a sweet potato and peanut salad and scalloped potatoes, here are some Asian-American takes on holiday classics that could fit on any dinner table.
Follow NBC Asian America on Facebook, Twitter, Instagram and Tumblr.
Angie Mar, Chef-Owner of The Beatrice Inn in New York City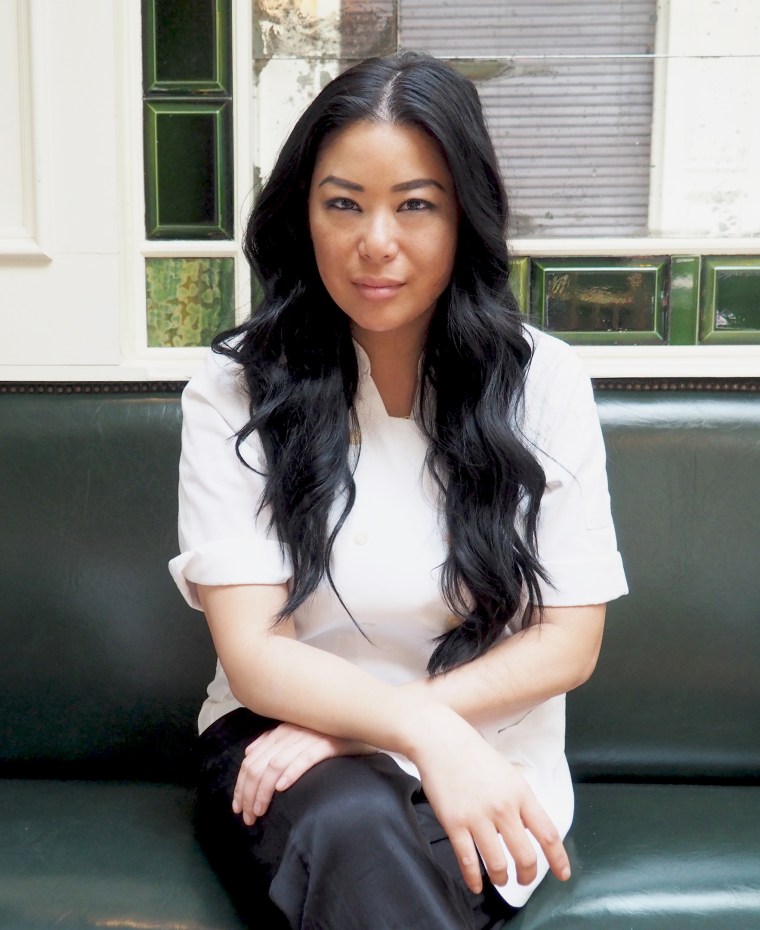 "What I love about this stuffing is it's a very American stuffing, but coming from a Chinese-American household we have incorporated staples indicative to our culture," chef Angie Mar said about her oyster, bacon, and sage stuffing, which is based on her father's recipe. "This is a recipe that we make every Thanksgiving, every Christmas without fail.
"Now having Beatrice, we always do a Thanksgiving meal for our family that works here," she added, referencing staff meal. "We recreate my father's stuffing stuffing for our staple here every year."
Oyster, Bacon, and Sage Stuffing
Ingredients
1 loaf brioche, sliced into 2-inch cubes (including crust)
453 grams bacon, sliced into ½ inch batons
340 grams Chinese sausage (lap cheong), sliced into thin rounds
1 medium onion, diced
411 grams celery, diced
37 grams garlic, thinly sliced
9 grams rosemary, roughly chopped
5 grams picked thyme
273 grams butter
225 greams shiitakes, sliced
12 grams roughly chopped sage
26 grams salt
Fresh black pepper
1058 grams chicken stock
206 grams oysters with liquor, roughly chopped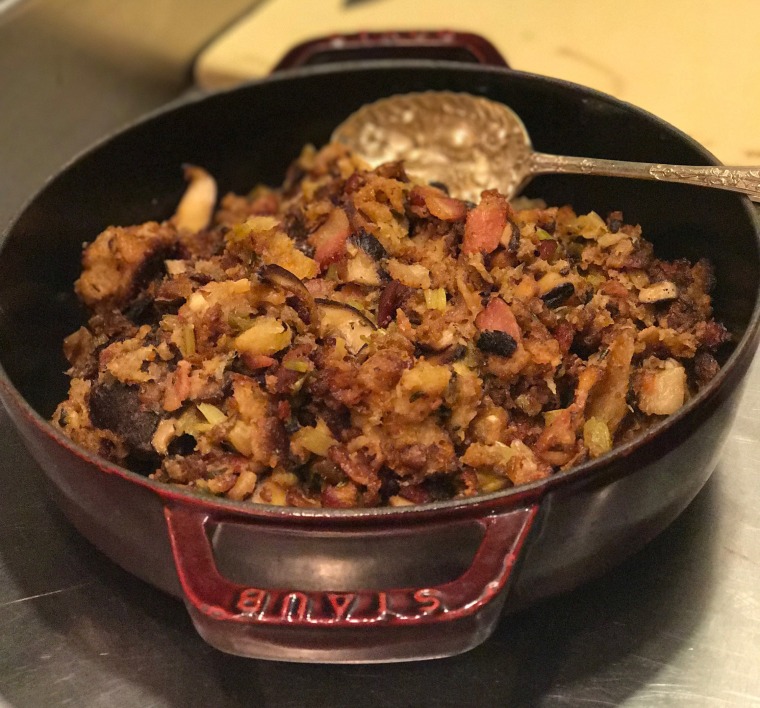 Method
Preheat the oven to 350°.
Arrange the brioche cubes on a baking sheet and toast until light golden brown, 6 to 8 minutes. Transfer toasted bread to a large baking dish or Dutch oven.
In a large saute pan over medium heat, add the bacon and cook for 5 minutes, stirring often. It's less important to get crispy bacon here and more important to render as much fat as possible in the pan. After 5 minutes, add the lap cheong and cook for another 5 to 7 minutes, until bacon is starting to brown.
Add the onion and celery and sweat in the bacon fat until soft but still retaining a bit of bite, 10 to 12 minutes. Stir in the garlic, rosemary, and thyme and cook for another 5 minutes, until very aromatic.
Add the onion mixture to the dish with the bread and toss to combine. Don't wash the pan — return it to the stovetop over medium heat and melt the butter.
Add the shiitake mushrooms and cook until soft, 8 to ten minutes — they should absorb some, but not all of the butter; avoid getting them brown and crisp. Add the mushrooms to the bread mixture and toss with sage, salt and black pepper.
In a small saucepot over medium heat, warm the chicken stock to just below a simmer. Working one ladle at a time, scoop the stock into the bread mixture, mixing after each addition so it's evenly absorbed. After all the stock has been incorporated and tossed evenly and you're looking at one big beautiful mess, add the chopped oysters and all of their liquor, and gently fold in one last time.
Cover and bake for 20 minutes, then remove the baking dish from the oven, uncover, and reduce heat to 200°F. Return dish to the oven for another 15 minutes to dry out a little, and to slowly brown on top.
Serve straight out of the oven in the baking dish with a giant spoon.
Vishwesh Bhatt, Executive Chef of Snackbar in Oxford, Mississippi
"I am a huge fan of sweet potatoes. I grew up eating them toasted over coals or tossed with lime juice and chilies with chaat masala," Vishwesh Bhatt said in an email. "When I came to the US I discovered potato salad (which I didn't like) and the West African Sweet Potato and Peanut stew (which I Love)."
Bhatt said he combined those two ideas with flavors he grew up with, creating a potato salad that he eventually took to Thanksgiving dinner with his in-laws.
"The initial reaction was apprehension," he recalled. "But I am proud to say that a version of this was served by my sister in law at a church potluck."
Roasted Sweet Potato and Peanut Salad
Ingredients
For the salad
5 pounds sweet potatoes, peeled, diced, tossed in olive oil, and roasted until just soft
2 small red onions, minced
2 red bell peppers, minced
2 serrano peppers
1.5 cups roasted peanuts, chopped
1 cup dried cranberries or dried cherries, chopped
For the dressing
2 tablespoons lime juice
1 teaspoon cinnamon
1 teaspoon cumin seeds, toasted and crushed
0.5 teaspoon nutmeg, grated
1 teaspoon cayenne pepper
0.5 cup cilantro, chopped
2 tablespoons peanut butter
0.25 cup Creole (or grainy) mustard
Method
Whisk the ingredients for the dressing and pour over the vegetable mixture.
Gently toss everything together under well dressed, season with salt to taste.
Rong Wu, Chef at Mala Sichuan Bistro in Houston
Mala Sichuan Bistro in Houston, offers a green bean recipe by Rong Wu, one of the restaurant's opening chefs, for the holidays.
The dish has become "an all time favorite" at the bistro, owner Cori Xiong said in an email.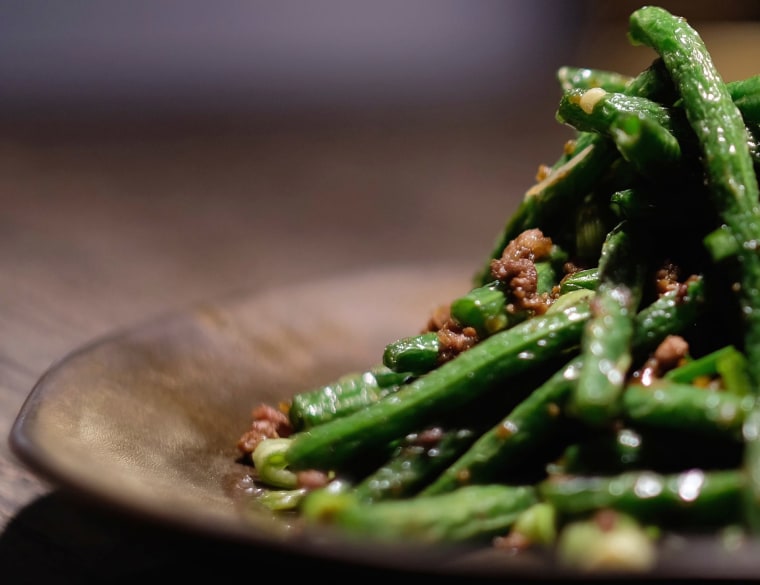 Green Beans
Ingredients
1 pound green beans, cut 2 to 3 inch in length with tips removed
3 ounces ground pork
3 tablespoons yibin yacai preserved vegetable (available at most Chinese supermarkets, called "suimiyacai" on the packaging)
2 tablespoons green onion, finely chopped
1 tablespoon garlic, finely chopped
1 tablespoon ginger, finely chopped
1 tablespoon Shaoxing wine (available at most Chinese supermarkets)
1 tablespoon soy sauce (I recommend Kikkoman or Kim Lan or Maggi brand)
vegetable oil
Method
Deep-fry green beans in 350 degrees vegetable oil until most of them have puckered skin but not brown, drain and set aside.
Add 2 tablespoons of vegetable oil into wok, turn to high heat, heat until hot, add pork breaking it up into crumbles, add Shaoxing wine and stir. When ground pork is turning brown, add yibin yacai, green onion, ginger, garlic, and Shaoxing wine. Continue to stir-fry until the pork bits are crispy.
Add back the green beans. Add soy sauce and stir-fry until well-mixed. Plate and serve.
Kristen Kish, Season 10 Winner of "Top Chef"
"My grandmother taught me how to make this before I was ten years old, and it's been my favorite ever since," Kish writes in her new cookbook, "Kristen Kish Cooking: Recipes and Techniques" which was released in October. "We would eat this at nearly every Christmas gathering. Her house was so warm and inviting— perfumed with sauerkraut!"
Stuffed Cabbage Rolls
Reprinted from "Kristen Kish Cooking: Recipes and Techniques" by Kristen Kish with Meredith Erickson. Photos copyright © 2017 by Kristin Teig. Published by Clarkson Potter/Publishers, an imprint of Penguin Random House, LLC.
Serves four to six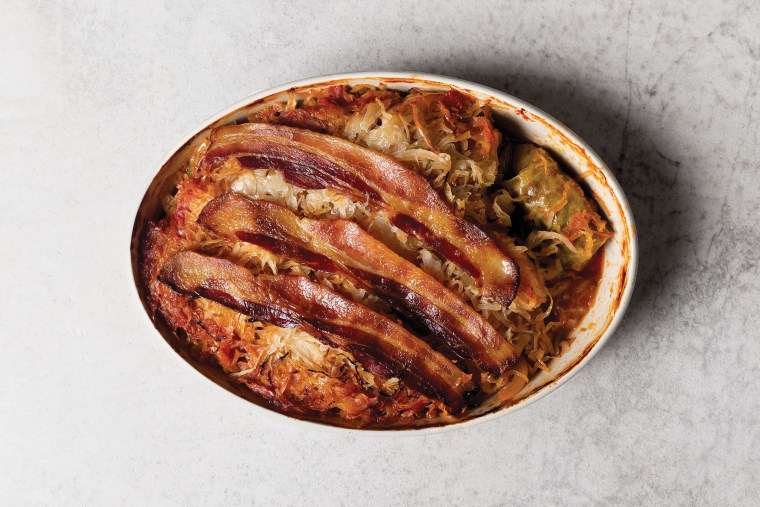 Ingredients
Cabbage Rolls
1 or 2 large green cabbages, enough for 12 to 15 large leaves
4 cups of your favorite sauerkraut
2 cups tomato juice
5 smoked bacon slices (optional)
Stuffing
1 pound ground pork shoulder (Boston butt)
1 pound ground beef
1 tablespoon sweet, smoked, or hot paprika (I like a mix)
2 teaspoons ground fennel seeds
½ teaspoon crushed red pepper flakes
½ teaspoon ground coriander
1 teaspoon freshly ground black pepper
2 garlic cloves, finely grated
¹⁄₄ cup grated white onion
1¹⁄₄ cups uncooked white rice
Kosher salt
Grapeseed or other neutral oil
Creamy Cucumbers
1 English cucumber
¹⁄₄ cup red wine vinegar
2 tablespoons sugar
3 teaspoons kosher salt
1 (8-ounce) container sour cream
2 tablespoons finely chopped fresh dill
Freshly ground black pepper
Notes: If you don't love sauerkraut, no worries: a beautiful rich tomato sauce is a great alternative. Also, I encourage you to serve the cabbage rolls directly from your baking vessel. So if you're aesthetically inclined, choose your wares accordingly!
Method
Start the cabbage rolls: You'll need 12 to 15 nice large leaves to make these rolls. Gently peel off the outer leaves of the cabbage, then steam these over a pot of boiling water until pliable, roughly 15 minutes. Lay them out on a kitchen towel to cool and dry. Chop up the remaining cabbage (up to ½ head) into medium chunks.
Make the stuffing: In a large bowl, mix together with your hands the pork, beef, paprika, fennel seeds, red pepper flakes, coriander, black pepper, garlic, onion, and rice, adding a generous sprinkling of salt. Shape a very small patty of the mixture and, in a hot small frying pan lightly coated with oil, cook it for 2 minutes on each side. Taste for salt and adjust your overall mixture accordingly.
Preheat the oven to 350°F. Roll up ¼ cup of the stuffing into each steamed cabbage leaf, like you would roll a burrito, and tuck each roll into a deep baking dish, seam-side down. Pour a light layer of the sauerkraut juice and all of the tomato juice over the rolls. Insert small pieces of the cabbage heart(s) in between each roll, then top with the sauerkraut and more of its juices: the overall amount of liquid should come three fourths of the way up the cabbage rolls. I like to add some slices of smoked bacon over the top to add flavor while the dish cooks, but it's your choice. Cover tightly with a lid or buttered foil, and bake for 2½ to 3 hours, until tender.
In the meantime, make the creamy cucumbers: Slice the cucumber into rounds about the thickness of a nickel. Combine in a nonreactive bowl with the vinegar, sugar, and 1 teaspoon of the salt. Allow to sit for 20 to 30 minutes at room temperature. Drain off the cucumber liquid. Mix the cucumbers with the sour cream, dill, remaining 2 teaspoons salt, and the pepper. Cover and refrigerate for 1 hour.
To serve: Serve family-style right from your cooking vessel, with the creamy cucumbers on the side.
Chrissy Teigen
"This creamy creation, which my mom has been making my entire life, puts me into a state of instant euphoria and you can't go a single bite without a bacon or ham bomb," Teigen writes in her cookbook, "Cravings," which was released in 2016.
Pepper's Scalloped Potatoes
Reprinted from "Cravings." Copyright © 2016 by Chrissy Teigen. Photographs copyright © 2016 by Aubrie Pick. Published by Clarkson Potter/Publishers, an imprint of Penguin Random House, LLC.
Serves 16 to 20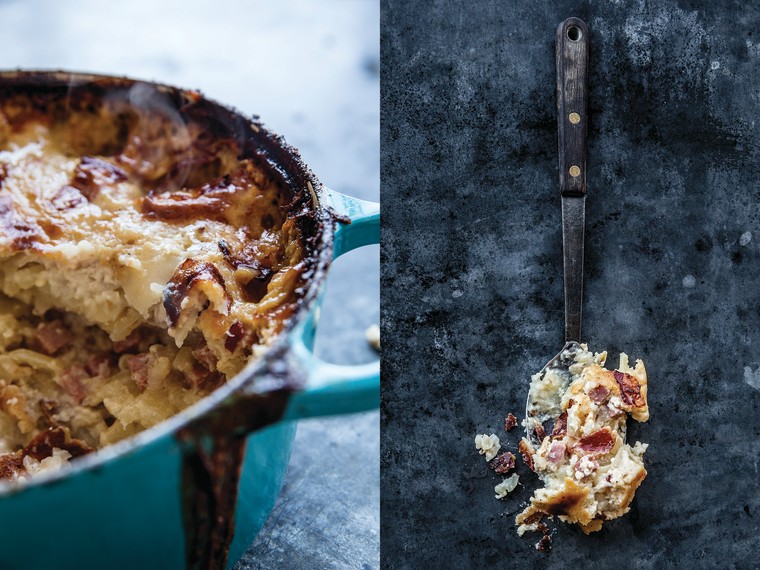 Ingredients
5 pounds russet (Idaho) potatoes
1 medium onion, finely chopped
1 1⁄3 pounds ham, cut into 1⁄2-inch cubes
8 slices bacon (not thick-cut), cut into squares
1 stick (4 ounces) unsalted butter
2 tablespoons garlic salt
1⁄2 teaspoon freshly ground black pepper
1 1⁄2 cups all-purpose flour
5 1⁄2 cups whole milk
Method
Preheat the oven to 375°F.
Peel the potatoes, halve them lengthwise, and slice them crosswise into thin half-moons. Rinse well with cold water and drain in a colander. Transfer the potatoes to a large bowl and toss them with the onion and the ham.
In a large Dutch oven, cook half the bacon over medium-low heat until the fat is rendered and the bacon is crispy, 9 to 10 minutes. Add the butter and cook, stirring, until melted, making sure the butter doesn't burn. Add the garlic salt and pepper, then whisk in the flour and cook, stirring to work out the lumps, until smooth. Whisk in the milk until smooth. Increase the heat to high and bring to a boil. Cook, whisking, until thickened, about 5 minutes. Transfer the sauce to a bowl.
Arrange half the potato mixture in the bottom of the Dutch oven, then cover it with half the sauce. Repeat with the remaining potatoes and sauce. Arrange the uncooked bacon squares on top of the sauce and bake, uncovered, until the bacon appears crispy and rendered, 30 to 35 minutes. Reduce the oven temperature to 350°F, cover with the lid, and cook until bubbling, 1 hour 30 minutes longer.